2017 has been a remarkable year for women the world over. Actresses and models have taken a stand against sexual harassment and predatory behavior in the industry while bringing awareness that they should not be objectified and their job should not include abuse.
'Body Positive' has been surging in popularity especially during the last few years and it has been empowering a vast number of women everywhere. It seems to be met with nearly as much backlash and is a trigger for many men and women alike as evidenced a few months back when we shared that the movement is here to stay.
Adriana Lima is the newest voice to the cause speaking out against the societal expectations and superficial values that women are pressured to fulfill on a daily basis. She came to this decision after conversing with a friend who was unhappy with her body image as a result of these stereotypes, and is hoping to use her influence to impact the fashion industry.
"It's not fair for us, beyond fair, it's physically and mentally not healthy[…]." – Adriana Lima
The world-reknowned Brazilian super model, best known for her incumbency as a Victoria's Secret Angel, took to Instagram after turning down a sexually charged video shoot. She took it a step further and stated that she will no longer take her clothes off for an empty cause.
Adriana's post has received a flood of comments resounding with cheers and praises for her bringing awareness to both Body Positive and the ongoing objectification of women. The post has also received numerous outcries of hypocrisy stating she has made millions off of her figure that inadvertently defined the amassed wish list for women to try and achieve over nearly two decades.
Regardless of public opinion, Adriana intends to fulfill her promise of celebrating 20 years on the VS fashion show catwalk and it will be interesting to observe as she transitions her career with an emphasis toward empowering women.
Meanwhile, women are banding together and further demonstrating that this social movements have successfully planted roots and are much more than an experiment or fad. Women of all shapes and sizes are on board and working toward a common love and appreciation of their bodies. Combine this with demanding respect and no longer tolerating the definition of what it is to be a woman going hand in hand with objectification and perhaps together we really can change the world as Lima wants to do.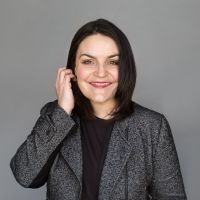 Brittany Smith
Brittany is a fashion and beauty photographer who works between NYC, Montana and LA. She photographs the way she has always wanted to feel and believes in the power of raw simplicity. When not behind a camera she can usually be found at a local coffeeshop, teaching fitness classes at the YMCA, or baking something fabulous in the kitchen. Instagram: @brittanysmithphoto