It's been a good number of years since we saw the introduction of the OM-D E-M1 original, a camera that turned into somewhat of a cult classic; unknown to many but with a dedicated and enthusiastic following. But that fanbase has been loud enough to create a palpable buzz around it and its successor, a successor that was unveiled at Photokina with a spec sheet to lick your chops at. Now the company has announced in a press release that the OM-D E-M1 Mark II will go on sale at the end of December (a bit curious), and with a significant premium over the original. The OM-D E-M1 Mark II comes in a full $600 more than the Mark 1, at $1,999 USD.
That's right, to own an OM-D E-M1 Mark II you'll have to part with near-as-makes-no-difference $2,000, and that's not exactly change to be found in your couch. In fact, that's D500 territory, and a whole host of other impressive options that aren't Micro 4/3rds. That's not to say M4/3s don't have their place or advantages for the right people, but it's hard to deny that the majority of the market doesn't associate $2k cameras with Micro 4/3rds.
But then again, this isn't your average camera, much less your average micro 4/3rds; it appears to be incredible. Its 20 megapixel live-MOS sensor will be able to shoot full resolution raw images, with autofocus, at 18 frames per second, or, without autofocus, at a jaw-dropping 60 fps; its image processor is also 3.5x faster than the last generation of Olympus processors, and an all new autofocus system, featuring a dedicated quad core processor, and 121 on-sensor, cross-type, phase-detect AF points, and a new algorithm for tracking movement. Of course lets not forget the 5.5 steps of camera shake reduction, which is class-leading.
The question is, can and will buyers disassociate what they think they know or feel about micro four thirds and re-assess this camera to find the value to match the cost? Just a quick poll reveals that the price is a stopping point for many, and that may be a shame. One hopes Olympus hasn't priced the camera out of the hands of those who really wanted it, because it's just so appealing.
You can pre-order yours now.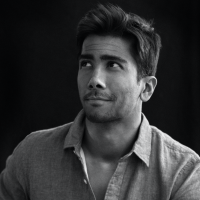 Kishore Sawh
A photographer and writer based in Miami, he can often be found at dog parks, and airports in London and Toronto. He is also a tremendous fan of flossing and the happiest guy around when the company's good.