UPDATE: THIS CONTEST HAS ENDED. CONGRATS TO THE FOLLOWING WINNERS (SELECTED AT RANDOM VIA THE GLEAM.IO APP):
Jason S. – Wexford, PA
Seth R. – Allston, MA
Shawn F. – Washington, DC
If you didn't win this time, no worries!  We almost always have a giveaway going on for something amazing.  See our Giveaways Here.
Original Post
The following is a sponsored post.
Ready for another awesome giveaway? To celebrate the launch of SmugMug's new Apple TV app, SmugMug is giving 3 lucky winners a prize package that includes the following:
SmugMug prize pack valued at $100 (hoodie, shirt, and more)!
How do I Enter?
Enter using the widget below. Remember, you get additional entries for referring others to the contest, so share away!
If the widget is not loading for any reason, click here to access the contest directly through the app.
About SmugMug and their new Apple TV app:
SmugMug knows that your memories and milestones are bigger than life to you. So instead of looking at photos on a small screen, why not view your captures on a large screen to give them all the life and love they deserve? Recognizing this desire to experience your photos in a really big way, we're happy to announce our new SmugMug Apple TV app.
Giveaway Details
The contest is open internationally. The contest is void where prohibited. Contest Ends December 12th, 2016 with the official winner announced the week after.
SmugMug Discount
Can't wait? Get your SmugMug account today with this 15% discount code. Just click here to sign up for 15% off!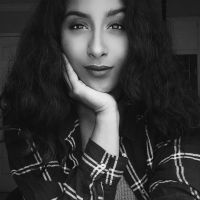 Shivani Reddy
Shivani wants to live in a world where laughter is the cure to pretty much everything. Since she can't claim "Serial Bingewatcher" as an occupation, she'll settle for wedding/portrait photographer at Lin and Jirsa & marketing coordinator here at SLR Lounge. For those rare moments when you won't find a camera in her hand, she will be dancing, eating a donut, or most likely watching Seinfeld. Follow her on Instagram:
@shivalry_inc