Technology has a life. It's often conceived in an R&D lab, where ideas and prototypes give it bones. Then, this little bit of tech stumbles around as a beta, before being released into the wild marketplace where it's expected to produce profits or be eaten by competition.
If it survives, it will mature. And as a product matures by outliving its trendy novelty and enters into perpetual product cycles, its repeated use teaches us something important about ourselves. If a camera like the Olympus E-PL9, now after 8 product cycles (there was no E-PL4) can live in our volatile marketplace what does that say about the photography industry?
When cellphones ate away at the point-and-shoot camera sales, there was still a market for people who wanted a more deliberate relationship with their camera than their phones offered. At the time, many didn't know they wanted interchangeable lenses, because when point-and-shoot sales were thriving, DSLRs had a steeper learning curve. Mirrorless cameras solved an important learning curve problem by replacing the optical viewfinder with an all-digital image preview.
And so, while many tech writers have become fascinated with the recent flagship competition levels that mirrorless offers against DLSRs, we forget that camera companies have been reinventing the point-and-shoot experience around new entry level interchangeable lens cameras, like the E-PL9.
Product Highlights
16.1MP Live MOS Sensor
TruePic VIII Image Processor
UHD 4K Video Recording at 30 fps
3.0″ 1.04m-Dot 180° Flip Touchscreen
Up to 8.6 fps Shooting and ISO 25600
3-Axis Sensor-Shift Image Stabilization
121-Area FAST AF, Face/Eye Detection AF
Wi-Fi and Bluetooth Connectivity
Advanced Photo Mode and Art Filters
M.Zuiko 14-42mm f/3.5-5.6 II R Lens
Price: $599 USD (Body Only)
The Olympus E-PL9
The E-PL9 was designed to give style to the point-and-shoot buyer and introduce them to interchangeable lenses, but more interestingly, it focuses the experience of photography around the photographer, and that is daring because it directly attacks the cellphone user experience.
Its existence after 8 product cycles means that there is a real persistent desire for some people to take images that are created with deliberate and intentional choices, more so than the set of choices their cellphone offers, but that also are still automated and simple enough to create. For that reason, it may be one of the more important cameras for our industry; not because it delivers the widest dynamic range or the cleanest ISO performance, but because it highlights that many camera buyers want the experience of photography to be easy and pleasant. And they value that experience against the value of having the most expensive industry leading image quality.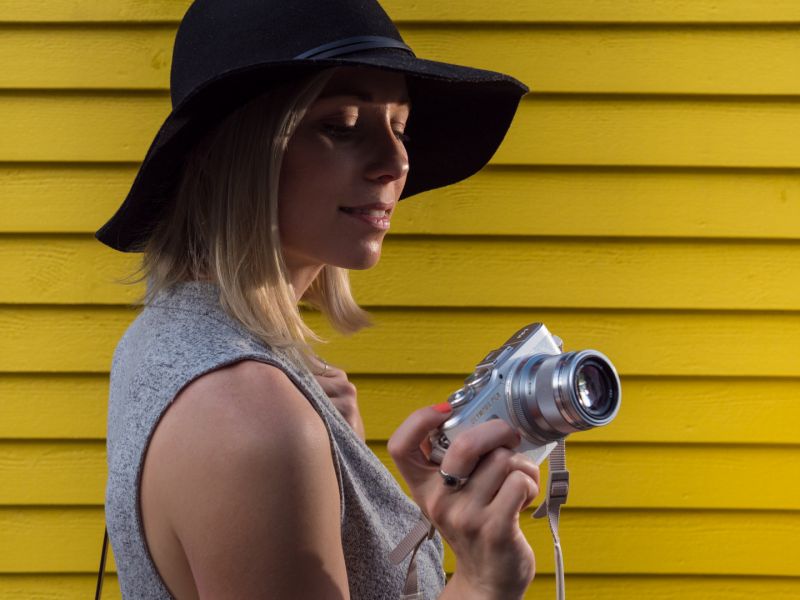 Design and Handling
The Olympus E-PL9 is designed to be sumptuous, with lines that curve and never cut – it failed geometry class because it hates right angles. It has a new, thicker grip on the front, with a shape that looks inspired by a Porsche Carrera. And so, the camera balances well in hand, as long as the lenses stay compact.
The lenses can, in fact, stay compact thanks to the decision of Olympus  to stick with a m4/3 sensor. The aspect ratio of the sensor in the Olympus is different than what you'll find in DSLRs or other larger-sensor mirrorless cameras, and while the size may affect low light performance, there are benefits and uniqueness to the look.
The smaller sensor combined with short flange distance allows the lens mount to be smaller, and in turn the lenses typically are small. Olympus lenses are, on average, half the size of a typical DSLR lens. This translates to better hand-holding the camera, requiring less strain, which will probably reduce vibration, which will probably produce sharper pictures at any given shutter speed. Smaller sensors also tend to provide a 'sharper image'.
The Olympus sensor has an advantage by being taller than the average DSLR camera. The sensor aspect ratio is 4:3 instead of a typical DSLR 3:2 ratio. A taller 4:3 aspect ratio gives different compositional head-room for photographers who prefer a more square style native sensor size, and shooters of medium format will be all too familiar with that aspect ratio, as it's the default of what you'll find in cameras like the Hasselblad X1D. These images transfer easier to 5×7 and 8×10 prints than traditional DSLR cameras and require minimal cropping for the titled, square look on Instagram.
The E-PL9 was designed to celebrate the selfie. Compared to a 35mm film or full frame equivalent size sensor, this E-PL9 will produce a depth of field that looks like f/5.6 when shot at f/2.8. And from arm's length, a smaller sensor helps create the appearance of more depth. So besties can huddle together for a group pic without the back row of friends being out of focus because of the larger-than-necessary sensor. 
Significant care and focus would need to be taken to get enough sharpness out of a larger sensor for a layered group selfie. But the smaller sensor combined with crop factor makes this more effortless. Even when shooting solo, many selfies are layered with important information in the background, and having the appearance of a shallow depth of field would be losing some storytelling details.
*Editor's note: Smaller sensors (all things being equal) –given the smaller circle of confusion– have a shallower depth of field than their larger counterparts, contrary to what's commonly said.  But because of the crop factor and 'equivalency', the smaller sensor will have a  deeper focus only when creating an equal FOV even with the smaller sensor's smaller circle of confusion. 
That being said, this is not the camera to use on a mid-level or high-end commercial shoot. Not because it suffers some fatal image-quality flaw, but because the art director who hired you and is on site orchestrating is probably using this camera: you never want to wear the same outfit to a party.
Actually, art directors at high-production commercial shoots are going to be drawn to cameras like the Leica TL2. This Olympus camera is for an art director on a tight budget. Or maybe she owns a coffee shop that is moonlighting as an art gallery, or maybe she is a marketeer at a trendy local t-shirt company, but even more likely: she is a blogger or an Instagram fashionista who works at a coffee shop with a bunch of art on the wall pretending to be a gallery.
Features & Performance
Olympus lenses are relatively pocket sized, and this helps make the camera system appear less intimidating and more usable. But it is hard to make a camera that is designed to be cute and approachable and yet offer the room to learn and command more technical fingertip control of image exposure. And even though the E-PL9 offers a nice entry point for interchangeable lenses, it does not offer the most effective pathway to growing as a better photographer because some of the minimalist style design choices interfere with the needs of exposure manipulation.
For example, there is only one command dial, so that means lots of exposure controls are at least a couple button clicks away in a menu.
There are some other unfortunate omissions too. This year's blogger is next year's vlogger, and yet this camera, aimed at bloggers and the insta-famous, is not forward thinking enough to have a headphone jack or external mic input. Why? It offers sensor-stabilized 4K footage, but no way to capture a line of audio from a mini-shotgun mic for the vlogging community. Puzzling, since it has a popup flash and hotshoe alternative.
Over the years, Olympus has pioneered some major camera tech innovations. They were the first to produce robust sensor stabilization, and still offer among the best. This camera has 3-axis sensor stabilization that very accurately controls for camera vibration while shooting,  but integration is not the same as innovation, and with some of their integration there is confusion.
For example, the E-PL9 restricts some manual control in certain "Advance Photo" modes. The only way to access silent shutter was by turning the command dial to AP mode then tapping "Silent," but now the only settings you can control are exposure compensation and aperture. The ISO becomes automatic, as does the shutter. The problem is, there are many cases where a photographer would want both a silent shutter and complete manual control over exposure.
The integration here is odd and speaks to the challenges faced by a camera company trying to offer advanced features but also automate some of the adjacent features to make the whole thing easy to use.
In this latest version of the Olympus EPL series, there are 121 autofocus points available. But that should not give you the impression that this offers autofocus tracking that can capture fast action. Despite optimizing my settings for movement, I could not get accurate focus on fast moving subjects. I get much better autofocus tracking performance with the Olympus E-M1 Mark ii. But AF performance is one of the most difficult demands you can ask of a camera. Expensive flagship cameras compete over autofocus speed and accuracy as a matter of priority, and it's a challenge.
Speaking of challenges, for $100 above the body-only price, the E-PL9 can be had with the 14-42mm f/3.5-5.6 kit lens, but it is a throwback to less innovative times. This kit lens has the same sluggish electronic zoom operations of a point-and-shoot camera. Not recommended. 
Selfie Making: The Great I Am
The one remarkable feature of this camera aside from it's outward appeal is how effortlessly it offers selfie position portraits. The selfie has become its own genre of photography even though industry leading photographers have been making self portraits with their cameras since the beginning. The E-PL9's LCD screen was not only designed to flip down and forward for selfies, but was engineered to be pulled down from the position of being in front of the camera. Instead of having the LCD screen fly out to the side, this puts the LCD and the lens along a vertical line so that eye contact looks more natural.
By putting the screen below the camera, it encourages photographers to hold the screen at eye level and raise their gaze higher, towards the camera, at a more flattering angle. Vloggers may dislike this because it makes the reverse camera only useful while handheld at the expense of the tripod mount. (Maybe this explains why Olympus did not include a mic and headphone jack), as they knew that that this camera's screen movement does not allow it to be used in that way unless handheld. And so this is a subtle way of discouraging vlogging and encouraging stills.
But after using this camera, you will notice how other camera LCD screens that swivel out to the side are not optimized for the self portrait like this. Add to that, a new popup flash that can also be bent back and upward to bounce-flash off the ceiling, and now we are talking about one of the most thoughtfully designed self-portrait machines ever made.
Conclusion
This camera is a cost effective, elegant, accessory to a life that is focused on taking pleasure in the little things. Using it to create technical images will require some care and understanding.
In the world of blogs, Instagram-paced image scrolling, and compressed web-ready image viewing across the Internet, pixel peeping image quality is not a crucial issue for understanding this camera's 16 megapixel promise. This camera's promise, if successful, is that the heir to the throne of the point-and-shoot camera are mirrorless interchangeable cameras that celebrate more (or less) than just image quality. This little camera is one of those few that claim photography is a way of life, knowing that this way of life is simple, effortless, and leisurely.
Get it here
Danielle & Shaun King
Danielle and Shaun specialize in wedding, commercial, and event photography and are based in North Carolina. They also create content for photographers on their YouTube channel: bit.ly/VisualRituals. When traveling isn't an option, they fill their spare moments with coffee dates, exploring the city on skateboards, swinging kettlebells, or catching up on the latest issue of their favorite magazines: The Economist, PDN, and The Atlantic.