Those who love cameras and want manufacturers to keep producing will have to embrace overall market expansion in sectors and in ways they don't particularly find themselves drawn to nor understand, much less appreciate.
It's very easy for gear-geared photographers to get caught up in the seriousness of it all; the speeds and feeds; the almost imperceptible real-world quality differences – the 'Top Trumps' of it. But contrary to what many of us like to think, 'we' does not a camera market make. There is room, perhaps even more than there is for us, for cameras that are lifestyle pieces rather than pieces of utility. Leica gets it. Fujifilm gets it, and Olympus surely does, as exemplified with the release of their 'Blue Denim' version PEN E-PL9.
We reviewed the E-PL9 recently, and the final opinion was that it was a camera for the aesthetically inclined – a camera to greatly elevate shots you'd otherwise take with your phone whilst encouraging you to keep it similarly at hand and to take it all the places you'd never be caught dead carrying a hideous DSLR. And that makes sense. There is room for that.
This new version was apparently meant to evoke or reflect the blues of Miami, though, as a Miami native who is writing this from Miami Design District, I haven't a clue what they're on about. but despite that, it is pretty, and if you're looking for a stylish camera with good image quality that's unobtrusive and inexpensive, this might just be your ticket. Check out our full review of the PEN E-PL9 below:
Olympus E-PL9 Review | A Camera To Effortlessly Fit Into Daily Life
PRESS RELEASE:
Denim love: Olympus launches special edition of their latest PEN camera model in blue
London, 01.06.2018 – To quote the British Elle Magazine in March, "denim is a fabric that suits everyone".* To celebrate the ongoing love affair with this perennial material, Olympus is introducing a special blue edition of their recently launched PEN E-PL9 camera.
This special edition of the compact and lightweight PEN E-PL9 not only takes great pictures and movies but is also an easy and stylish addition to any denim outfit.
Already a firm favourite with the blogging community, the Olympus PEN series combines performance, superb build quality, and discrete take-anywhere size with a visual style that makes it as much part of an outfit as any key accessory. The new special edition blue version joins the existing white, black and brown models launched in March.
We sent lifestyle blogger and photographer Debs Stubbington of @bangonstyle to Miami with fashion photographer Jay McLaughlin to bring the blue colour to life:
"Miami's sunny skies and blue waters were the perfect backdrop for the blue Olympus PEN. With all the incredible features and image quality of the
E-PL9 but a new bold colour, the blue model has fast become my new favourite"
Pricing & availability
> Olympus PEN E-PL9 blue with M.Zuiko Digital 14-42mm 1:3.5-5.6 EZ Pancake lens at £649.99 RRP** from early June 2018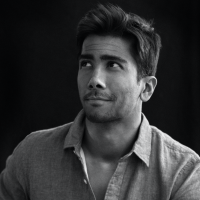 Kishore Sawh
A photographer and writer based in Miami, he can often be found at dog parks, and airports in London and Toronto. He is also a tremendous fan of flossing and the happiest guy around when the company's good.