Our "SLR Lounge Awards Artist Feature" articles highlight SLR Lounge Awards winners, some of the very best wedding photographers around the globe. This article features Jeff Tisman of Jeff Tisman Photography (New Jersey, USA). Jeff, who is a multiple platform award-winning wedding photographer (including multiple Fearless Awards).
Jeff entered his Apex Award-winning photograph into the wedding portraiture category in April. The Apex Award is a level reserved for those whose photographs are selected by SLR Lounge's curators from the top 1 percent of submissions.
Read on as Jeff shares why he is still so passionate about wedding photography, 1,000 weddings and over 25 years later!
Reason #1: I Chase Education
What can I say abut education? I constantly look for opportunities to learn, and it keeps me motivated and passionate. Even after 25 years of photography, I feel more excited today than ever before! You will never know it all. There is always something to learn.

The funny thing about this is that I was a horrible scholar. But if you were to look at my old report cards, you would always see an 'A' next to my photography classes. I loved them! I could never know enough about photography. To this day, it's still true. And that's why I've recently taken workshops from The Chrismans, Mauricio Arias, and Joseph Victor Stefanchik; Davina + Daniel; Two Mann, and Steve Saporito.
Reason #2: I Treat Every Wedding as Unique, Even if I've Been to the Venue Many Times Before
I know! Sometimes, photographing at the same venue can be a problem for creativity, but the honest truth is that I have never felt this way. Something I talk with my client about is that their wedding is their day … and it's their story. Remember, the moments are different. The feeling is different. You simply need to be open to see it. And it's our job to be able to capture what is happening. I tell every single couple that hires me, 'I am only as good as my couples.' And it's the truth! With an emotional couple, and family, you can absolutely feel the photograph.
Reason #3: I Stay in the Moment
This is something I learned from both Two Mann as well as the Ben & Erin Chrisman. Keep your camera to your eye. Follow through the moment. I remember getting a critique from Ben & Erin at their workshop. I had this photograph, and they were saying, 'Okay. Great moment, but what happened  next?' I've really taken on that mantra with my photography. It keeps me in the moment. And it's exciting!
Reason #4: I Am All about My Clients
This is something I learned from Steve Saporito. It's something I thought I was doing but after attending one of Steve's workshops, an entire world opened up for me. I'm now asking my couples more questions about them while also learning about their families and their friends. And it is so fun, because everyone has a story to tell! As well, finding out abut my couples, and their stories, is completely fascinating. Now, when photographing my couples' weddings, I am seeing those relationships unfold more and more. These are important memories.
Reason #5: I Always Keep the Perspective that a Wedding Is the Most Important Day for My Clients
A very sad story that completely changed my entire perspective when it comes to weddings happened a few years ago. I had photographed a wedding for an amazing couple. The groom bride's voice on a message that she left me. She was so distraught. The hair on my arms still stands when I talk about this, or when I see her anniversary posts on social media. The basis of the message was that she thanked me for capturing those final happy days. I had even captured some really special photographs of the groom and his brother; they had not spoken in years but had reconciled for the wedding. It's all so important. Honor it. Capture it. Live it. Feel it. Be there. Be present.
Some Final Thoughts from Jeff …

For the rest of 2018, I am really looking forward to implementing more of what Steve Saporito has taught me: showing my clients how valuable they are and how important their photographs of what they value and who they love the most are as well. I'm also contemplating a new studio space. And, of course, I'll be soaking up plenty of the awesome mountains and nature in the Hudson Valley, and hitting the ice in the winter (Go Devils!).
You can see more of Jeff's work on his website; as well, be sure to give him a like/follow on Facebook/Instagram as well!
Check out the latest SLR Lounge Award Winners here. Don't forget to submit by the June 30 deadline to be considered for SLR Lounge's June 2018 awards competition. And, finally, remember that anyone can sign up for an SLR Lounge account for free and submit, but Premium Members are able to submit up to three photographs each month!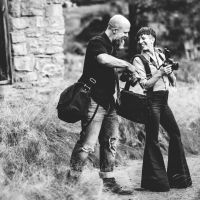 Amii & Andy Kauth
Amii & Andy are a wife and husband team of rad portrait and wedding photographers (Sunshine & Reign Photography) who absolutely love life and are generally just stoked! Yeah! When they aren't photographing or writing and teaching about photography, you'll find them off on a seriously legit adventure with their little ones, lifting weights in their garage, training jiu-jitsu, refining their archery skills, or surfing every chance they get. And on the rare chance they escape off on a "date night"? Yep! They'll find a wedding to crash (true fact). Website:
Sunshine & Reign Photography
Instagram:
@sunshineandreign