Take a Time Out with Tanya, art director & graphic designer turned commercial photographer who really just wants a break from her three kids. Sign up for her weekly email here so you'll never miss a Time Out.
Not having a dedicated studio space can pose a problem when you want to offer clients certain types of shots, and for many years having a studio didn't seem like a possibility for me, so I made do with what I had and created head shots and portraits on-location. Now that I've eliminated all the excuses that kept me from renting a studio space (too expensive, no child care, too risky, etc.) I've actually consciously chosen not to have a studio.
I rent a small office space where I edit and store my gear, but in the end I decided at WorkStory Corporate Photography we would offer on-location photography only. I made this decision in the interest of my clients, who are busy working professionals; I wanted to make the photography process as easy and convenient for them as possible, and after speaking with many business owners, coming to them seemed like the most valuable service to offer. Plus, I like infusing the personality and brand of my clients into their images, and on-location at their place of business is a great way to do that.
So, how do you create stunning head shots anywhere, especially if the location seems less than ideal? I've been shooting on-location for many years and have got it down to a system. Here are five tips, including gear suggestions, for successfully shooting head shots on-location. In part two of this article, I'll give you a behind-the-scenes look at some ordinary places turned into mini studio spaces and the lighting set ups I used.
Set Expectations Upfront
Before I even get started planning a shoot I meet with my clients to find out what they want. Do they even want a "studio style" portrait? Or do they want something more cinematic showing the environment in which they work? What personality traits do they want to make sure come through in their images? Where will they be used? This is also a good time to make sure they understand things like the licensing agreement, model release, payment terms and how things will go on the day of the shoot.
Scout the Location
If possible, I like to check out the location before the shoot so I'll know if I need to bring any additional gear or make any extra preparations. It's just a good idea to know where you'll be shooting so you can be prepared. I generally do this during a pre-session consultation with my clients or when I meet with them initially to talk about working together.
You'll want to look around and see where might be the best place to set up for head shots. Is there great window light in a certain place? Is there a pleasing background nearby? Will you need to move any furniture around the day of the shoot?
Look for the Light (or bring your own)
One of the primary reasons for scouting a location is to check out the lighting so you'll know how to modify it or add to it during your shoot. In some instances, all you'll need is a reflector and an assistant to hold it. In other situations you might need one or two lights plus a reflector, or nothing at all.
If you're unfamiliar with simple lighting set ups, I highly recommend you watch Photography 101, Lighting 101 and 201 available as part of the SLR Lounge Premium Membership. That's all the education you'll need to start shooting on-location in any lighting situation. The rest will come with experience. In part 2 of this article, I'll show you a few examples of different lighting set ups I've used and the resulting portraits.
K.I.S.S (Keep it Simple Stupid)
I used to think I would need a ton of gear in order to create great head shots and portraits. All the photography greats I was learning from were lugging around full studio lighting set ups, including huge battery packs, giant soft boxes, backdrop stands and hand painted backdrops. They needed multiple assistants to help them out with all this gear. "Holy cow, what a lot of work lugging all that stuff around," I thought to myself. Again, thinking about my clients and what their experience would be like at their offices if I brought a truck load of photography gear that took hours to set, I decided to simplify.
Now, all the gear I need for an on-location session fits in a Deluxe Utility Tote from Thirty-one Gifts plus one light stand bag. That's it. I can carry it all my self. On occasion I take one assistant with me, depending on the job. I can set up my gear in 5 to 10 minutes and my clients aren't overwhelmed by a bunch of lights, cords and battery packs. Here's a list of the gear I typically take:
Camera
Canon 5D Mark III camera body
Canon EF 24-70mm f/2.8L II lens
Canon EF 85mm f/1.8 lens
Canon EF 50mm f/1.4 lens
Memory cards
Tripod
Lighting
Canon Speedlite x 2
(Try Yongnuo as a cheaper alternative)
Extra batteries
Radio Trigger
Pony clamps
Sheer curtain panels
5-in-1 collapsible reflector
Monopod
Lightstand, Umbrella Modifier & Mount x 2
(My fave affordable  umbrella softbox for speedlites is this one by Neewer)
If you're starting from the ground up with mobile lighting, you might want to try a pre bundled kit, like this Canon Speedlite Kit.
Learn to Be a Poser
The first time I took a professional friend out on location to practice head shots, she asked what she should do with her hands and I had absolutely no idea. Posing people for portraits is an art, one that requires study and practice. Everything I know about posing I actually learned from the incredible Sue Bryce and her CreativeLive  courses. I continue to learn through practice and study, and I regularly tear out great posed images from fashion magazines (Harper's Bazaar is my favorite) and keep them in a binder to look through before a shoot. I know basic principles of posing to flatter all body types and genders. I can confidently direct someone during a shoot without making them feel awkward. All of this takes practice and it's essential for head shots.
Stay tuned for part 2, where I'll show you behind-the-scenes looks and specific, simple lighting set ups for on-location head shots.
For more shooting on-location tips, check out the other articles in my No Studio, No Problem Series:
Photographs by Tanya Smith are copyrighted and have been used with permission for SLR Lounge. Do not copy, modify or re-post this article or images without express permission from SLR Lounge and the artist.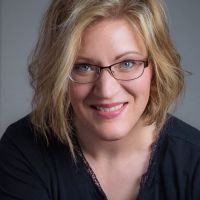 Tanya Goodall Smith
Tanya is the owner of WorkStory Branding Photography in Spokane, WA. Businesses hire her to create story-telling content that sells their high end products and services. She also teachings photographers her unique business model for making serious money as a corporate and personal branding photographer. Find her at
workstoryphotography.com
and
workstoryeducation.com