It was near—as-makes-no-difference 5 months ago that we broke news that fashion photographer Nigel Barker, in conjunction with Adorama and accompanied by a host of photography elites would be producing a photography show and competition called Top Photographer, the likes of which we'd never seen. The 'Top Model'-esque show promised a title bestowed by industry leaders, but perhaps even more attractive was the promise that it could help craft you to become one. Well, out of thousands of entrants garnered, that number was felled to the final 5 who have been competing for the past month, and finally, tonight, the winner and first Top Photographer has been named: Congratulations, Scott Borrero.
Scott is a commercial photographer and social media influencer based out of San Francisco, CA. At 29, Scott has already developed an impressive clientele list on which you'll find names like Nike, Canon, Jeep, Ram, The Holiday Inn, Lexus, and more. During his time at the Academy of Art SF he did a 6 month unpaid internship fashion start-up which ended up taking him on as their head of photography, a position he'd hold for two years until going freelance, and culminating here, as the winner of Top Photographer – a title earned by the passing judgement by the likes of Coco Rocha, Joe Zee, Jeremy and Tom Jauncey, David Bergman, Emily Soto, and of course, Nigel Barker.
"I had no idea the contest was going to be such a learning experience as it was, but I should have guessed with a host like Nigel," states Borrero. "The best advice I can give the contestants for future seasons is to listen to EVERYTHING Nigel and the judges say, because when they say something, they've got a reason."
Part and parcel to the title of Top Photographer Scott will be the beneficiary of a prize package valued at $50k, comprised of gear, and most notably, a party and his own gallery showing where his work and self will find themselves in front of and betwixt Manhattan's beau monde.
Nigel asserted his congratulations for the crew and contestants, "I would like to congratulate all the contestants for working so hard and passionately like true professionals, with an extra special salute to Scott Borrero for making it to the top and doing so with true talent, grace and charm. I look forward to seeing all our contestants go from strength to strength, and to season two as we grow the 'Top Photographer' community!"
You can catch all the season in its entirety here, and if you're in the neighborhood, tomorrow (Wed Nov. 30th) Adorama is hosting a meet and greet at their NYC location for the show, and we'll look forward to the next season.
Check out more from Scott here on his site and Instagram, and get a peak into Nigel's mind and his advice with my unusual interview with him, here.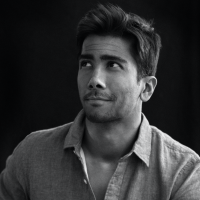 Kishore Sawh
A photographer and writer based in Miami, he can often be found at dog parks, and airports in London and Toronto. He is also a tremendous fan of flossing and the happiest guy around when the company's good.