Tony Corbell is a name attached to a face and voice many of you will know well. This is not because he's some fame thirsty social media star, but because he's been an absolutely prolific photographer and educator during a career spanning decades. In that time Tony has shot UN leaders, 3 American presidents, NASA astronauts, and a handful of notable people from just about every corner of life. But beyond the flashy people, Tony is, for us photographers an educator.
With his rather signature style of calm and frankness, Tony has become somewhat endeared to more than one generation of photographer, and why it's no surprise his educational materials are featured here on SLRL, and can be found on CreativeLive, within the pages of major photography publications, and on stages the world over doing workshops.
Tony's signature dish, so-to-speak, is lighting, and he teaches it in a three-part concept of Light Quality, Light Quantity, and Light Direction. So it makes sense then, that Tony should be teaming up with Profoto, a leader in lighting tools and among our particular favorites, to present an all new program designed to simplify the often complex study and understanding of lighting.
The new program, An Evening With Tony Corbell, is a 12 city tour where Tony will dive into the craft of lighting from the ground up. It will begin with an hour-long slide show to assist in establishing the foundation of lighting, then move into a live shoot with a model, and then finish up with breaking down light shaping tools and the theory of 'Size Relative to Distance'.
The first stop on the tour is this Thursday, May 5th, in Indianapolis, followed by Los Angeles on Monday May 9th. Being so well priced these seats are going very quickly, so if you're interested it's advisable you act swiftly. You can see the event and the full schedule of the tour here.
For more information on Tony please visit his site.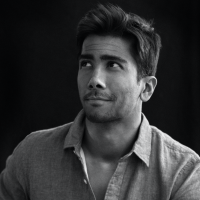 Kishore Sawh
A photographer and writer based in Miami, he can often be found at dog parks, and airports in London and Toronto. He is also a tremendous fan of flossing and the happiest guy around when the company's good.