Magmod modifiers are some of our favorite portable lighting tools for wedding photography and we wanted to show you 4 creative ways to use them throughout a wedding day! Trevor and I went live in the Magmod Facebook Community to discuss just how simple it is to create extraordinary images with these simple modifiers. You can watch the full video here:
Download the slides from the Facebook Live video here!
You can find more quick & effective lighting techniques in our Complete Wedding Photography Training System which covers wedding photography from prep & planning to reception! Purchase it now for a limited time launch discount here!
Here are the four Magmod lighting techniques discussed during our Facebook Live:
1. Pin-lighting with Grids for Dramatic Portraits
Soft and beautiful light is always the preferred light source for weddings considering most brides gravitate towards that aesthetic, but what about using a single source hard light to edge subjects out of a scene? We love bringing the drama with a clean, pinned light by using a MagGrid or MagSnoot to chisel out the subject in a scene. The snoot gives us the ability to really refine that light and direct it towards our intended subject.
Gear used: MagSnoot, CTO MagGel
[Related Article: Our Magbox Review]
2. Color Temperature Throws With Gels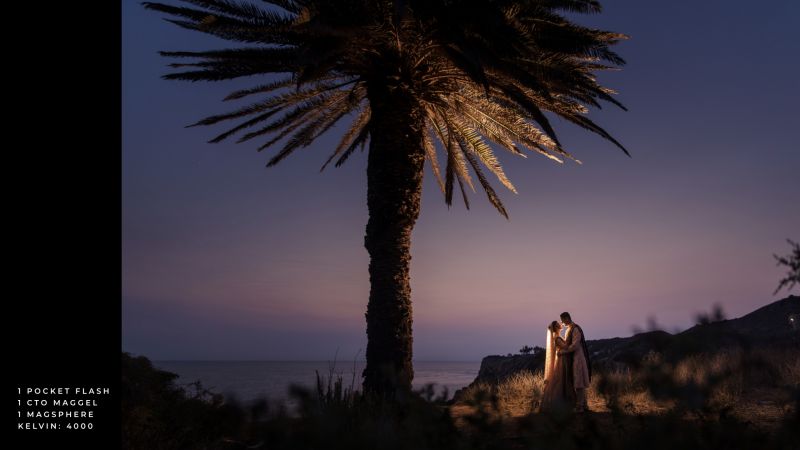 One very easy way to create magic in an otherwise ordinary location is to change the white balance of your scene and create a color temperature throw. We love creating these types of images during dusk or after sunset when the sky fades into a purple haze, perfect for playing around with your gels and in-camera white balance. In this example, we place a Magsphere (pointing upwards) with a CTO Maggel behind the couple to illuminate them and the palm tree. To see a full list of gear I take with me on wedding day's check out my updated Gear Guide.
Gear used: MagSphere. CTO MagGel
3. Rim-Lighting For Wedding Receptions
We often times find ourselves at wedding receptions that lack ambient light or spotlights to help us out in dark scenarios. A way to combat that is by adding in your own light sources and really kicking up the production value of your reception coverage by creating a 3 light setup. In the images above, taken during Photographing the Reception, you can see we have our on-camera flash pushing some light forward and two rim-lights helping separate the subjects from the background with MagGrids to help streamline the light. MagGrids & MagGels are some of our most commonly used tools throughout wedding days.
Gear used: MagGrid, CTO MagGel
4. Dance Floor Twist
Capture all the fun on the dance floor with one of our favorite in-action lighting techniques. the dance floor twist! Use a hand-held flash to freeze the action and spin your camera to create interesting motion! We love MagMod's newest tool, the MagShoe, for techniques like this that require you to be quick-paced and on-the-go.
Gear used: MagShoe, CTO MagGel
You can see our discussion regarding the new Magmod Products (MagRing, MagShoe, and MagBox) in this article! If you are interested in purchasing any of the new MagMod products, you can find them on their Kickstarter page!