Never before have I seen the phrase "'til death do us part" taken quite so literally.
Photographer Haruhiko Kawaguchi's photographs have coined a new purpose for the phrase "wrapped up in your love", as he experiments with photographing newlyweds packed inside a vacuum shrink bag. Yes, take that last sentence in, because it made me appreciate the air I am currently breathing.
What started as an art series entitled 'Flesh Love' morphed into an influx of odd requests from couples left speechless by Haruhiko's work. When couples first meet with Hal (a self-proclaimed nickname), he candidly explains the process: subjects are lathered in lube and coolant gel to ensure that there is no friction with the plastic, then they are vacuum sealed into a rather large plastic body bag for about four seconds, devoid of oxygen. Sounds like an express ticket to heaven, am I right?
In an interview with The Daily Mail Hal states:
With my pictures, I try to show this power of love by getting the couples as close together as possible. The less distance there is between them, the stronger the power of love.
I think love is the most important thing on the earth. I think that everything positive in the world starts by focusing on love.
Although it is the thought that counts, some thoughts should just remain… thoughts. Hal notes that "in this extremely limited time I can't release the shutter more than twice", and while he does have a paramedic and assistant on site ready with an oxygen sprayer and gel in case anyone starts to feel ill, I can't help but wonder why anyone would want to be sandwiched in a bag with their spouse.
I get claustrophobic just thinking about being packed into a sardine-can of a subway train, can you imagine nestling your lubed limbs & other body parts all snug in a bag – watch his process here:
Hal's reasoning behind the vacuum-pack shoot stems from the notion that we were all one at some point, and it is the "fundamental yearning that carries an energy that affects everything in the world". I personally think a simple picture of a tight embrace would suffice, but I'll let you be the judge, see more of Hal's work on his Website.
CREDITS: Photographs by Haruhiko Kawaguchi are copyrighted and have been used with permission for SLR Lounge. Do not copy, modify or re-post this article or images without express permission from SLR Lounge and the artist.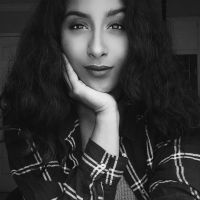 Shivani Reddy
Shivani wants to live in a world where laughter is the cure to pretty much everything. Since she can't claim "Serial Bingewatcher" as an occupation, she'll settle for wedding/portrait photographer at Lin and Jirsa & marketing coordinator here at SLR Lounge. For those rare moments when you won't find a camera in her hand, she will be dancing, eating a donut, or most likely watching Seinfeld. Follow her on Instagram:
@shivalry_inc