LaCie makes some of the most eye-catching external drives in existence, and they do it time and time again. They are a beautiful blend of utility and function that make the mundane and messy world of storage, attractive and tidy – as if they were grown in a Stockholm flat. Surprisingly however, they aren't. They are instead born of a Scottish mind; that of Neil Poulton, whose name is to be found quite pronounced on the Ruggeds, in case you had ever wondered. But while most of the drives change much, the Rugged's change little, until lately.
What began as an avenue of differentiation is now truly diverse. There are standard Ruggeds with your average USB and a few memory cards worth of storage, and there are now RAID Ruggeds and SSD Ruggeds, and now high capacity USB-C Ruggeds. Basically, if rugged protection must feature in your drive choice they've got you covered. One of the latest is this Rugged 5TB USB-C variant, and I've thrashed it over 3 continents; dragged, dropped, left in sand, in rain, and hot tarmac next to equally hot fighter jets.
Accepting USB-C
I think we can all agree that USB type C is here to stay. Whether it's your particular brand of poison is sort of irrelevant at this point because it's proliferated, and frankly, it makes sense. Cameras, computers, phones, monitors and more are going in that direction. So when LaCie released their Rugged line with USB-C one of the questions that dogged it seemed, to me and many other professionals, a bit odd. It was,
"What's the point of pairing a Thunderbolt or USB 3.1 Gen 3 Capable device with a 5400rpm mechanical hard drive in it?"
The question is simple enough to understand and even to side with, but only if you haven't fully thought about the future. The idea is, that a mechanical HDD with spinning drive at 5400 RPM simply won't be able to make use of anywhere near the operational bandwidth of USB-C, and sure, fair enough argument, but the point is everything is going USB-C, and this keeps things relevant. Keep in mind that the USB-C connector was created by the USB Implementers Forum, which is a collective of some 700 companies (Apple, Samsung, Dell, HP, Microsoft…) that heralded and developed the USB standard.
By implementing USB-C into the Rugged HDD line LaCie brings its rugged and capable performance to VERY high capacity drives that are usable on the most modern computers, and can easily be adapted for older ones, without a hideous price tag. Forget rugged capability for a second, but a comparable SSD (to take more advantage of USB-C) would probably cost about 6 times as much for the same size. So here, LaCie is keeping you forward without leaving you behind, or broke.
So if we get over that point, the question is, is it worth it?
To be entirely frank, it will depend on the individual usage and values. For the professional, for someone who wants assurance and has neither the time nor desire to expend energy babying their equipment for it to work, then yes. If you're just commuting from studio to home then perhaps not. Perhaps. Here are the stats at a glance:
PRODUCT HIGHLIGHTS & Performance
5TB Storage Capacity
Thunderbolt / USB-C Connectivity
AES 256-bit Encryption
Bus-Powered
Drop-Resistant Up to 6.5′
Shock, Dust, and Water Resistant
Windows & Mac Compatible
The versatility of USB-C to connect to both USB 3.0-compatible computers as well as to USB-C and Thunderbolt 3 computers is great for creatives who don't work strictly within their own ecosystem, and even then it's a plus. If you've got both Macs and PCs you're pretty much covered, and if you're collaborating or working with other people in some capacity it also helps for the same reason, and this has been a recurring theme for me over the past few months.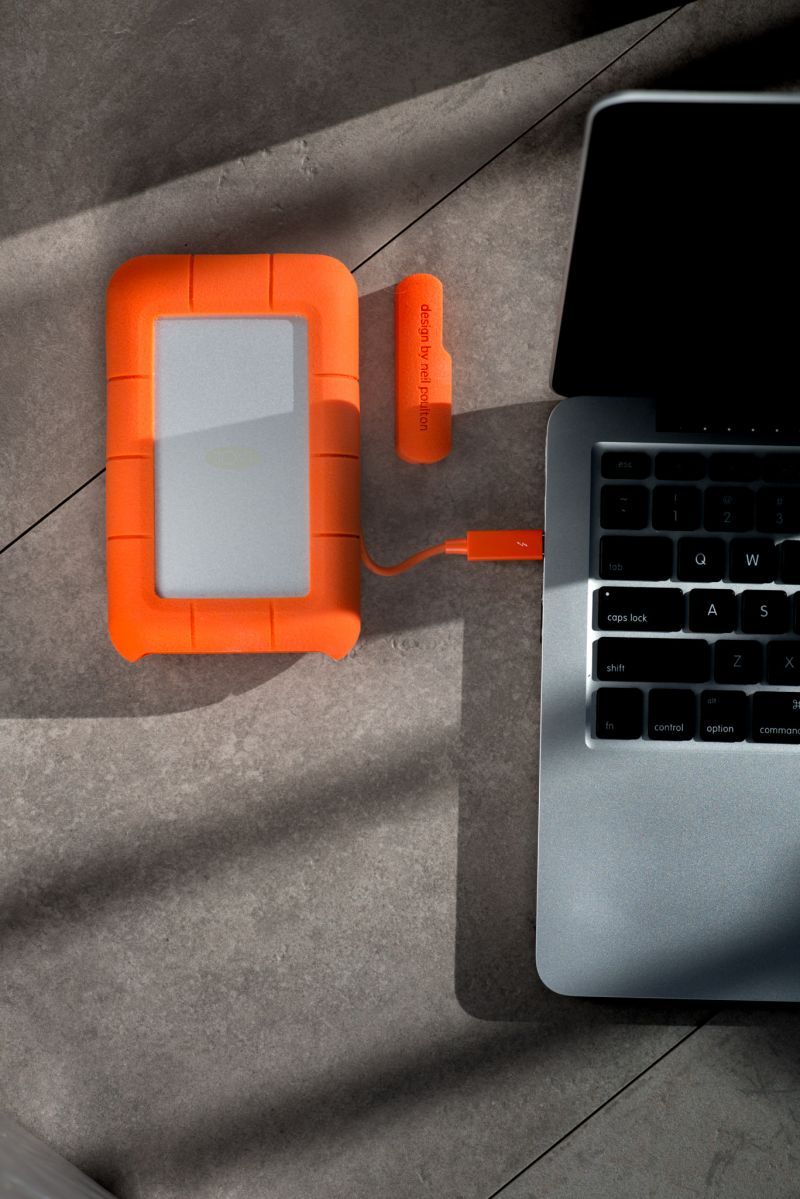 Certainly a nice feature is the built-in Thunderbolt cable, which, for someone who uses a 1.5 year old MacBook Pro makes sense, but I'm not quite sure why they didn't make the built-in cable a USB-C, and instead chose to have a port and supply two other cables to go along with it: a USB-C (USB 3.1 5 Gb/s) Cable, and a USB-C to USB-A Cable (USB 3.0 Compatible). I would assume that the next evolution of the drive will have a USB-C built in.
Either way, the speeds are certainly consistent with the stepped progression of drives we've seen over the past few years, coming in at 130 MB/s write and 132 MB/s read in my synthetic testing. Are there faster HDDs out there? Yes, but this isn't relegated to the back of the line. In fact, in practical testing I've seen it do about 140 MB/s, which is oddly faster that marketed. It also had less stuttering when managing 4K video files straight from the drive, which is typically somewhere these suffer.
Ruggedness
This is why you buy it. Historically I've found people who buy Rugged drives tend to always have at least one, and it's not hard to see why. If you're an outdoors type, or a city commuter, you can feel safe in the knowledge that you don't have to tip-toe on eggshells to keep your data safe.
The last RAID variant had a good drop rating and the drop rating is better in this one; 6.5 feet is a long way to drop. It's a circumstance you'd unlikely find your drive in, but 2 feet? 4 even? That's like kitchen-island height and very possible you'd experience such a drop, so it's good to know your data will be fine and you can carry on.
The caveat there, however, is that's the rating when the drive isn't spinning. If your drive is spinning then bets are off, but unless your cable is that long then your drive would hopefully be stable by the time of impact to protect it. What it also means is it'll probably stand up nicely by getting hit, or crushed by whatever life throws at it.
As per weather and element resistance? Well it's IP 54 rated which is good enough for most, and the DSMT describes such rating as follows:
I shoot on the beach with frequency, I fly a lot, and I shoot military aircraft with frequency, and each of those scenarios is demanding on equipment. We all know sand is a photographer's worst enemy, and the Rugged is the only drive I'll bring with me and feel find leaving on its own on the beach. It seems to do well in the baking Miami heat as well, either on sand or sitting on flight lines, and in airports I don't worry about the drive being beaten around in a bag.
All in all, that's peace of mind that's hard to put a price on – but LaCie has, and it's not what we'd call cheap. The 5TB goes for $299, but again, that's not actually bad for a small(ish) drive that you can take anywhere, with high capacity enough for your entire vacation (and all you do on it) and then some. It's a highly capable high-capacity drive that's stylish, safe, versatile, and will bridge the tech gap between the computer you have now and the one you'll get next.
Check out the variants: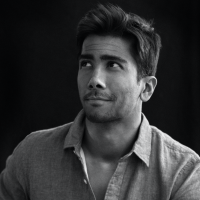 Kishore Sawh
A photographer and writer based in Miami, he can often be found at dog parks, and airports in London and Toronto. He is also a tremendous fan of flossing and the happiest guy around when the company's good.