To those who don't do it, studio lighting and off-camera flash seems like the last vestige of photography they want to dabble in. They like it in theory but don't like the theory. The thing is though, an an hour's work can make for many hours of great image making, and the first half hour of that first one is the only annoying bit.
Basically, lighting needn't be daunting.
Manny Ortiz has just released a new video tutorial demonstrating how to achieve some nice in-studio looks with basic gear and a single light. There's little theory involved, and if I'm honest, you could just set it up and take about 5 min of trial and error to get the look you want if you're not shooting a client.
For those who want to do basic flash work to get a specific look, Manny brings the information across for you in a way you'll be able to easily digest and apply. You could literally just watch the video and set up exactly how you see it and get the same looks. From light placement, to type of modifier, and the 'A's' to all the other 'Q's', it's worth a watch. He'll address why light is placed where it is and how to use a reflector to bring a bit more dynamism into your image.
Gear
That's what he is using, and the camera and lens combo alone total about $5k. Honestly, you can get almost the same level of image with with kits that cost under $1k (excluding light and accessories), so don't be dismayed if you're not shooting with the same level. Here are alternatives:
*These are cropped sensor bodies so your FOV will be a bit varied, but taking a few steps back and you'd be fine. He also address all the stands and backgrounds and such in the video.
Sony a6000
Sony FE 85mm f/1.8 Lens
Canon EOS Rebel T7i DSLR
Canon EF 85mm f/1.8 USM Lens
Nikon D5600 DSLR
Nikon AF-S NIKKOR 85mm f/1.8G
Manny has been steadily building his YouTube channel and portfolio of instructional videos over the past year or so, and that time has shown his growth and progress as a journey without pretense, and that's great if you're learning because you can have a look back at what he was doing a year ago and see his evolution. Check out his channel and show some love by subscribing as he tells me there's a lot more to come.
If you really do want to get into the details of lighting from the ground up then check out SLRL Premium for our Lighting 101 & 201.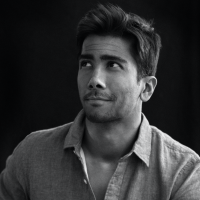 Kishore Sawh
A photographer and writer based in Miami, he can often be found at dog parks, and airports in London and Toronto. He is also a tremendous fan of flossing and the happiest guy around when the company's good.