Welcome to another installment of our official Wedding Photography Guide, a series of articles designed to teach you the fundamentals of wedding photography. In our previous article from this series, we covered how to photograph the bride and groom's first look, from scouting the location and coordinating with the team to capturing the action as it unfolds. This week, we present our official Couples Session Guide, an overview of how to light, pose, and direct clients to create flattering couples portraits on their wedding day.
All of the education from the guides as well as our workshops is derived from our experience at Lin and Jirsa Photography, a Los Angeles Wedding Photography Studio with over 10 years of experience and over 2,000 weddings. For comprehensive wedding photography education, be sure to check out our full workshops in our store.
Introduction | Why We Are Here
Of all the images that photographers capture at weddings, a quick Google search of "wedding photography" will reveal which wedding images people tend to value most: couples portraits. From epic environmental shots to close-up candids, couples portraits represent a significant part of the wedding story and they hold high visual appeal.
It is no coincidence that couples often allocate three or more hours of their wedding day for couples sessions, which typically break down into two to three sessions scheduled throughout the course of the day, from the first look to golden hour and evening sessions.
Timeline Troubles
Unfortunately, despite their best intentions, timelines don't always work out and time occasionally runs short. While you should try to identify potential time concerns during the pre-wedding talk-through, unexpected obstacles will often present themselves on the day of, and it helps to know how to get the most out of the time you have available to capture the couple.
In this article, we offer seven tips to help you efficiently capture flattering couples portraits that elicit genuine emotion on the wedding day.
How To Master The Couples Session
Let's get started!
1. Scout Locations Ahead of Time
This phrase may appear often, but it bears repeating: Whenever possible, scout locations ahead of time! Regardless of whether or not you've previously shot at the venue, there's a chance that the locations you've used before or found online may be under construction. Scouting locations early on the day of is the best way to ensure you can gain access to ideal spots.
Choosing a Location
When choosing a location, we recommend looking for one that will allow you (and your team) to shoot from different angles. While second shooters often use the time allocated to couples sessions to photograph reception details or cocktail hour, they usually have a small window of time to catch creative angles of the couples session, which might be difficult if the chosen space is unaccommodating.
Helpful Apps
Finally, apps like Sun Surveyor that work with the Live View feature on most phones will allow you to determine the sun's position at any given time and help you make more informed choices on which locations will work best based on the available light.
Here are some examples of ideal and bad indoor and outdoor scenes for couples session:
Ideal Outdoor Couples Portraits Scene – Backlit & Golden Hour
It's hard to beat a beautifully backlit beachfront during sunset, but if this ideal backdrop is unavailable, look for these elements for an outdoor scene:
Shaded, evenly lit spaces
Backlit spaces with natural reflectors such as bright walls for fill light on the couple
Areas with clean and/or scenic backgrounds
Bad Outdoor Couples Portraits Scene – Distracting Backgrounds 
There will be times when your location offers limited options in terms of providing a decent backdrop for a couples portrait. When shooting outdoors, having a solid understanding of angles, exposure, aperture and composition will allow you to maximize the potential of any environment. Click here to learn how to capture elegant couples portraits when the outdoor scene is less than ideal.
You can also take these steps when faced with photographing in less-than-deal conditions outdoors:
Find the best possible light – Even in unideal scenes, there is likely a patch of shade in which you can position the couple
Choose a longer focal length – Shoot tight to limit how much of the environment is revealed
Shoot at wide apertures (f/1.2 to f/2.8) – The shallow depth of field will help draw less attention to the surroundings and keep the focus on the couple
Maximize dynamic range – Retain as much detail as possible despite the bright highlights and deep shadows present in the scene
Ideal Indoor Couples Portraits Scene – Large Source of Natural Light
The meaning of ideal may vary depending on the style of photography your couple prefers, but if you can find at least a few of the following elements for an indoor scene you'll be off to a great start:
Find good natural light
Use hallways/stairs for compositional elements
Find natural reflectors like white walls that will help fill in light
Look for clean backgrounds
Bad Indoor Couples Session Scene – Powerful Ambient Light Source
Some indoor scenes leave much to be desired, but sometimes options are few and far between. When faced with less than ideal indoor spaces, take the following actions:
Overpower the ambient light: Find the best possible light or modify with reflectors or flash
Shoot tight: limit how much of the environment is revealed
Shoot wide apertures (f/1.2 to f/2.8): blur out the background
Expose for skin/shadows: darken your exposure to reveal less
2. Add Light According to Taste
Do not let the existing light determine the look or style of your couples portraits. Instead, understand your couple's vision and then determine which lighting style to use. While there are in fact several ways to light and shoot a scene, here are three standard go-to's for lighting couples portraits.
Bright & Airy Couples Portraits
Although lighting trends come and go, the bright and airy look has long been a staple of couples session portraits, especially during golden hour. Some photographers shoot exclusively in this style while others prefer to introduce lighting for effect. When shooting in this style, take the following steps:
White balance for the skin tones in camera
Expose to retain shadows
Shoot with wide apertures (1.2 to 2.8 preferred)
Dramatic Off-Camera Flash (OCF)
Dramatically lit off-camera flash images capture scenic details in a unique way as a result of creatively reducing and adding light, and they often record a wider spectrum of colors than bright and airy images. These images tend to take on an "epic" feel when photographed within a wide expanse, revealing more of the environment that surrounds the couple. Follow these steps when shooting dramatically lit OCF images:
Cool white balance to taste
Set ambient exposure
Add flash with CTO
Directional flash should face bride (camera right in image above)
Adjust flash power
Add additional flash for backlight if desired
Silhouettes for Couples Portraits
Silhouettes represent one of the rare instances in which what we can't see is equally or more interesting than the visible details.
Follow these steps when shooting silhouettes for couples portraits:
Cool white balance to taste
Set ambient exposure
Add flash for backlight if desired
Create separation between the couple and craft the bride and groom's poses to reveal their shape
3. Use the Foundation Posing Framework for Couples Portraits
After studying and analyzing poses in thousands of images, we found that approximately 97% of the poses stemmed from five basic positions of the feet and body. From these foundation poses, you can make micro adjustments to create a wide variety of looks and establish different levels of intimacy. Watch the following video for a quick overview of the foundation posing framework.
One of the biggest benefits of using the foundation posing system with your couples is how easy it makes communicating with the couple to get into and cycle through poses. If you cover the foundation poses with the bride and groom before the session, you can quickly get them into position with minimal instruction the rest of the day. This will allow you to capture more looks in less time, and hopefully, deliver more couples portraits. The run-through should not take more than five minutes, so the time it takes is definitely worth the time it saves.
Posing Goals for Men Vs. Women
When posing couples, it helps to understand the different posing goals for men and women. Having this understanding will allow you to better direct the bride and groom, and whether you are shooting individual subjects, couples, families, or wedding portraits.
Posing for the Mood for Couples Portraits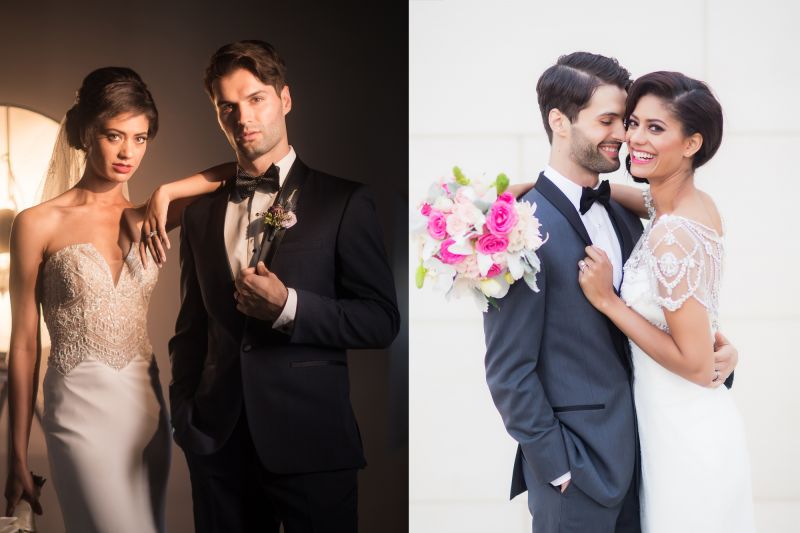 From the open to the closed pose, simple positioning of the feet and placement of the arms and hands can dramatically alter the look and feel of an image. Consider the mood and purpose of the image before deciding on the pose and match the expression accordingly. The couple's expressions should match one another; if the bride is laughing and the groom is wearing a serious expression, the image will feel off.
Nuances of Body Language
In order to completely sell an image body language must be on point, and nuances like staggered hand placement and eye direction should complement the pose. If body language is off, the image may not be salvageable, and uncontrolled nuances like mirrored posing could distract from the couple.
4. Utilize the Veil
Nearly 70% of brides decide to wear veils on their wedding day. As such, we recommend learning to use the veil to your advantage when the opportunity presents itself. Though the veil belongs to the bride, consider it a supplemental tool in your kit for couples portraits and use the veil to compose shots that would not be possible (or that you likely could not get) without it.
Couples Portraits Inside the Veil
If you've never used live view in your camera, now is the time. When setting up a shot from inside the veil, live view gives a more accurate representation of the lighting and lens flares that occur when the veil conceals the lens. Although using live view is not absolutely necessary, it is a helpful tool worth mentioning.
Veil Drops & Tosses
When capturing veil drops for couples portraits, you must consider several compositional factors regarding the shape of the veil, as well as the position of the veil, the couple, and the assistant.
Tips for veil drops and compositing:
Keep veil on the open side of the frame, or in the center
Open veil entirely (one hand high/one hand low – for the assistant)
Countdown for the assistant to run out
Fire multiple images (pick best shape)
Repeat if the shape is poor
Composite if the frame is too wide (tripod ideal)
Wrapping The Veil
Veil wraps offer several advantages for adding interest and directing focus in an image, but it's important to allow enough time to properly compose the shot. One of the biggest mistakes photographers make while shooting veil wraps is rushing through the session and not carefully paying attention to the details, such as veil shapes, leading lines, and concealment of the couple.
Watch this free veil tutorial here!
5. Choose the Right Lens for Your Couples Portraits
The lens you choose to use to photograph couples portraits has more to do with the specific look and style of imagery you are trying to capture than anything else.
Some lenses, such as wider angle lenses with 24mm or 35mm focal lengths lend themselves more to journalistic or environmental images while others are more appropriately used to capture traditional portraits, such as an 85mm focal length lens.
Whatever lenses you decide to pack, it is important to choose the right ones for the job. See our favorite lenses for couples portraits here!
6. Be a Director, Not a Photographer
After mastering your technical skills and posing elements, focus on communication with and directing clients to create beautiful, natural couples portraits in any situation, regardless of time constraints or other limitations. The more time you take to get to know your couple and understand where they're coming from, the more likely it is that you'll be able to make them forget that they are standing in front of your camera.
7. Use Every Second You Get for Couples Portraits
During the in-between moments of a wedding timeline, opportunities abound for capturing additional images in very short spans of time. For example, in the time it takes to walk from one location to another, you can give simple cues to initiate candid reactions for a series of walking shots that will fit well into the story of the day. In the example above, the couple was simply cued to look at one another while walking from one location to the next. This illustrates the point that quality couples portraits do not always require ample time for setup and execution.
8. Utilize Creative Techniques for Couples Portraits

Elevate your couples portraits and utilize unique & creative techniques like the Brenizer Method. Pushing yourself to try new techniques (or improve upon those you already know) will both keep you inspired and help you exceed your clients' expectations. While some portraits work best for up close, candid interactions, you can always find an opportunity to add a little sizzle to the session with your special brand of creative know how. To help inspire you, check out these other creative photography ideas and techniques.
Conclusion
As wedding photographers, we are tasked with capturing one of the most important days in the bride and groom's lives. On this important day, couples portraits are among the most highly valued images. Couples portraits can prove challenging given their importance and the limited time in which you often have to capture them, not to mention their complexity, but when you've adequately prepared to rise to the occasion, they can also prove rewarding, both figuratively and literally.
Join Premium
You can find additional information on how to light, pose, and capture couples portraits in Photographing the Couple, a comprehensive course in our Wedding Workshop Training System that covers everything you need to know about how to capture incredible wedding-day imagery, including how to create flattering couples portraits using creative angles as well as unique compositions and lighting techniques! Check out this course in the SLR Lounge Store or stream it as an SLR Lounge Premium Subscriber.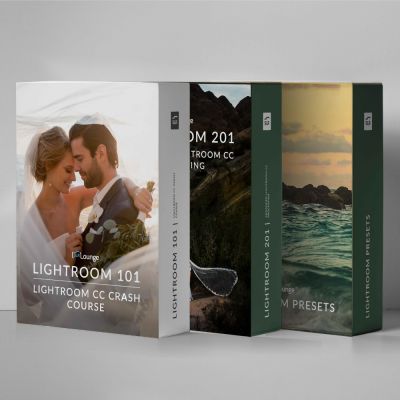 SLRLounge WORKSHOPS
Let us guide you in your photography journey with the best photography education and resources. Browse our complete, comprehensive solutions below and take the next step in your photography.
SEE WORKSHOPS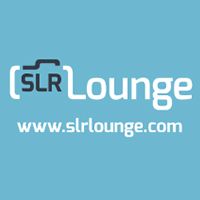 SLR Lounge Official
Articles by SLR Lounge Official are created by multiple authors. They represent official announcements by SLR Lounge.