I smell something fishy, and I'm not talking about the contents of Baldrick's apple crumble. – Blackadder Goes Forth
That's my general sentiment with regards to the arena of photography bags, because for the longest time they'd either been functional and hideous, or not hideous and hardly functioning. That all started to noticeably shift around 3 years ago though, when would-be camera bag manufacturers seemed to wake up and realize that there didn't need to be a great divide, and they began to fill that gap. Arguably, today, that 'gap' is where most camera bag buyers (not necessarily 100% working pros) are, and this is rather apparent given the proliferation of the type.
I think it's probably sensible at this point to address two things: a) the market for camera bags is far larger than those who would think only of function b) the primary downside, at the moment, to stylish bags paired with little-to-no compromise in function is that they're not exactly cheap. If you want something you can take street shooting and then walk into an office and not look like you're lost, it's going to cost you more than a ThinkTank. But if people can spend preposterous amounts of dosh on handbags, and shoes, and luggage, why not on a camera bag? Well, many do.
With that posed, I'd like to introduce you to the Hawkesmill messenger bag. It's a classily-crafted blend of form and function from England. Whilst the creator of the bag may be American, the line is as British as Tikka Masala.

The entire line of Hawkesmill bags, as it stands now, is a variation of their large messenger bag, and it comes in 4 different flavours to suit a variety of palette. Each of which is named after a particularly special street in London, like Bond St., Sloane, and in this review unit's instance, the famous one way street and style destination, Jermyn Street.
Feature set and stats:
• Size – 15.7" x 11" x 5" (40cm x 28cm x 12.7cm)
• Weight – 6.5lbs (2.9kg)
• Main body Colour – deep olive.
• Main body material– triple layer waterproof canvas. Made in Scotland.
• Flap material – triple layer waterproof canvas with an outer layer of Harris Tweed. Made in Scotland.
• Fittings – Nickel. Custom, branded feet and trigger hooks.
• Italian leather straps and trim.
• Methods used to open and close bag – turn lock for ease of use with one hand, front double leather straps and buckle for security. Please note: turn lock is NOT load-bearing. Front straps should always be done up before picking the bag up by the handle. (more on this later)
• Removable insert – padded, can fit 15" MacBook. Can be removed so bag can be used as a weekend bag, carry-on bag, etc. Bottom feet are removable and can be replaced when worn.
• Handle is securely riveted to steel bar, running through top of flap. Rivets are used at every stress point, including: front straps, shoulder strap, turn lock and handle.
• What can the bag fit? 15″ MacBook Pro, one pro-DSLR body with lens attached, one 70-200 f2.8 lens, flash unit (or two lenses stacked with divider) and various accessories in front and rear pockets.
• Bag is waterproof and dust proof.
• Warranty – Lifetime against defects.
Cost: £549 – Given Brexit, that's about $700 Greenbacks

The design of the Jermyn isn't exactly groundbreaking when seen from afar, because it carries a rather standard messenger bag shape and size, and that it doesn't yell 'camera bag', or even whisper it in the fashion of a discreet butler, means it doesn't look like it's grabbing for attention. But that doesn't mean it won't get it, because it will.
It's beautiful, and that can't really be hidden, but like all naturally beautiful things, they don't need to scream for attention. If the olive green and soft Italian bubble leather weren't enough, the Harris Tweed gets second looks, and the nickel fittings are perfect accents. It's a bag you'd really not mind having out and about on any street, and would still feel at home on its namesake.
The details are where the design shines, however, and some of the details you can't even see easily, or at all. Both the body and the flap are triple layer waterproof, and the same nickel fittings feel robust; they feel proper and purpose fitted, rather than gathered from a storeroom of unused parts.
Then there are even finer details which really show the Jermyn to be born of function, like the gussets on either side of the flap. The gussets are actually brilliant because if you were to hold the bag and it popped open (which we'll address), you can feel safe that you know the stopping point of movement because the design of the gussets demand it. It saves your stuff from falling out, and they also fold inwards to keep water and the like out of the bag; Something so simple, but so effective, and too often overlooked or executed poorly. Similarly, is the fact the insert can be fastened to the bag itself which really helps with keeping it feeling in place.
The gussets, and how secure they make you feel are probably secondary, however to the handle. When we're dealing with fabric bag flaps, they typically don't provide a sense of security, and often feel the weakest point of the construction, but this isn't the case here because the handle strap is literally riveted to a threaded steel bar that runs the length of the flap. It keeps she structural integrity of the bag high, and integrity is sort of a recurring theme through the use of the Jermyn.
But it's not perfect…

I'll just clarify right now that the Jermyn isn't flawless, but then again nothing is, and the imperfection here is more a weakness than a failure, and it's due to the primary buckle.
All the fittings -and indeed the usage-  is sort of centered around the primary buckle that fastens the outer flap to the lower portion of the body. It makes for easy opening and closing which is nice when you're on the move, and allows for some security and speed – you don't get that from the straps and buckles. But the problem occurs if your bag is loaded, and by loaded I typically mean 1 or two bodies, and 2 or 3 lenses. I would typically have in there some configuration of the following:
Nikon D610
Nikon D500
Nikon 85mm f/1.8
Nikon 50mm f/1.8
Nikon 70-200 f/2.8
Nikkor 28mm f/2.8
Nikkor 70-210 f/4
13" MacBook Pro
iPad Air 2
Tethering Cable
Samsung SSD T1
Battery Charger & Battery
With the weight of typically 1 body and 3 lenses with the rest of the sundries, it's not recommended really to lift the bag from the handle when buckled only at the center, as it will predictably open up. This is more pronounced if you pack the bag with the prism hump on your DSLR pointing outwards. While the bag can still (surprisingly) close like this, even if it's not fully packed it will likely open up. Again, however, this is not unique to this bag, but to briefcases and structured messenger bags the world over. The saving grace here is that the strap is comfortable, and if the lock does pop open, the gussets save the bag from opening to a point of spilling thousands in glass everywhere.
What I've just described is an honest reflection of using the bag, but it's also honestly the only problem I can foresee with function and performance. I've rain tested it, and it works as advertised, not only being resistant to a Miami downpour, but it didn't discolour or stain, and the nickel remains fresh. It's also surprisingly comfortable when fully loaded, and it's organized.
Speaking of which, there's an insert rear sleeve which can house your passports and travel documents and such, and it snaps into place in the rear pocket, and it's so good. If you're always moving around through airports, you'll find this a joy, and it's standard on all the bags, and matches whatever style you get. It's that attention to detail again.
Truly, it's a good performer, and while it won't replace your big backpack or whatever other monstrosity you may own, it's not meant to. It's meant to accompany you out, either on a daily basis or travel, keep your gear safe and easily accessible, and do it all stylishly so you can swing from the streets to a boardroom without making you look like you've lost your way.

This sort of speaks for itself if you've even skimmed over the review thus far; quality materials from nickel to Harris Tweed, all handmade in England and Scotland, and that's just the build. The design leaves for little wanting (perhaps shorter inserts so your camera can rest lower in the bag – but I've been told that's now standard), and you get the sense it'll age well with you.
Hawkesmill also sends their bag with some pomp and circumstance, arriving in a nice dustbag, set into a nest of branded paper. It's superfluous to some, but it's a nice touch, and adds a sense of occasion, and a sense of occasion is very much what the Jermyn brings every time you use it.

As always, the cost will be the sticking point for many. Many photographers reading this may think it's senseless to spend this on a bag when it could be put to a good lens or that you could get numerous functional bags for the price, and that's okay, but I'd kindly mention that if that's the case then this isn't for them. It's a bag for people who know what they want, and who know to get it won't cost the lint in their pocket. It's also for people who appreciate design and hand-crafted goods.
No one can tell you if something is good value because the criteria on which 'good' is measured is as wide and varied as the heavens, and perhaps just as personal, and it's much more difficult to measure this with a bag like this, than a camera body. However, if you consider that quality briefcases and messenger bags are often in this general price range (and they are – I'm a bit of a luggage obsessive), the value of this seems immediately apparent.
Personally, I think it's great value, because I find joy in these things. The Jermyn and the line it belongs to brings a little extra joy to a casual day out, and is a bit of a statement piece. But instead of stating to the world you're a 'photographer hear me roar', it speaks of you more as an individual, and it sort of proves that the Cartesian-like duality separation of beautiful-form and function is a myth. You can have both in one.
You can get a Jermyn, or one of the others here on Hawkesmill's website.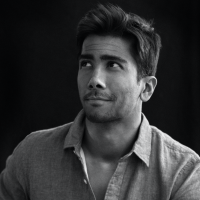 Kishore Sawh
A photographer and writer based in Miami, he can often be found at dog parks, and airports in London and Toronto. He is also a tremendous fan of flossing and the happiest guy around when the company's good.