We got to get a sneak peek of this guy at WPPI 2020 a few weeks ago, but it's finally been officially revealed! The Godox / Flashpoint AD1200 Pro – Their most powerful strobe system yet! Having teased it since late 2019, the company has finally made available all the pricing, details and specs of this new beast in the lighting world. Making it one of the most affordable 1200 Watt Second flash system ever!
The XPLOR 1200 Pro R2 which we saw in it's prototype stage hasn't changed much in its final form. It's a pretty small (considering its power), $1600 battery-powered flash system that comes with a 1200W flash head and a rechargeable (and changeable) 5.2Ah 36v Lithium power pack, as well as the option to connect and use via AC power should you need or prefer it. They boast that it can be fully charged in 2 hours and offers 480-500 full-power strobes per charge and the systems flash head AND battery/floor-pack are fan-cooled so you should be able to keep shooting without fear of overheating! We're waiting to find out just how loud those fans will get after several hundred shots at full power will be, but either way, it shouldn't be a problem.
[Related Reading: Flashpoint XPLOR 600PRO Review | Is This The Best Value In Location Lighting?]
Specifications of the AD1200 Pro
Price – $1599
Maximum Power 1200 Ws
Guide Number 406.82′ / 124 m at ISO100
Flash Duration T.1: 1/10,860 to 1/220 Sec
Color Temperature 5600K ± 200K
Exposure Control Manual
Flash Modes

Hi-Speed Sync
Second-Curtain Sync
Slow Sync
Stroboscopic

Cable Length 12′
Flash Ready Indicator Audio
Reflector Changeable
Accessory Fitting Type Bowens S Type
Replaceable Flashtube Yes
Modeling Light 40W LED
Sync Type

Button
Cable
Optical
Radio

Sync Speed 1/8000 Sec (High-Speed)
Wireless Channels 32
Wireless Groups 5
Wireless Range 328.1′ / 100 m (Radio)
Interface Mini (1/8″)
Delay Range 0.01 to 30 Sec
Dimensions 9.06 x 7.87 x 4.92″ / 23 x 20 x 12.5 cm (with Reflector)
Weight 18.19 lb / 8.25 kg
Key Features of the AD1200 Pro
True 1200ws flash head dedicated output
Three active Modes: Manual, TTL and Multiflash
High Speed Sync and Custom Function for Masking, Delay and Sequence
1200ws head has 12 feet of non-tangle cable
The brilliant COB LED modeling lamp provides a clear preview of the lighting
Lightweight pack and head goes anywhere at less than 13 pounds
Rechargeable lithium battery pack or AC powered
Bowens mount compatibility for hundreds of modifiers
Flashpoint R2 wireless control for Canon, Sony, Nikon, Fujifilm, Panasonic. Olympus, and Pentax
TTL camera systems
Fan cooled head and pack keeps it going under the gun
Custom functions even a strobist would appreciate
Final Thoughts
The one thing that interests me is the fact that the floor pack can only connect one flash head at a time, (unlike the Profoto B2 lights and others like it). It's listed as a design feature to keep the size of the pack down, and while it's pretty small for its power, it _is_ still an 18.2lb kit already. I'd like to see what the design and specs would be were it able to have 2 lights connect and how much it would affect the size and weight. What about you? What are your thoughts on this affordable and high-powered portable strobe? Are you ready to start competing with, or replacing the sun with this light? Do you like this floor pack design vs the all-in-one monolights? Let us know in the comments below!
To learn more about the Godox/Flashpoint AD1200 Pro (R2) you can head over to Adorama or B&H's official pages, (as the details haven't been published on Godox's website as of yet) or you can view this infographic here. We don't have the official ship date yet, but you can pre-order this set via Adorama and B&H using the links below.
Check Pricing & Availability Here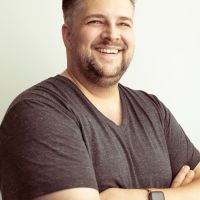 David J. Crewe
David J. Crewe is a full-time commercial photographer and Senior Editor with SLR Lounge. Based out of both Southern California & Las Vegas, Nevada. View his work and blog:
DavidJCrewe.com
Follow his Instagram:
@DavidJCrewe