I recently started shooting studio portraits with a shallow depth of field using my new Sony A7II camera. Read on as I explain the details of how I created this image.
The Photo

How I Shot It
My goal with the images from this session was to shoot a number of portraits using studio strobes at a shallow depth of field. In order to shoot at f/3.2 with multiple studio strobes, I used an ND filter of at least 3-stops to make sure my exposure was correct. I recently recorded a tutorial detailing the process of shooting strobes using ND filters and am releasing that very soon. In the meantime, here's a list of the gear I used to create this image as well as the camera settings.
The Equipment & Settings
The Lighting Setup
While the setup might look a little complex, it's actually pretty simple once you realize what the lights are doing. I wanted to have big, bright catch-lights in the subject's eyes so I used 2 large softboxes and placed them close to my subject's face. All of the strobes were at the lowest power setting in order to keep the highlights from being completely overexposed. The kicker light was set a couple clicks above the lowest setting just to add a bit of a highlight to separate her from the backdrop.
Post-Processing
As a commercial photographer, I make money when I'm behind the camera shooting. With all of the projects I've been working on lately I decided to outsource the post-processing for this image. Fortunately, there wasn't much that needed to be done. My model that day had amazing skin. Shooting at a shallow depth of field also created a natural blur on her skin which gave the image a soft, dreamy look straight out of the camera.
Final Thoughts & Tips
I was really excited to have this image win "Photo of the Day" on the Fstoppers website. This test shoot ended up being a great image for my portfolio. If you're looking to go out and create a similar look, keep in mind that you'll have to keep your strobes at their lowest power settings. Also, when shooting with a shallow depth of field, there is a big advantage to using a camera that has an EVF (electronic view finder). It will allow you to zoom in and fine tune your manual focus setting. Take every opportunity you can to try out new styles of photography and push your creative boundaries.
Behind The Scenes Video
I had a GoPro camera in the studio and set it up to record while I was shooting. Here is a quick BTS look at how this image was created.
If you're planning on attending WPPI this year, be sure to stop by the Savage Paper booth on Monday, March 2nd from 10:30 – 11:15am for my live demo "Creative Business Headshots with Collapsible Backdrops." I'll be demonstrating a similar technique and answering questions, so be sure to stop by and say "Hi!"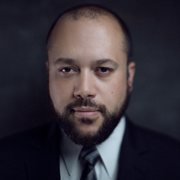 Miguel Quiles
Miguel Quiles is a commercial wedding & portrait photographer based out of New Jersey. He's been involved in the photography industry for over 15 years, starting off first as a salesman at a local camera store. Since that time, Miguel has been refining his skills and pushing the limits of his creative abilities through the medium of photography. As a self-taught photographer, Miguel hopes to share his experience and knowledge with new and upcoming photographers who wish to take their work to the next level.