Well, DJI has done it again – they've blown my mind and proven how little I know about what's possible in a piece of gear. And, I'll be honest, when I had the chance to review the DJI Osmo Pocket, I wasn't entirely sure what I would be looking to say. Handheld gimbal setups aren't really "in my lane" creatively, so-to-speak, and for one as small as the Osmo pocket is with its own native camera, I half anticipated it to be toy-ish. Yeah, no, it's not a toy.
With a 3-axis mechanically stabilized gimbal, 1/2.3″ sensor that can capture 4k video up to 60fps at 100Mbps, and 12-megapixel stills in either JPEG or DNG formats this little thing is an amazing travel companion that is about the size of an egg roll – and, boy do i love egg rolls.
Even if all it had going for it was it's ability to capture super slow motion b-reel clips at 1080p, 4k video and raw photo that would be enough, but DJI doesn't stop there. Using its FaceTrack feature, it can automatically keep the subject's head in the center of the frame – so for all of you vloggers who walk around with a camera pointed at yourself, it's a double win; you get a much smaller piece of equipment to get a lot less attention (not that I think that bothers you if you make a living off of people's voyeurism of your life), and the ability to move around freely without constant frustration of your movement taking you off or out of frame. With its ActiveTrack feature, you can make more broad selections for the Osmo to track with – amazing for moving interviews and sport video. The FPV mode will lock the camera in place, while stabilizing, but allowing for a straight on view of the action in any angle you're facing.
Osmo Pocket's Story mode
Sometimes, for the traveler, there are only small windows of time to upload and share your footage. Whether it's unreliable WiFi or a busy schedule, having the ability for some automation in how we share our experiences for some would be a game changer. Using the Osmo and the DJI Mimo app you can use some of their presets like sport, jazz, rhythm, party, Inspire, and more to have the Osmo go through some automated capture sequences, stitch them together for you, and create something more compelling or professional in a pinch. Click here for more information on the Osmo Pocket Story Mode.
All the other modes on the Osmo Pocket
The selfie, photo, pano, video, slow motion, and timelapse modes are all fairly self-explanatory. Within each mode there are further options that continue to expand and get more controllable, including more professional options with each released firmware update. On the onboard screen you are able to navigate via swiping to the modes, then another swipe in the same direction opens up that mode's submenu. With photo you can select things like aspect and format. With video you can select video size and frame rate. Slow-motion is a locked 120fps at 1080p. With timelapse you can select a standard timelapse or motionlapse, and set up the desired interval for footage there. It's also really efficient that you can just rotate the Osmo 90º to have it orient itself in portrait, or turn upside down for it to orient itself to underslung mode.
Handheld gimbals are really cool
Before the Osmo pocket ever came out, or the Osmo Mobile, or even before the Ronin, I was holding my drone by its legs and getting handheld footage with it. The concept of having the amazing DJI technology in a handheld device is incredible. As someone who has had plenty of time with handheld stabilizers where you spend painstaking hours getting the balance correct, not to mention the amount of money at stake of it failing, or the mounting failing, the relief of that stabilization being digitized makes those old rigs feel archaic and clunky.
Usually when a piece of technology comes along that replaces its predecessor, it has its own awkward stage and tends to be wildly more expensive – not so with the Osmo Pocket.
Speed round
I wish the way to connect the phone to the Osmo had some kind of clamp native to the gear without having to get another accessory. Because I didn't have something holding my phone, having to hold my phone and the Osmo with both hands doesn't free me up to make timely setting changes as quickly as I'd need to.
I love the case it comes with, super secure. Over two hours of battery life is fantastic. I was worried I'd lose the small phone plug adapter – it would be amazing to have some kind of spot on the handle to keep it attached when it's not being used. Quality of the 1080 superfine video was more impressive than I was anticipating. Stills are acceptable but leave me wanting – reminded me of editing my Phantom 3 images a couple years ago. I wish it had an input to take an external microphone, like a lav mic to do some better selfie videos with stronger audio. The default color/look from the automatic camera settings were strong in contrast, but the colors were not abrasive or unnatural.
This would be a great piece of gear for someone traveling to a country where having 'professional' gear wouldn't make it past the gate security. And, finally, I'm sure my experience would have been even better with the massive lineup of already available accessories you can find here.
If you're really looking to step your game up you can also look at PolarPro's lineup of filters and accessories.
Is the DJI Osmo Pocket for You?
In case any of you are reaching for the 'fanboy' comment, don't, because I don't think I'd end up with this in my bag – not because it's not worth the price tag, but because I couldn't imagine myself using it too often. I am impressed with the kinds of improvements they've made to the firmware and software for the Osmo pocket to allow it to accommodate the needs of professional creators, or more meticulous hobbyists.
The introduction of advanced menu options like RAW photo and Cinelike video profiles are always going to make the experience better for me with how involved I love getting into the post-processing space. And, while it may not have anything to do with the Osmo Pocket itself, it is an increasing reality that laws and regulations are cracking down on professional photo equipment, especially in travel, so the smaller gear just has a better chance of making it to the destination, which is a legitimate consideration.
If you're looking to pack light, get a solid introduction into vlogging, travel journaling, or hobby filmmaking, this is worth a second, third, and fourth look. If you're not in a hurry though, I'd say keep an eye peeled for whatever the Osmo Pocket 2 is bound to have. My vote would be a Hassleblad camera, onboard WiFi, a mic input, and make the handle a little bigger to accommodate a bit bigger screen and sturdier grips – all of which would send this already impressive handheld gimbal into the realms of truly insane.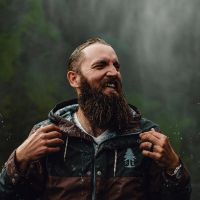 Ryan Longnecker
I grew up in the Eastern Sierras and since I was a kid I loved being outdoors and art. I went to school for music and theology and think both of those weave their way into my photography. I have a passion to change people from being cynical about people and this planet to being hopeful and seeing the beauty in it. I have a wife and two daughters and they could care less how successful I am at taking pictures, and that's great, because it's a constant anchor to what is best.