Have you ever heard of a company called DJI? No? Me neither. Wait, that's not right, because out of the camera and accessory companies that pop-up like weeds, DJI has made a name for itself over the past few years, primarily as the worldwide leader in camera-drones and Quadcopters like the Phantom, which is the industry standard.
With that kind of moving device, they've learned a thing or two about stabilization for videography, but much of their offerings have thus far been less attractive for the casual shooter or someone uninterested in drone work. However, they've now just unveiled a handheld device that integrates a video camera and a stabilization gimbal in a small form factor. It's called the 'Osmo', and it looks like the next thing you're going to want.
Right out of the box, the DJI Osmo is going to let you grip it and shoot 12MP photos and 4K video while being professionally stabilized with a 3-axis brushless gimbal. You are able to live view any imagery as it's being shot, and camera settings and functions include easy panorama, long exposure, and slow motion at 120fps at 1080p.
It looks a bit like no other camera system you've ever seen before, but then it also works in a way none other has before. The way you hold and interact with the Osmo is entirely different, as it's akin to an aircraft joystick, that puts all the controls for changing formats, shooting angles, or any adjustment right at your fingertips. It's not just a visual piece either, as it has a built-in stereo mic and a 3.5mm jack allowing for high-quality sound recording.
In addition, it's also meant to be modular, so it works fully with any of the DJI Zenmuse series cameras, so it'll be just about the ideal partner for anyone who has a Zenmuse X3, X5 Pro, X5 Raw, or the Inspire 1. It also has a universal mount that meshes well with the included Smartphone adapter and a host of other optional accessories including an extension arm, tripod, or bike mount.
And the cost for this? $649 is what you can expect when it ships starting October 15th, which is actually sensible given that a GoPro Hero Black is $499 with no stabilization. Sure, you can take a GoPro to the ends of the Earth, but this isn't meant just to be an action camera, but something serious shooter will want to use also. It's also interesting to note that DJI is releasing a handheld camera just prior to GoPro releasing their own drone.  See below for videos of it in use.
I really want one.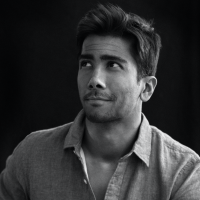 Kishore Sawh
A photographer and writer based in Miami, he can often be found at dog parks, and airports in London and Toronto. He is also a tremendous fan of flossing and the happiest guy around when the company's good.