Canon dropped the news of the 5D Mark IV a few days ago, and there has been an uproar of photographers that have been complaining how underwhelming it is, for the most part. Being one of the most anticipated releases from Canon, there have been innovative features like the quasi-Lytro-like Dual Pixel Raw and the 1080p HDR video, but in some circles they have been overshadowed by the 4K capabilities (or lack thereof).
A vast majority of filmmakers and wedding videographers that I have spoken with have been, for the most part, disgruntled with the new release. The three biggest complaints are the lack of full frame 4K recording (recording to just over a Super 35mm frame), its lack of C-LOG and its outdated MJPEG codec. There is no denying that these factors can be major negatives, but the 5D Mark IV has some advantages up its sleeve; it comes down to your perspective and the scope of your work.
4K Recording in Crop
Like the 5D Mark III, and every other 5D before it, the 5D Mark IV has a full frame sensor; but, unlike its predecessor's videos, can be recorded in DCI 4K (full 4K). The 5D Mark IV records with a crop factor of 1.74x, which is more than their APS-C DLSRs like the Canon 7D Mark II at 1.6x; but is right in the ballpark of a Super 35mm crop.
I am not a big fan of full frame video; it is one of the reasons I shoot with a Fuji, to help make my images more cinematic and film like. The fact that full frame on a stills camera is different than "full frame" on a motion picture film camera, is something that photographers that do not have a background in motion picture film cannot grasp. Full frame video wasn't a thing until the 5D Mark II was released and changed the game, full frame was simply called Super 35mm; theses are very different sizes.
In digital terms, full frame sensors have a 1.0x equivalent, or a 1-1 ratio, to 35mm film stills; whereas APS-C sensors are close to an equivalent to a Super 35mm motion film camera. This means that if you use cinema-specific lenses like the Canon CN-E 35mm T1.5, it would have the same relative look on a "cropped sensor" APS-C camera as it would on a Super 35mm.
The point of this is not to sway you one way or the other. If you want to shoot 4K with a full frame camera, you would be hard pressed to find one that would be within the 5D Mark IV's price range (and it would be 8.8 MP); even the RED Epic, when shot at 4K, has the same crop factor of 1.74x.
If you are like me and prefer the classical cinematic look that this crop provides, you will achieve a more authentic Super 35mm field of view with your lenses, while also having more lenses at your disposal. There are many lenses that do not cover full frame (including Canon cinema glass). If you wanted to shoot lenses like the Sigma 18-35mm f/1.8 Art, you could do so without the worry about vignetting.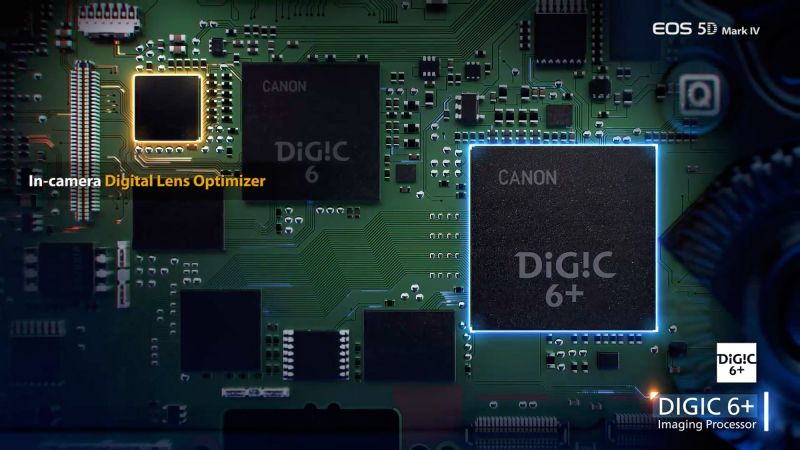 MJPEG Codec
The Canon 5D Mark IV shoots 4K in MJPEG codec at 500/Mbps. MJPEG is not an efficient codec, to say the least, and is about five times the data rate of other cameras that shoot 4K (100/Mbps in H.264). Canon has opted to use the MJPEG codec, the same as the 1D C, which is old technology by anyone's standards. It yields great results at the cost of file size.
Shooting large file sizes can be a pain and slow your workflow down a bit, and you certainly need to take this into account with the 5D Mark IV as it will take 32GB to shoot 8 minutes of footage. Granted, if you are used to shooting in RAW, large file sizes are nothing new. You will likely have a workflow system for transcoding and ingesting footage before editing.
It is a matter of personal taste whether you prefer quality over speed. MJPEG shoots each frame in the jpeg compression standard as a still image; it is like in-camera stop motion; whereas with H.264 the frames are compressed as a whole, and can create wild compression artifacts. That is not to say that MJPEG is a perfect codec. It is an older codec that may be less supported by most editing systems, but it does have an ace up its sleeve; it records in 4:2:2 as opposed to 4:2:0.
Lack of LOG
If your video camera does not offer the ability to shoot RAW, LOG profiles are a great way to to get more dynamic range than cameras that can only shoot Rec 709 (standard video). Shooting with a LOG profile creates a flatter image than can be easier to color correct in post, where you can simply add a  LUT (Look Up Table) to  add the color space you want and bring back the contrast. 
Canon has always delivered consistently gorgeous and natural colors across their entire product line, and that's more than could be said for many other companies. Sony, for instance, has cameras that shoot LOG, but their color science is considered by some to be pretty lackluster.
Photographers who need a LOG profile in their camera know why they need one. Canon hasn't been the one to cannibalizes their other lines in order to create an impressive be-all-end-all product. There are specific Canon cinema cameras that shoot with a C-LOG profile, and if they included LOG with this camera, there is no particular reason for an upgrade to a cinema class camera.
Since the beginning of the DSLR HD Video Revolution, Canon has teamed up Technicolor to provide a free flat color profile for their EOS line of DSLR cameras, Cinestyle, which is a flat camera profile that gives the similar effect of LOG to Canon cameras that can not shoot it.
Thoughts
The Canon 5D Mark IV may have some pitfalls on paper, but the camera has not even been released yet; Canon spec sheets can never tell the full story. On paper, the 5D Mark III seemed like the 5D Mark II with a headphone jack but has become a venerable camera in its own right.
Are Canon cameras perfect? Far from it. Their inability or unwillingness to cannibalize their other camera lines to better lower models will just leave room for others to do it. Nikon did it with the D700, which introduced pro-level AF into compact full-frame bodies that cannibalized the D3, and again with the D800, which combined superior image quality with top-level AF. So it is arguably better for Canon to cannibalize its own lines, at the expense of market segmentation, than to have someone else do it for them and steal customers in the process. If Canon insists on crippling or delaying their 5D line to protect their 1D line, then they'll just continue to bleed customers until they change the way they do things.
Although Canon refuses to innovate in many ways, they have found out what works for them. So before we rush to judgement on the Mark IV, let's see how it performs in reality. I am not die hard Canon fan, and I've never bought heavily into their system; having only owned one or two cameras over the years. That said, I can't deny that their cameras still have some advantages over the competition.
Justin Heyes
Justin Heyes wants to live in a world where we have near misses and absolute hits; great love and small disasters. Starting his career as a gaffer, he has done work for QVC and The Rachel Ray Show, but quickly fell in love with photography. When he's not building arcade machines, you can find him at local flea markets or attending car shows. Explore his photographic endeavors
here
. Website:
Justin Heyes
Instagram:
@jheyesphoto