It's always enlightening to get a glimpse into the thought process that drives the creation of an iconic photograph, in addition to the typical tech specs like lighting techniques and gear used. Profoto has given just that, offering a window into the mind of Albert Watson as he created a photograph that has become a classic image of legendary entrepreneur extraordinaire Steve Jobs in a recent YouTube video.
Warned, "I just want to let you know, Steve hates photographers," Watson quickly endeared himself to Jobs by offering to get the job done in half the time allotted, dropping from the scheduled hour to thirty minutes. This quick thinking set the tone for a successful shoot with a willing participant and created a bit more connection between subject and photographer.
The direction that the shortened experience took in Watson's imagination was that of a passport photograph shoot, inspiring the simplicity in lighting and background found in the photo.
As for a way to elicit a quintessential 'Steve Jobs' expression, Watson proffered the prompt, "You're across a table from four or five people who don't agree with you, but you know you're right." As such a determined person who was accustomed to swimming against the current and changing the technological landscape we all inhabit, that cue proved very successful in conveying Jobs's intensity.
After the shoot, Jobs proclaimed the resulting photograph the best ever taken of him, and he chose it on his deathbed to represent himself after he no longer physically could in life.
The takeaway is this: simplicity in a photograph can be incredibly powerful. It's possible to do more with a simple setup and an understanding of your subject and their nature than with an array of lights and modifiers and a stunning location.
The caveat is you must first put in the work to learn the effects and feelings of the different options available to present that subject so that you can make snap decisions with these kinds of results. You must hone that psychological understanding of what makes a person tick to utilize it to capture their most genuine self.
Watch a photographic master describe the experience in his own words below: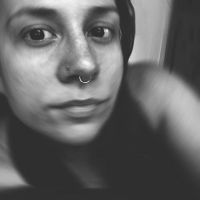 Holly Roa
Seattle based photographer with a side of videography, specializing in work involving animals, but basically a Jill of all trades. Instagram:
@HJRphotos