We are constantly on the lookout to establish relationships with individuals and companies that love life and photography as much as we do, and we also love it when they find us first! That was the case when we were walking the trade show floor at WPPI 2016. Andy was wandering about and struck up a conversation with a guy who asked Andy about the Langly backpack he was rocking. Enter Michael, Managing Director for Cecilia.
We'd heard about Cecilia and have always been impressed by their support of not only well-established photographers but up-and-coming photographers as well. They curate an online gallery of ah-mazing images, which you can check out here:  Cecilia's curated online gallery, and we were stoked to chat with them extensively about camera straps. Amii is an ardent "neck-strap-wearer" and always looking to up her game with a better quality strap, and Cecilia is a rad company. They've been around since 2013 and are in the fifth generation as a family-run business that has its roots in the Cromwell Leather Group, which has been around since 1898.

We got out hands on a Black Baby Alpaca Wool/Black Leather Camera Strap, which Amii used extensively, as well as their Black Baby Alpaca Wool/Black Leather, Ring End Wrist Strap that we thought we'd put to the test because we needed a wrist strap that was not only low profile but also elegant and well-made and that we used as a backup strap for those occasional moments when Andy doesn't have our cameras strapped to his RL Handcrafts camera harness.
Our Cecilia straps held up in fantastic fashion for what we needed them to the most: weddings. Weddings for us average 15 hours. Combined with our regular wedding use, we took these straps with us on numerous engagement sessions, which typically last at least 3 hours and that take us anywhere from graffitied buildings in the inner city of Phoenix to remote, isolated areas in the Arizona desert. We require a lot from our equipment, and that means we require even more out of the gear that keeps our gear safe, straps in this case.
All that said, our Cecilia camera straps have been with us since the end of March, 2016, and by our best estimate, we beat 'em up through at least 200 or so hours of not only weddings and engagement sessions, but also the occasional elopement, editorial session, and corporate event. After all those hours, and three months, we'd say they basically look like they did when they came out of the box and that's key for us because we want our straps to look as good as they perform.
We moved the straps from one camera to another more than several times and crammed and shoved them into our travel cases, backpacks, and Amii's camera bag so many times there's no way we could count. They were hung from Amii's neck and wrist or hung from Andy's side, as he attached and reattached cameras to his harness, and they were tossed on the seat of our van and dragged across grass, cement, and the desert floor. And they were with us as we climbed our way through desert brush and cacti, jumped up on tables or chairs at weddings, and lay on the ground to get that better angle or shot at weddings.
As far as performance is concerned, we gave the Black Baby Alpaca Wool/Black Leather Camera Strap and the Black Baby Alpaca Wool/Black Leather, Ring End Wrist Strap an easy 5 stars.
But how many features can a camera strap have, right? Well, in the case of Cecilia's line of straps, you get multiple options for materials and attachments.
The neck straps come wide or narrow, and even a fixed length (53 inches). They're also constructed from either an Argentinian cowhide leather/Peruvian alpaca wool combo or an Argentinian cowhide leather/nylon option.
The neck straps have a traditional "slider/keeper" attachment (shown in the images throughout this review) or ring attachments like in the images of the wrist strap. And though we went all-black because it best fits our branding and style, the neck straps come in nearly thirty different colors and/or patterns.
You get similar features with the wrist straps. There are over twenty combinations of materials and colors, and they are made out of Argentinian cowhide leather and Peruvian alpaca wool.  The wrist straps also have two attachment options: rings or cords.
We love the design in general because we can tell that their design team, based out of Mamaroneck, New York, takes great care in their thinking, planning, and execution.
The edges are finished with superb stitching, and we love how the wool isn't itchy at all; in fact, alpaca wool is hypoallergenic because, unlike sheep's wool, it contains no lanolin. And this particular alpaca wool is spun to a lovely soft and almost silk-like texture. Finally, we love how the ring attachment is "padded" with an extra piece of leather to keep it from scraping against the camera's body. Overall, it's a 5-star design.

Judging the quality was a bit tricky for us. On the one hand, we love how Cecilia seeks to source the best materials, as mentioned already; the full-grain Argentinian cowhide is super soft and very supple right out of the box.
The interior of their straps has nylon webbing running through the ends that reinforces them for both strength and reliability, which in turn allows for a tensile strength of 250 pounds for the neck straps and 130 pounds for the wrist straps. The woven webbing is sourced from mills in the USA, and some polyester is used for additional padding. Some models are hand-assembled in New York City while others are assembled in China and/or Mexico.
We also appreciate that the adjustable length of Cecilia's standard neck straps is 26-52 inches, with a neck length and width of 20 inches x 1.5 inches and a tab length of 19 inches x 0.4 inches.
On the other hand, while the ring attachment on the wrist strap is a solid nickel-plated tempered-steel ring that looks as shiny as when we got it, the hardware on our neck strap is definitely showing some wear. The hardware on our all-black strap is made from Zamac, a zinc-alloy, and the black coating has worn a bit such that a brass-like coloring is showing through. Of course, there are non-black options that we imagine wouldn't show similar wear. Plus, we'll readily admit that we beat up our gear to a decent degree. For those reasons we gave the straps 4 stars for quality.

We have no problem with the reality that not everyone is going to buy a camera strap that approaches $100. However, with a range in prices from $36 to $104, we'd argue that there is an option for even the most budget conscious photographer looking for exceptional performance and quality. We faced a reality long ago: we can't charge thousands of dollars to photograph a wedding and show up with a neck strap emblazoned with a giant yellow "Nikon D750" logo. We just can't do it. Cecilia's straps are made out of quality materials, and they put a lot of care into the design and build. The straps are a 5-star value.
Overall, we're pretty stoked on Cecilia and their products. They have a cool history, they care about photography, and the company is clearly run by good people. And that's as important to us as solid gear that looks good and holds up to the demands that we put it through. That's the case with Cecilia's camera straps so we gave them 5 stars overall. There was no second guessing this rating on our end.
The specific neck strap Amii has been wearing, and that is pictured in this review, is available for $94 from Cecilia. And you can find the wrist strap we discussed for $42 from Cecilia.
Finally, if you want to check the myriad options of Cecilia's line of camera straps, from wide to narrow neck straps to ring or cord tethered wrist straps and ranging in price from $36-$104 here's the link: Cecilia camera straps.
And we'd love to hear your thoughts on camera straps. Have you had the opportunity to use Cecilia straps? Do you have a favorite brand, or do you use the strap that's in the box? Feel free to comment below, and we'd love for you to join the conversation over at our ever-growing Facebook Photography Community group.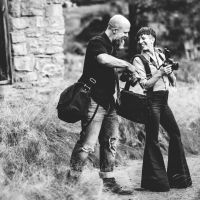 Amii & Andy Kauth
Amii & Andy are a wife and husband team of rad portrait and wedding photographers (Sunshine & Reign Photography) who absolutely love life and are generally just stoked! Yeah! When they aren't photographing or writing and teaching about photography, you'll find them off on a seriously legit adventure with their little ones, lifting weights in their garage, training jiu-jitsu, refining their archery skills, or surfing every chance they get. And on the rare chance they escape off on a "date night"? Yep! They'll find a wedding to crash (true fact). Website:
Sunshine & Reign Photography
Instagram:
@sunshineandreign