With one of the biggest full-frame mirrorless mounts on the market, Canon RF lenses have exhibited stunning image quality. Equally impressive, however, has been the innovation of "achieving the impossible", not just in terms of sharpness but also with regard to focal lengths, zoom ranges, and portability. One of the best examples of this is the Canon RF 14-35mm f/4 L IS.
In this Canon RF 14-35mm f/4 L review, I will explain why this is my new top choice for landscape photography, travel, adventure, and the wanderlust lifestyle in general. This is one of the very few ultra-wide zoom lenses that reach 14mm while accepting standard threaded (77mm) filters. It is incredibly portable, yet optically superb. There are a few drawbacks, notably the f/4 aperture as opposed to f/2.8, but I believe that if you're in the market for this type of lens, it is literally the best option.
Don't take my word for it, though! Let's look at some sample images, and dive in deeper to the detailed pros & cons of this lens.
Canon RF 14-35mm f/4 L IS Specifications
FOCAL LENGHT & ANGLE OF VIEW: 14-35MM, 114° to 63°
LENS MOUNT(S): Canon RF (full-frame) mirrorless
APERTURE & RANGE: f/4-f/22, 9 rounded blades
STABILIZATION: Yes; 5.5 stops optical, up to 7 stops w/ IBIS
AUTOFOCUS: Nano Ultrasonic AF
MANUAL FOCUS: Electronically controlled, linear response possible depending on the camera
OPTICAL CONSTRUCTION: 16 elements in 12 groups, 3 aspherical, 3 UD, Sub-wavelength structure coating, Air Sphere coating
MECHANICAL CONSTRUCTION: Metal & plastic, fully weather-sealed
MAGNIFICATION & FOCUS DISTANCE: 0.38X, 7.9″ / 20.1 cm
FILTER THREADS & HOOD: 77mm threads, plastic locking hood
SIZE: 3.3 x 3.9″ / 8.4 x 9.9 cm
WEIGHT: 1.2 lb / 544 g
Canon RF 14-35mm f/4 L IS Review | Who Should Buy It?
I have no need to beat around the bush this time: If you're an adventurous landscape photographer who shoots Canon full-frame mirrorless, you absolutely must own this lens. If you travel, hike, or simply go on any type of outing, this is simply the best lens for you, no exaggeration.
The only real question is, what other types of photography is this lens well suited for, let alone truly optimal or the absolute best? Let's dive into that now! Well, first, let me expand on just why this is the best lens for landscape photography, especially for adventurous people.
Landscape & Travel Photography
Here's the bottom line: there are very few ultra-wide zooms on the market that reach 14mm, or a 114° angle of view. Most zoom lenses that do reach 14mm are likely to be enormous, expensive, and annoyingly, utilize a massive, bulbous front element.
In fact, the Canon RF 14-35mm f/4 L is, as far as I know, the second ultra-wide zoom (of three total) to reach 14mm while providing a portable package without a massive, heavy front element, and with standard threaded filters. (The only other lens is the Nikon 14-30mm f/4; more on it later.)
Previously, your options were to either settle for a 16mm or 17mm focal length if you wanted the portability of f/4 or to lug around a gigantic f/2.8 ultra-wide zoom if you didn't want to compromise on reaching 14mm. Even more annoyingly, if you wanted to use filters with such lenses you were stuck with even more enormous, unwieldy square-shaped, clamp-on filter systems that could cost hundreds or thousands of dollars.
Therefore, as a mountain hiker and backpacker, and as someone who loves to travel in general, I am absolutely in love with this lens.
Architecture, Cityscape, & Real Estate Photography
The next-highest recommendation I can make is for real estate photographers or anyone who photographs architecture or cityscapes. There are a few caveats that I'll get into soon, (check the distortion section below) but the bottom line is that once again, anyone who requires the 14mm focal length will love this lens.
The difference between 14mm and 15mm, 16mm, or 17mm is really quite significant (and useful) especially when you are doing real estate interiors.
Portrait & Wedding Photography
As a portrait and wedding photographer, I don't often require 14mm. However, at the same time, when I do require it, I don't really have a critical need for f/2.8. Therefore, for any wedding or portrait photographer who only goes wider than 35mm on rare occasions, or in decent lighting conditions, I can certainly recommend this lens for dramatic, scenic portraits. If you're an elopement wedding & portrait photographer, and you routinely are hiking/climbing to scenic vistas, then once again this is truly a perfect lens for you!
Just be sure to not place any human subjects near the edges of the frame if you go any wider than 24mm because you'll utterly distort faces and bodies in a rather unflattering way.
Candid & Street Photography
Another reason why this particular lens is preferable to most other lenses that reach 14mm is that, as a smaller, relatively compact lens,  it's unassuming and unintrusive. It's not exactly an ultra-compact f/1.8 prime, of course, and I'd recommend a lens like the Canon RF 35mm f/1.8 first before this. However, for certain candid and in-the-action situations, you might like this lens.
Nightscape & Astrophotography
Can you do nightscape and astrophotography with this lens, despite its slower f/4 aperture? Yes, absolutely. With how good high ISOs are getting these days, most nightscape scenes will be entirely photographable with the Canon RF 14-35mm f/4 L IS, especially if there is a bit of moonlight, city light pollution, or blue hour light present.
Video & Vlogging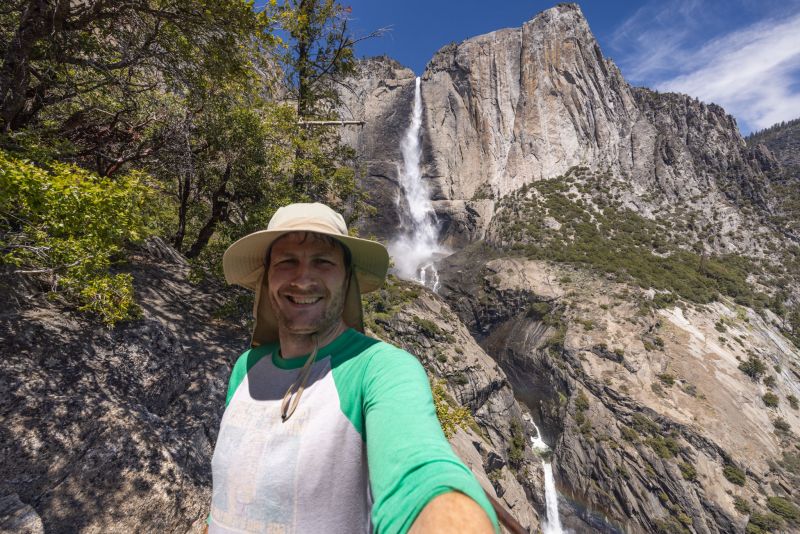 With such a wide focal length, I found this to be an excellent lens for vlogging in situations where I really wanted to capture an environment, not just my face. While 14mm isn't necessarily optimal for most vlogging situations, the zoom range provides excellent coverage overall. I prefer to do most vlogging clips at around 20mm or 24mm, and zoom out to ~14mm when I really want to show a location.
Canon RF 14-35mm f/4 L IS Review | Pros & Cons
The advantages and disadvantages of the Canon RF 14-35mm f/4 L IS are very straightforward. To sum them all up in a few sentences, I would say this: it's incredibly portable for its zoom range, and the image quality is superb. The physical build quality and features are flagship class, as you would expect from any Canon "L" lens. The only potential drawback is, like many other modern mirrorless lenses these days, Canon did "cut some corners" by using a lens correction profile to hide optical distortion and help the lens produce nearly perfect images.
Image Quality

Sharpness
Sharpness is superb, indeed downright stunning, throughout most of the image frame. Even wide open at f/4, the fine detail everywhere except the extreme corners is phenomenal. (It's clear that this lens is ready for Canon to produce a 60+ megapixel  landscape photography champ, indeed!)
Only in the extreme corners will you see a minor difference between f/4 and f/8-11. The good news is, even at f/4 the results are impressive, and by the time you get to f/6.3-8,  corner sharpness is definitely not something I would complain about.
It's not perfect, as there is a faint bit of stretching present due to the optical formula plus how it is corrected with a lens profile. However, I would never consider it a deal-breaker that pushes me towards any other ~14mm lens that might offer a slight improvement, at the expense of immense weight and/or a significantly higher price tag.
Bokeh (Macro & Close-Up Photography)
Thankfully, this lens can focus incredibly close, and as such it almost feels like a macro lens. Even though the actual magnification isn't true macro, (it's just 0.38X) the focal length makes for a really up-close-and-personal feeling which I really love for nature photography.
Bokeh is beautifully soft, the characteristic Canon smoothness that portrait photographers pay so much for. Sharpness, even at the closest focusing distance, remains superb even when working wide open at f/4.
Colors & Contrast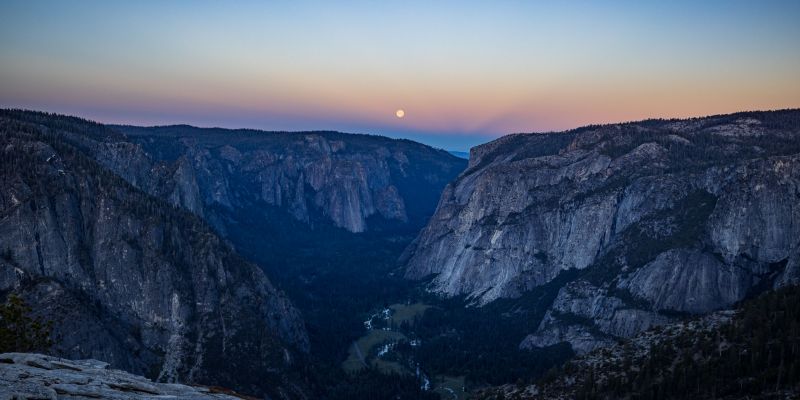 Canon L lenses are known for their truly beautiful colors and a beautiful dimensionality to contrast and tone. This "modest" f/4 zoom is no different; images just don't need very much post-processing in order to look perfect.
Vignetting & Distortion
This is where I see the biggest drawback of this lens, and the reason why is obvious in the above animation.
Simply put, without the lens correction profile applied, no wait, forget that, you MUST apply the lens correction profile. Either that, or you'll be cropping a good 5-10% of your image because of the literally black vignetting effect.
Such vignetting and geometric distortion can be an issue in some extreme conditions where you are really digging deep into the shadows of your corners. If you're warping them as well as providing 3-4 EVs of exposure compensation, then the image quality in the corners will suffer. Yes, even at f/14, there is noticeable vignetting, aside from the very corners that go to black.
This is a compromise that a lot of photographers are willing to make because they just turn on the in-camera corrections, and forget about it. Usually, this works; you can rely on your sensor's resolution and dynamic range to provide good image quality in the corners. However, if you're doing nightscapes at f/4 and ISO 6400, you'll definitely want to expose as brightly as you can, and honestly just leave your corners a bit dark and shadowy…
Sunstars & Flare
As you'll see in all of these sample images, there is almost zero flare with this lens. Sunstars are nothing special, as with most modern lenses that are optimized for smooth bokeh. However, they are definitely prominent enough that for things like cityscapes, you will indeed enjoy stopping down to f/11 or f/16.
Color Fringing, Aberration, Coma & Astigmatism
These sorts of aberrations are usually minimal with such modern optics with exotic glass coatings. They do exist, especially on such lenses as this which are intentionally a compromise that favors compactness and affordability.
Having said that, as with most other mirrorless lenses these days, if you leave the in-camera (and in Adobe Lightroom) automatic corrections turned on, then all such aberrations will be either minimal or nonexistent.
 Design & Durability
The design of the Canon RF 14-35mm f/4 L is nearly identical to the other, similarly sized Canon L-series RF-mount lenses. It looks professional, feels professional, and indeed, it should stand the test of time. Whether you're working in such demanding conditions as harsh weather outdoors, or you're simply using your gear heavily every day as a full-time portrait & wedding photographer, this is a durable tool you can rely on for years to come.
Ergonomics & Portability
As I've already mentioned, portability is one of the biggest highlights of this lens. Compared to almost all other ultra-wide zooms that reach 14mm, this one is among the few that can do so in such a lightweight, compact package, and also accept threaded filters.
Ergonomically, in general, the lens balances perfectly on a medium-large full-frame mirrorless camera body such as the Canon EOS R5. As the Canon R5 is our current top recommendation for Canon photographers who shoot landscapes and nightscapes, it's hard to imagine a better setup.
Autofocus Performance
Even the most traditional landscape photographers will likely often use this lens for walk-around handheld photography, and the autofocus is excellent for that. Sometimes with ultra-wide lenses that reach 14mm or wider, autofocus may struggle to be perfectly precise when working wide-open, because the depth of field is so great. This is not the case with the Canon RF 14-35mm f/4 L IS,
Manual Focus Performance
As a lens that is likely to be often used with manual focus, this is an important detail to cover. If you're a landscape or especially a nightscape photographer,  precise focus is critical! Thankfully, this Canon lens has incredibly fine manual focus control, despite being electronic.
In fact, I should say that of all the camera brands out there, including different mirrorless mounts and different third-party lens makers, I believe that Canon offers the best manual focus experience overall. It is a combination of the physical electronics and the focus ring itself, which provides incredible precision, as well as the image quality of a magnified live view display, which allows you to just see what you're doing incredibly well. So, if you're a landscape photographer or anyone who uses manual focus a lot, this lens and the Canon experience overall are the best.
Features & Customizations
This lens includes some of Canon's professional features & functions, though not all. As with most Canon RF L-series lenses, it offers both a dedicated focus ring, and a customizable "command ring" that is perfect for something like ISO or aperture control, or EV compensation. (With non-L Canon lenses, often, the manual focus ring doubles as the customizable command ring, unfortunately.)
There is also an AF/MF switch and an IS on/off switch. Although the lens does extend minimally while zooming, it does not offer (nor require) a zoom locking switch.
As a wedding & portrait photographer, one of my favorite camera settings to customize to the on-lens command ring is white balance Kelvin temp. Why? Because I love being able to warm up (or cool down) my portraits with ease, instead of relying on AWB or a clumsy WB tool that only ever gives a boring, neutral, "perfect" reading. Also, unfortunately, there's another reason why I like putting this particular setting on this dial/ring: it's easy to accidentally bump, and I really don't want to EVER accidentally bump my aperture or ISO by more than a third of a stop or so! WB Kelvin, of course, is a "harmless" (non-destructive) raw setting, so unless you're shooting JPG images, it's not the end of the world if you accidentally bump this setting.
Having said that, I do really appreciate this command ring and its subtle clicks. By comparison, Sony only offers a dedicated aperture ring on select lenses, and it can't be customized to do any other function. Nikon does offer a customizable control ring on some of its lenses, but it is de-clicked by default and is in a position that is even easier to accidentally bump.
One feature that is hard to describe or quantify is the Canon IS (Image Stabilization) system, as a whole. Many lenses these days are stabilized, and many cameras also offer sensor-based IBIS. However, Canon is one of the only brands to offer combined optical+sensor stabilization, and the results of this are truly impressive.
100% crop, 45 megapixels, 1/4 sec shutter speed, hand-held
Canon claims that when using a camera body that offers IBIS and the combined IS+IBIS system, this lens offers up to 7 stops of stabilization. For a 14mm lens, that might technically equate to 4-8 second shutter speeds, hand-held, at least on paper. In real-world practice, I found that while I'd rather not try to hand-hold any system for 1 whole second or more, I did notice that at around 1/4 sec, sharp results were significantly more consistent than other stabilization systems.
Value
At about $1,500, the Canon 14-35mm f/4 is one of the most expensive f/4 ultra-wide full-frame lenses on the market. By comparison, the non-L Canon RF 15-30mmm f/4.5-6.3 IS is just $549. The predecessor to this L-series lens, the Canon EF 16-35mm f/4 L IS, was priced at $1,299. Last but not least, the Canon RF 15-35mm f/2.8 L IS is a whopping $2,399.
So, where do we stand? Simply put, the Canon 14-35mm f/4 L offers an excellent balance of value for its zoom range, image quality, and physical durability. Especially if you're a landscape photographer, having access to 14mm in a professional quality lens, for just $1,500, is almost unprecedented. The fact that it is one of the most portable options also adds to this value, for those who travel, etc.
Canon RF 14-35mm f/4 L IS Review | Compared To The Competition
As I have already mentioned, there are a few alternatives, and the price range is huge. From the ~$550 Canon RF 15-30mm to the ~$2,400 Canon RF 15-35mm L, this Canon 14-35mm f/4 sits almost perfectly in the middle.
The difference between 15mm and 14mm is much greater than it seems on paper, and without a doubt, I would rather have this lens instead of either Canon RF native alternative. Having said that, I absolutely understand if you're a hobbyist landscape photographer on a budget, and $550 is already a stretch of your budget. The even smaller aperture of the Canon 15-30mm is a drawback for handheld work, but if you're on a tripod most of the time, you'll be fine. Also, even the non-L Canon lenses, although they're made of more plastic and don't have dedicated, separate focus and control rings, at least the image quality is excellent. (Our full review of the Canon RF 15-30mm f/4.5-6.3 will be coming soon!)
If portability and affordability are your absolute top priorities, especially if you do a lot of nightscape photography in addition to daytime scenes, then also check out the Canon RF 16mm f/2.8 STM. It's definitely a compromise, with slightly poorer image quality in the corners at f/2.8 and f/4, but for $279-299 and weighing in at just 5.8 oz, it is another unprecedented, unique offering for Canon users.
What if you don't mind using a Canon EF-RF adapter? I would only recommend going with any EF-mount DSLR options if you already own them, or if you find an incredible bargain. Maybe you scoop up a Rokinon/Samyang 14mm f/2.8, either EF or RF mount, for a very good price, and you're okay with the bulbous front element and fixed focal length. If you do a lot more astro-landscape photography, this might be a better option. Personally, for adventurous landscape and trave photography, I'd much rather have this zoom.
Last but not least, what if you're currently entirely brand agnostic, and considering Sony, Nikon, and Panasonic alternatives?
The Nikon 14-30mm f/4 S ($1,346) was the first ultra-wide zoom to reach 14mm and accept (82mm) filters, and it is even more compact and lightweight, yet equally impressive in terms of its image quality. It is also a flagship-grade lens.
Panasonic also recently released an entry-level lens, the Panasonic 14-28mm f/4-5.6, which is modestly priced at $797. It's not one of their flagship pro lenses, and I haven't reviewed it yet, but I suspect it is also an excellent choice for those landscape photographers using the legendary Panasonic S1R.
Sony does not have an affordable, compact, ultra-wide zoom lens that reaches 14mm; their newest and closest offering is the Sony FE 16-35mm f/4 PZ. It's an excellent lens and a great choice for landscapes and travel, but as I've said many times, there's a massive difference between 16mm and 14mm, and I would rather have this 14-35mm for landscape photography.
Canon RF 14-35mm f/4 L IS Review | Conclusion
All in all, the Canon RF 14-35mm f/4 L IS is perfect, in its own right. If you've never zoomed out past 24mm, then you might be looking at various lenses that reach 16mm or 15mm,
Check Pricing & Availability
The Canon RF 14-35mm f/4 L IS USM is available for $1,499. We suspect it may be available from time to time with $100-200 instant rebate, depending on the time of year.
Pros
Excellent image quality
Professional flagship build quality
Unprecedented portability for its zoom range
Best zoom range of all f/4 ultra-wide lenses
Excellent autofocus & manual focus
Serious value for serious & professional photographers
Cons
Image quality in extreme corners suffers a faint amount especially when applying lens correction profile and when using filters
Ergonomics & Portability
10
Autofocus & Manual Focus Performance
10
Features & Customizations
9
Final Verdict
The Canon RF 14-35mm f/4 L is a perfect lens for adventurous landscape photographers, and anyone who wants to travel light while still achieving an unprecedented zoom range.