We talk a lot about versatility when it comes to lenses and perhaps one of the most versatile is that of tilt-shift lenses. Tilt-shift lenses have long been a favorite of architecture, interior and landscape photographers for their ability to manipulate perspective and they are now being adopted by by other genres such as portrait and product photographers as well as filmmakers.
At first glance tilt-shift lenses can be intimidating and there are often questions in regard to how the functions work that, when left unanswered, can keep photographers from ever exploring their artistic possibilities. Canon USA has released a very informative video that addresses these curiosities and provides a great introduction to their TS-E line.
Unlike traditional lenses with a focal plane that is parallel to the sensor, tilt shift lenses can be tilted up and down as well as shifted from side to side to change the plane of what is in focus as well as the perspective. For example, TS-E's have the capability of correcting the perspective of traditional lenses making them essential for interior and architecture photographers.
Photographers can choose to make an entire image tack sharp as well as have specific areas in focus while others are out of focus simply by tilting the lens, yielding an immense amount of creative control. This function elevates the level of story-telling by adding an entirely new dynamic to portrait and wedding photography.
Canon has an array of tilt-shift focal lengths that are sure to meet the demands of still-life, product, portrait, wedding, landscape, architecture and aerial photographers as well as filmmakers.
Canon Tilt-Shift Lens Lineup
Check out the following video from Canon USA for a quick in-depth look into how tilt-shift lenses work and consider utilizing one for your next shoot.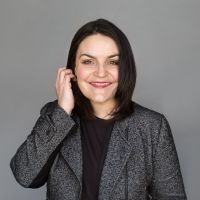 Brittany Smith
Brittany is a fashion and beauty photographer who works between NYC, Montana and LA. She photographs the way she has always wanted to feel and believes in the power of raw simplicity. When not behind a camera she can usually be found at a local coffeeshop, teaching fitness classes at the YMCA, or baking something fabulous in the kitchen. Instagram: @brittanysmithphoto