As a family photographer, capturing candid moments is one of the most rewarding and challenging aspects of the craft. Candid photos can capture the genuine emotions and interactions that make a family unique and memorable. However, getting these shots can be difficult, as kids and adults alike tend to tense up and put on their "camera smiles" when they know they're being photographed. In this article, we'll share six tips for capturing candid family photos that will help you preserve authentic moments and memories for years to come. These tips will help you create a relaxed and fun environment, so you can capture genuine smiles, laughter, and connections that make your family special.
6 Tips To Capture Creative Candid Family Photography Video
Candid family photos are guaranteed meaningful photos for a client. Sure, clients are typically satisfied with simple posed photos with good lighting, everyone smiling, and nobody blinking, but what if we take it an extra step forward? In the video below, I have 6 tips for you so you can capture creative family photography!
Tip 1: Incorporate Action for Candid Family Photos
When it comes to capturing candid family photos, incorporating action can be a great way to get everyone involved and create natural, organic moments. Rather than just having everyone stand together and smile for the camera, you can engage the whole family in fun little activities that can help bring out their personalities and natural reactions.
For example, you might have the family play a game of catch or tag, jump on a trampoline, or play with a pet. These activities can help everyone feel more relaxed and comfortable, and the genuine laughter and interactions that result can make for some of the most memorable and authentic photos.
You can also incorporate simple actions into your photo composition, such as having family members walk towards the camera, dance together, or hug each other. These actions can create a sense of movement and liveliness in your photos, making them more dynamic and engaging.
Ultimately, incorporating action into your family photo sessions can help you move beyond typical posed photos and capture candid family portraits that truly reflect the unique personality and spirit of your family. So don't be afraid to get creative and have fun with it!
Examples:
Have the kids play a game of tag
Have a posing contest
Run a small distance together
Try a jumping shot
Throw children into the air (and catch them, of course!)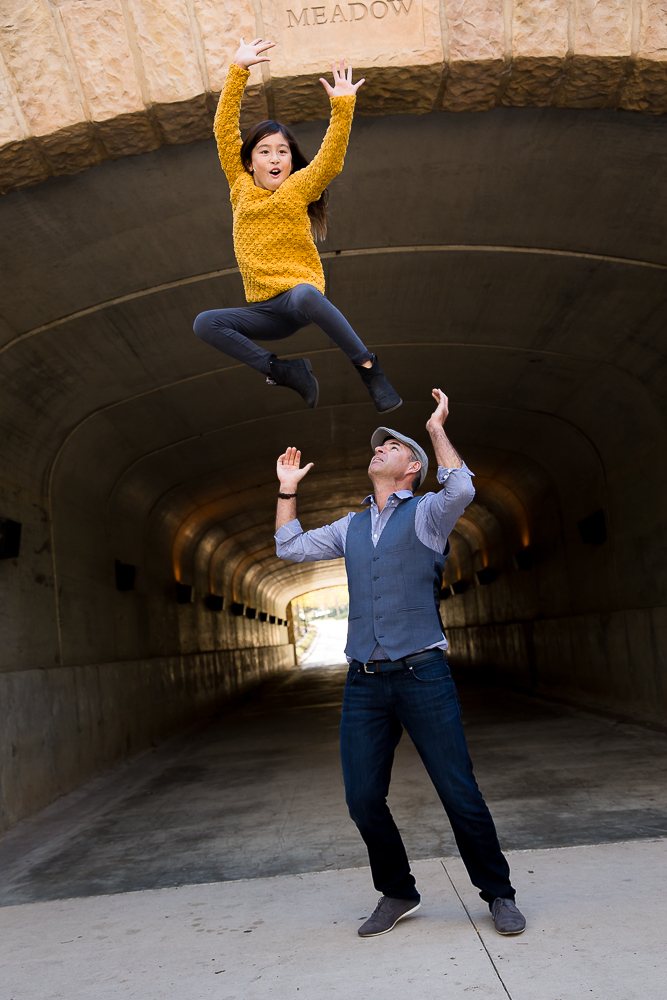 Tip 2: Go With The Flow
Always have your camera up and ready for anything that may happen for spontaneous candid family photos. Be prepared to capture the unexpected. As strange as it may sound, some of our clients' favorite candid family portraits include those in which their kids are having a meltdown. We try to avoid meltdowns, of course, but they do happen, and the parents appreciate having a record of even these authentic moments.
Examples:
Water splashing the family
Children melting down
Tip 3: Get Every Possible Combination
Be sure to capture the family in all possible group variations. Start with the largest group and remove or add family members as you go. Use cues like "Strike a pose!" and even demonstrate some unique poses yourself to encourage more creative and candid family photos.
Each member of the family has a unique relationship with every other member of the family.  The best candid family photos are often the ones that bring out nuances and interactions between the family members.
Examples of combinations:
Everyone in
Grandparents and Kids
Parents and Kids
Mom and Kids
Dad and Kids
Mom and Dad
Tip 4: Capture Candid In-Between Moments
As I mentioned up top, candid family photos make for the best images with genuine expressions. Simply direct their attention to one another, and capture their natural exchanges and interactions.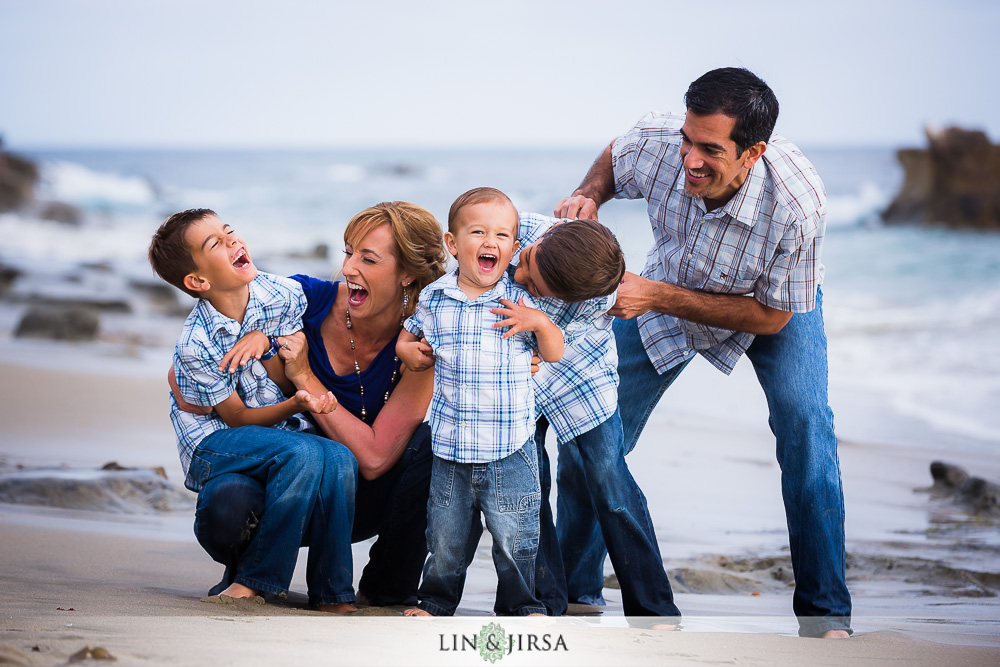 Tip 5: Have a Mini Couple Session
Let the kids take a break and get some shots of just the parents. Treat this like an engagement session and shoot both traditional and lifestyle poses.  The parents will appreciate these photos because they will likely have neglected couples photos for a long time.  Being so busy keeping their kids alive and fed, these photos can help them remember and celebrate their love and relationship.
Tip 6: Don't Be Afraid to Get Silly
Get creative with your candid family photos and throw in some funny faces to help get the family in a lighter mood. Allow the family to goof off and play together, then capture the fun reactions and candid moments.   By allowing your family members to let loose and have some fun, you can create an atmosphere of laughter and joy that will shine through in your photos.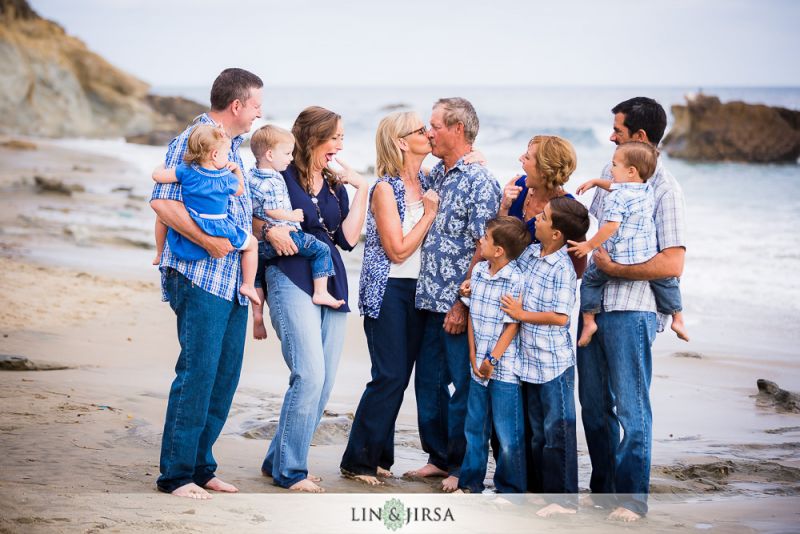 One way to get everyone in a silly mood is to throw in some funny faces or poses. Ask your family members to make their funniest faces or strike a silly pose, and capture the resulting laughter and reactions. You might also suggest that everyone wear goofy hats or glasses, or use props like balloons or bubbles to add a playful element to your photos.
Another way to get silly is to encourage your family members to play and goof off together. Whether it's tickling each other, playing dress-up, or making funny sounds, allowing your family to act naturally and spontaneously can lead to some truly unique and candid moments.
By getting silly and playful with your family, you can create a relaxed and fun environment that will help you capture candid family photos that are full of laughter and joy. So don't be afraid to let loose and have some fun!
Conclusion
Family portrait season often peaks in the fall, but in reality, it is always upon us! It is warming up outside here in California, and chances are your clients are looking to grab  creative family portraits for one occasion or another. Although Christmas cards are the most popular reason to gather the family in front of the camera, they're not the only game in town.
Whether you're posing one person, a couple, a small family or a family of 27, you need to know exactly what to do and how to do it. If you'd like to dive deeper into your posing repertoire, check out our Complete Posing Workshop.  For more family photography education, see our Family Photography Training System.  In the meantime, we hope you found these 6 tips to capture creative family portraits helpful.