Are you tired of always looking at your photos on digital displays? Holding your phone up to your eyes, or handing your phone around to your friends and family? You need to make some physical prints of your photos! So, we have compiled this list of the best photo printers for every budget!
Making a physical print of your favorite images will never go out of style, and for good reason! There is nothing quite like seeing a photo that you captured, hanging on your wall every day, or sitting on your desk at work. Oh, and you don't need to run your phone battery down to share your best images with your friends and family!
But, with so many different photo printer options on the market, it can be difficult to know which one is right for you. Especially as photographers, let's be very clear: not just any printer will do! Just because a printer says it can print photos, doesn't mean its image quality is even close to the quality of photographs you may have seen hanging in a gallery of landscape or wildlife photos!
Fortunately, we have this list of high quality photo printers. Whether you're looking for an affordable option or the best-possible professional results, we've got you covered. So, read on to learn more about the best photo printers for your money.
Best Photo Printer Under $200
For this first category, we are going to list some very different options in the same price range. Why? Because it's the most common category where different photographers are shopping for very different types of photo printers! Some want a highly portable, small-format printer that they can carry with them to parties or events with friends or family, and make "instant" prints. Think instant polaroid film, but from your phone!
Of course, plenty of photographers who are also searching in this budget are looking for the opposite, too: A desktop printer that can make great quality prints in a larger format. So, let's dive in!
The Polaroid Hi-Print Pocket Photo Printer is the perfect printer for anyone who's always on the go. With its compact design and phone connection technology, you can conveniently print all your precious phone photos without ever having to be at home or in a physical store. Its zink printing technology generates vibrant and smudge-free pictures, no matter where you are. For such an affordable price, this handy mobile printer is perfect for those who love preserving their phone snaps wherever they are, making it one of the best printers for different budgets!
For those who are looking to make slightly larger prints with a portable printer, the Canon Selphy CP1500 is worth checking out. It's still highly compact, (barely wider/longer than a 5×7" print) and capable of up to 4×6" printing. You will, however, need to purchase a battery pack to make the Canon Selphy truly mobile, which bumps the price up to just under our $200 limit.
This compact printer offers high-quality photo printing using dye-sub inks that dry instantly and are highly durable. Both USB and wireless connections are available, so you can print directly from your phone using the printer's free app.
Canon's PIXMA G2260 MegaTank is one of the most affordable ways to achieve their excellent "PIXMA" technology, as well as their "megatank" system. As its name suggests, the MegaTank system features large integrated ink tanks, instead of disposable ink cartridges.
It uses pigment-based inks at up to 4800 x 1200 DPI, at sizes up to 8.5 x 11". It also includes a copy & scan feature, for those who only have room on their desk for one such device.
Best Photo Printer For $200-$400
Admittedly, there are some limitations when you are looking for the best photo printer under $200. You might have to compromise on either print size or print quality, or both. If you actually want a compact printer that makes "tiny" prints, you'll find great options in that price range!
[Related: Best Portable Printer For Everyday Use]
For photographers looking to make 8×10 or larger prints, though, we'll recommend saving up to spend just a little more money. Thankfully, this category really has just one clear winner:
The Epson Expression Photo HD XP-15000 Wireless Color Wide-Format Printer is an optimal choice for those looking to make great quality prints without breaking the bank. It boasts impressive resolution (up to 5760 x 1440 DPI) and color management that is ideal for making prints of photos and artwork.
Additionally, this printer has advantages such as its double paper tray that can hold up to 150 sheets of plain printing paper (up to 13×19" borderless), as well as two USB ports plus an abundance of wireless connection options. So, if you can afford to spend just a little bit more than the minimum, you'll be rewarded.
Best Photo Printer For $400-$1,000
In this price range, you'll find truly professional photo printers. For their value, relatively speaking, they are very good deals. Whether you are considering selling your printed photos, or you are simply looking for jaw-dropping quality for your own home walls, this is an excellent budget price point.
If you can afford it, this is one of our favorite printers to recommend, and it's only partly because the photo print results are very high-quality. Also, Epson's EcoTank system is the original in the tank-based ink systems. It eliminates two massive complaints that we've always had about at-home inkjet printing: The annoyance of always having to buy (expensive) new ink cartridges, and of course the sheer wastefulness of consuming so much plastic in the process!
The Epson EcoTank Photo ET-8550 solves these problems with its innovative printer ink system. Simply put, the ink tanks are huge, and can last up to 2 years depending on how many prints you regularly make! Also, when you do need a refill, you can buy low-cost replacement ink bottles to refill your tanks. Epson claims this has already helped reduce millions of pounds of plastic from landfills. (The Epson EcoTank was first introduced in 2015, and covers many of their other printers, not just the photographer-specific models)
What do you get with the ET-8550? Borderless Printing up to 13″ x 19″, with up to 5,760 x 1,440 DPI Resolution. As an example of the cost-effective nature of using the Epson EcoTank printer, a print 4″ x 6″ photo will cost about 4 cents each, versus 40 cents with traditional ink cartridges.
Also offering borderless printing up to 13" wide, the Canon imagePROGRAF PRO-300 is one of the most affordable ways to gain access to Canon's professional "PROGRAF" printing technology. It boasts a Chroma Optimizer and a new Matte Black ink, separate from regular "Photo Black" ink. This makes the Canon 9-color (10-cartridge) LUCIA PRO ink system one of the best for at-home printmaking.
Money Is No Object ($1,000 and Above)
All of the options we have mentioned will produce the absolute best photographic quality for their respective budgets. However, what if you are already selling printed photos on a regular basis? You may be able to expand your budget just a little more, of course, in order to deliver the best possible quality to customers.
Of course, even if you're not selling prints, many hobbyists who are bitten by the printmaking bug will want to know, what is really and truly the best out there? Read on…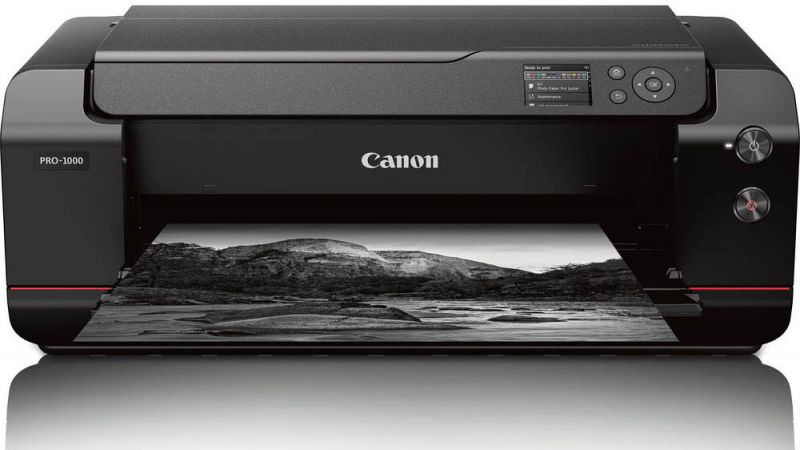 This 17-inch wide format printer is ideal for professional photographers and graphic designers. If you are creating prints to sell to customers, then Canon's PROGRAF line (ranging up to $12,000!) is the at-home professional photo lab. The PRO-1000 offers exceptional color accuracy and a large color gamut and has a 12-color dye/pigment Reactive Ink set for the outstanding image quality of prints up to 17" wide.
Canon's PROGRAF line starts with the 1000-series; for printers that can handle even wider paper and roll feeding, the next step up is the ImagePROGRAF PRO-2100, at $3,392.
Conclusion | The Best Photo Printer For Any Budget
These are truly the best photo printers based on different budgets, although there are many other options available as well. It's important to consider your needs, such as print quality, size/portability, and connectivity.
One final tip we can suggest is, when you do purchase a printer, try comparing its results using a photo you had printed by a professional lab! If the results of your own printer look identical when held at arm's length, you've definitely got one of the best home photo printers.
Investing in a quality photo printer doesn't have to be expensive. As you can see from our list, there are options for every budget that will allow you to create beautiful prints. So, whether you're just getting started or you're an experienced photographer, don't let cost be a deterrent – there's a photo printer out there that will fit your needs perfectly.
Alice Houstons
Photography has been a part of Alice Houston's life for over a decade now. Here at SLR Lounge, she prides herself on being a wealth of knowledge in the latest photography news and tech. Always searching and a self-described "Digital Nomad," she loves learning about those unique stories that inspire photographers around the world!