I recently had the opportunity to review Artisan State's Little Black Book prototype. I had been looking for an affordable mini album option for my own family photos, as well as a more sophisticated alternative to the popular accordion mini books, to offer my clients as a gift or package upgrade so these "Little Black Books" intrigued me. I, along with other photographers, offered some suggestions to Artisan State for improving the book, and they listened! The book is now available for photographers to order with a few upgrades.
Originally, the 5×7 inch book was going to have a plain black card stock cover. While this looked really nice and minimalistic, I personally felt the book could be improved with some customization options. If I made several albums for my own family photos and had them lined up on a book shelf, how would I know which album was which? To solve this problem, the folks at Artisan State decided to improve the cover by offering the same textured material used on their hard cover albums and allow full customization.
You can customize the cover with simple text using the design feature on their website without having to download any proprietary software, which I liked, or you can upload a custom designed jpg created in your own design program. I decided to design a couple custom covers in Photoshop, complete with text on the spine for easy finding on the bookshelf. It's really easy to customize the layout of your book, too on Artisan State's website, or you can simply go with the default one photo per page.
Originally, the Little Black Book would be offered with two different page thickness options, thick for $15 or thin for $10. In the end, they decided to drop the thin page option, since it just wasn't up to their high quality standard. To keep the cost down to $10 it was decided they would eventually have to market the Little Black Book to the general public, which is why each book comes branded with a simple url directing consumers to a website separate from Artisan State's pro photographer site.
For a portrait photographer hoping to sell the book to clients, this is disappointing news but the option to remove the url is available for an additional $10. I was curious to see how the branded url would look. I think it's actually pretty subtle but I would probably have it removed if giving the book to a client.
Shipping for the the first book costs $5 and $2.50 for additional books. For $10 or even $20 I think it's a beautiful little album. The flush mount pages lay flat and the silver halide prints are gorgeous. The one and only downside to the whole process for me was that it took two weeks to arrive after ordering. There are rush options available, though. To order, visit artisanstate.com.
So,what do you think of this new product from Artisian State? How would you use it?
CREDITS : Photographs courtesy of Tanya Smith. Newborn photography by Kim Stadler used with permission for SLR Lounge. Do not copy, modify or re-post this article or images without express permission from SLR Lounge and the artists.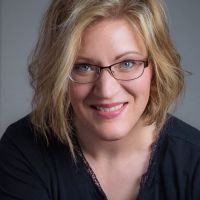 Tanya Goodall Smith
Tanya is the owner of WorkStory Branding Photography in Spokane, WA. Businesses hire her to create story-telling content that sells their high end products and services. She also teachings photographers her unique business model for making serious money as a corporate and personal branding photographer. Find her at
workstoryphotography.com
and
workstoryeducation.com