The parameters of defining a photographer as "one of the greats" fall in line with a career spanning the majority of their lifetime and producing countless well known images throughout it. With that in mind, Albert Watson is absolutely one of the most influential photographers of our time. During his sixty year career he has photographed over 100 covers for Vogue worldwide, 40 covers of Rolling Stone, and has transformed his work into the fine art spectrum which is regularly curated by top galleries.
Watson gives us an intimate look at his creative process by pairing up with one of Ukraine's most iconic ballet dancers, Sergei Polunin, who you may recognize from Hozier's "Take Me to Church" music video. Drawing inspiration from the works of Michelangelo and the stylings of the ancient Greek athletes, his goal is to take classical elements and photograph them in a modern way.
The main focus of the lighting is the purity of a single key light with two additional lights whose function is merely to provide a clean white background. From there, light is subtracted from the key light one flag at a time until it is manipulated to Albert's liking. The beauty dish creates a light source reminiscent of Tungsten lighting and provides ample opportunity to add theatricality to the shot.
"You always look at the face as a piece of geography, you know, it's a mountain range with some valleys and depth and so on."
– Albert Watson
Albert is very hands on with his subjects and his team, often opting to add the subtleties of hair and makeup himself rather than ask two to three assistants to do the work. It's a timesaver, really.
Moving to the full body images of the shoot, Watson first determines where Sergei will be in the frame and then adjusts the lights accordingly. In this instance, the key light was placed behind him which forces him to bring his shoulders and head back toward the light. This type of lighting demonstrates the sheer physicality and graceful movements of this incredible dancer. Fabric is then added as a prop and its unpredictable nature in stark contrast to the precision of Sergei's movements adds a very nice sense of form.
"After all these years I still love working in the studio with lights. They can make the shots simple, they can make the shot dramatic, they can make the shot elegant – dynamic. After all, without light you don't have a shot."
Albert Watson instills a professional atmosphere on set and creates an environment where the subject wants to do the work and be in that frame. That is a skill in and of itself that is acquired from years of mastering the subject and still finding joy and passion in the artform. Albert continues to have a devout appreciation for lighting because without proper lighting, you don't have the shot.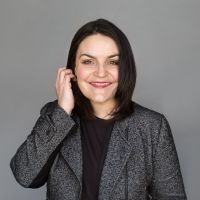 Brittany Smith
Brittany is a fashion and beauty photographer who works between NYC, Montana and LA. She photographs the way she has always wanted to feel and believes in the power of raw simplicity. When not behind a camera she can usually be found at a local coffeeshop, teaching fitness classes at the YMCA, or baking something fabulous in the kitchen. Instagram: @brittanysmithphoto