Welcome to Time Out with Tanya, where I've put my fast paced graphic design career on hold in favor of adventures in motherhood. I'm capturing every moment on camera and you can come along, if you'd like. Sign up for my weekly email here so you'll never miss a Time Out.
In my article earlier this week, The Stylish Photographer's Guide To Traveling Light This Summer, I mention a super chic new camera bag by Aide De Camp. This is the most versatile "camera bag that doesn't look like a camera bag" I've found yet, so I felt it was worth posting a full review.
Aide de Camp designs bags to assist and empower women. The term 'aide-de-camp' is French for camp assistant, the foremost personal aide to a high-ranking official. I totally love that concept for a brand of bags! ADC believes in creating functional bags that can carry all your gear and daily essentials with ease, without compromising on style. Camera bags designed specifically for women have been cropping up all over the place and range from cutesy to functional, and ultra high end. I was curious to see how Aide de Camp bags compare.
When the Valencia ADC bag arrived in the mail I was thrilled beyond expectation by all the little design details of the packaging. I'm a nut over those kinds of extras. It arrived in a custom designed black box with the Aide De Camp logo embossed on the front. A hand written note to me was included in a little envelope inside the flap (OMG!).
Nestled inside a bed of tissue paper, was the Valencia Camera Bag inside a silky storage bag with product information tags secured with a ribbon. Every little leather detail of the bag was wrapped in tissue paper to prevent damage during shipping.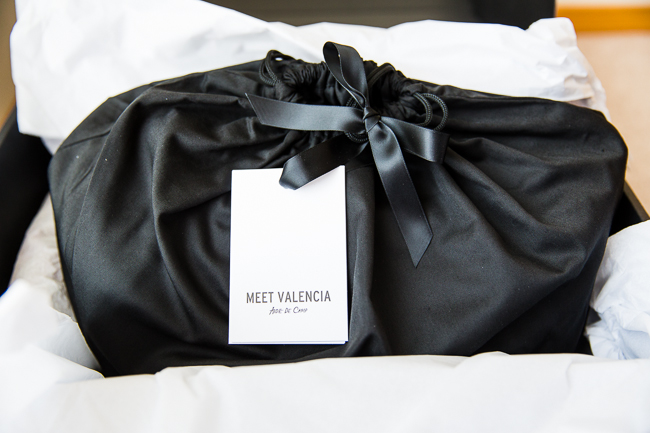 When I showed the Valencia to my husband and mentioned how much it cost, he balked at the price (of course). After using the bag for a couple weeks, I think the value of the bag for a mom, photographer and business woman lies in the versatility, design, and craftsmanship of this bag. If I could only buy one bag to use for all my needs in those three roles, this one would be it. Let me tell you why…
First of all, this really should be called a bag set, because you are, in fact, getting two bags! The smaller removable insert works as a stand alone bag, and the included cross body shoulder strap can be used on either the larger outer bag, or the inner. The strap is one of my favorite innovative design features of the bag, and I've never seen anything like it. It's a real leather strap but instead of having an annoying pad for your shoulder that is constantly getting twisted or falling down, the top is made of comfortable neoprene. I carried it around all weekend full of camera gear and it felt great on my shoulder.
At first I wasn't sure what to think of the nylon material of the bag. I guess we've come to expect high end bags to be made of leather. But, after trying it out, I totally get the genius of using this durable, lightweight material, over heavy leather which just adds to the weight of gear that already weighs a ton. Dust or smudges wipe right off, and the accents of the bag, like the handles and the base, are made of leather, which give it a high end look, and add to the durability.
There are a ton of pockets on the inside and outside of both bags, which are nice for storing camera accessories, or your every day items if you're out and about with the kids or traveling. The padded insert can be used inside the smaller bag or the large bag, which make it incredibly versatile. You could even remove the insert entirely and use it elsewhere, or not at all if you just need a purse for the day.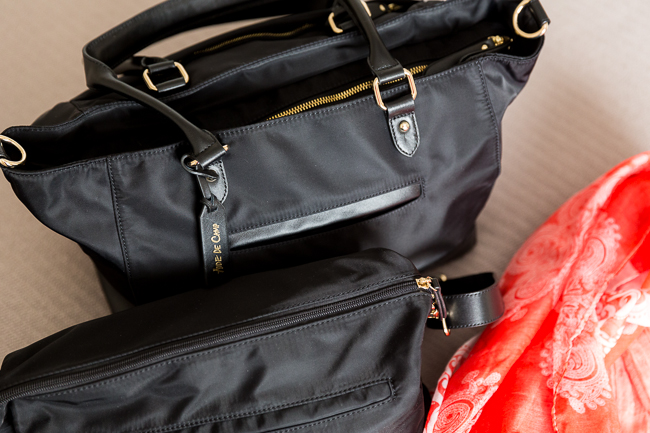 For my weekend trip, I simply used the small bag for my camera gear and packed all my clothing and toiletries inside the larger bag. It was a tight fit, but I even managed to squeeze my 15″ Macbook Pro inside. I was surprised by how much I could fit into the smaller bag, too. I took my Canon 5D Mark III body, Speedlite, 24-70mm f/2.8L II, and 85mm f/1.8 lenses. There was totally room for one more lens but I wanted to pack light for this trip.
The zippers are very heavy duty and feel durable. Another genius design feature of this bag is the giant outside pocket that can be unzipped and used to slip over the handle of a rolling suitcase. Brilliant!
I honestly can't think of anything negative to say about the Aide de Camp Valencia travel bag, and I wish I had known about it before I had my three babies, because it might have been the perfect all-purpose diaper, camera and business meeting bag. Considering I've gone through three different diaper bags, have a separate camera bag, and a brief case type laptop bag for meetings, I would have saved money and storage space buying this one alone. Obviously I haven't put it through the test of time, but it seems very durable and I love that it's so fashionable, and doesn't look like a "mommy" bag. It's classic design will never go out of style.
Aide de Camp makes a variety of different camera bags to fit the needs of all women. If you'd like to try one yourself, use discount code "slrloungexadc" on the second page of checkout at adcbags.com for 10% off all orders until May 31, 2014.
CREDITS: Photographs by Tanya Smith and Aide de Camp are copyrighted and have been used with permission for SLR Lounge. Do not copy, modify or re-post this article or images without express permission from SLR Lounge and the artist.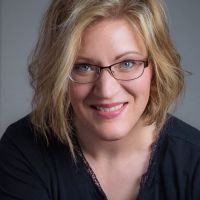 Tanya Goodall Smith
Tanya is the owner of WorkStory Branding Photography in Spokane, WA. Businesses hire her to create story-telling content that sells their high end products and services. She also teachings photographers her unique business model for making serious money as a corporate and personal branding photographer. Find her at
workstoryphotography.com
and
workstoryeducation.com