To photograph a small object like a pair of wedding rings and fill the frame with it, photographers turn to macro lenses.  Specialty lenses like these unfortunately can be rather expensive.  In this video, we'll be reviewing an affordable alternative, the Kenko Macro Extension Tubes.
Watch the Video
What are Extension Tubes and How Do They Work?
Extension tubes are hollow barrels with no optics.   They are placed  between the camera body and the lens.  By moving the lens farther from the sensor, the lens moves closer to the object, thereby increasing magnification.
Advantages
No Optics  – means the quality of the glass on your lens isn't diminished.
Manufacturer specific – made for Nikon, Canon and Sony, each barrel has electronic contact points on both sides allowing your lens' metering and auto focus functions to still work.
Locks securely – each barrel has a locking mechanism to hold and release the lens that's attached to it.
They can be used with almost any lens that you own to turn it into a close up or macro lens.
Stackable – you can use any of the barrels in the set with your lens or you can use a combination of two or all three with your lens to achieve the desired result.   CAUTION: When you increase the distance between the lens and the camera sensor you will experience loss of light so be sure to have your object properly lit.
Price – sold as a set of three: 12mm, 20mm and 35mm, the extension tubes are extremely affordable at $199
[REWIND: Reversing Rings: Macro Photography On The Cheap]
Disadvantage
The nice thing about a real macro lens is that it doesn't just work as a macro.  It also operates as a normal lens.  The Canon 100mm macro, for example, is actually an excellent portrait lens as well and there are no switches that have to be flicked in order for you to go from shooting macro shots to a portrait.  With the macro extension tubes attached to your camera, you are stuck in macro mode.  To get your lens to shoot in normal mode again, you would have to remove the extension tubes.
Getting Results
Magnification is controlled by two lens properties, focal length and focusing distance.  Focal length, we know to be the number on your barrel, for example, the 50mm f/1.4 has a focal length of 50.  The minimum focusing distance is the shortest distance from which the lens can focus.  This number you can get from the manufacturer's specs for the lens.  The 100mm macro lens from Canon has a 1:1 magnification with a .3 minimum focusing distance.  To replicate that level of magnification using the extension tubes, you can use a 50mm + two of the extension tubes stacked together (12mm and 36mm).  Figuring this out was fairly simple when you use a magnification calculator found on MYSTD.DE.  I went ahead and found the numbers for the canon primes in my bag and charted out the following numbers.
Conclusion
We love th
at these extension tubes come as a set of three which gives everyone the flexibility to pick and choose the look they want.  Use one or use them all with whatever lenses you already have in your arsenal.    It can replicate the magnification of a true macro and it's a very affordable $199 for the entire set.  The only issue we have is the fact that once it's attached to the camera you are only in macro mode.  But still, it's too good to pass up so we give this product 4 stars.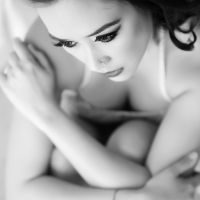 Michelle Ford
Michelle is a Southern California Portrait and Wedding Photographer. When she's not geeking out with a camera she's nerding out in her IT world. All other moments in the day are spent with her two wonderful children. See her work on
The COCO Gallery
check out her blog at
frexNgrin