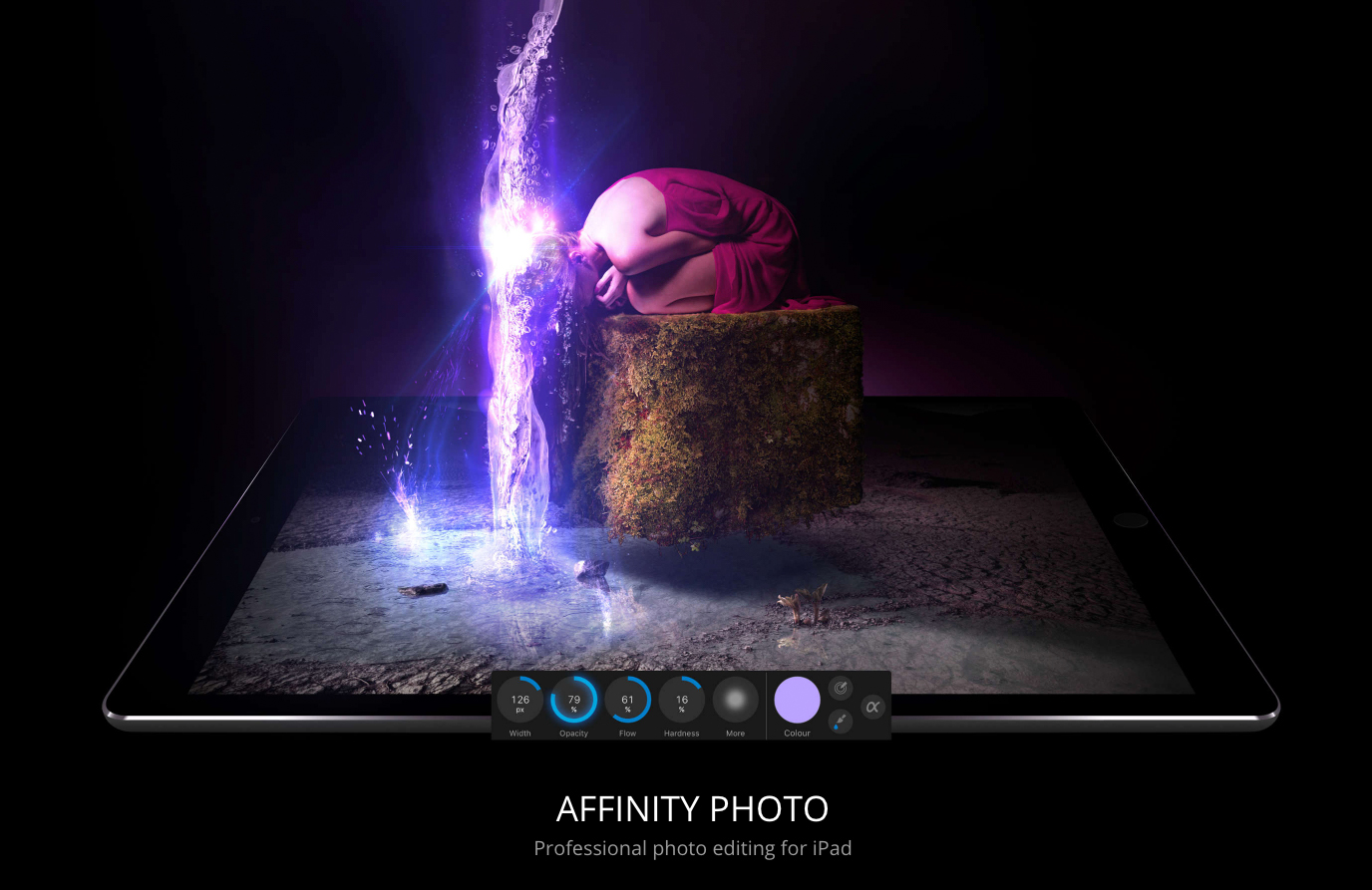 In case you hadn't yet heard, Apple announced a slew of new products and updated software today, and among which iPad was paid a lot of attention. There's a new iPad Pro, and while we'll get to that soon enough and hopefully review it, today brings something really exciting for the world of photography that intertwines with iPad.
Up to this point, mobile image editing and post processing has been half formed, or incomplete at best. The idea and wish has been there and huge strides have been made over the past year or so to bring editing to a point where working photographers can actually do something with it, but there's been no substitute for the desktop applications. That appears to have changed today as Serif brings Affinity Photo to iPad with all of its layering, color management and pixel-bending technology with it. Suffice to say this is the first time we've seen a fully fledged image editing and retouching application on a mobile device, and for only $19.99. It's mobile photo editing 'neat' not watered down.
Some reading this may not be familiar with Affinity Photo for Desktop, and if so we recommend you check it out. Affinity Photo has become a primary working tool for photographers and graphic designers who love it for its intuitive nature, speed, and the fact that it costs just a one time shot of $49.99 USD (**on sale right now for $39.99) – no subscription model. It has been hailed as the first real substitute to Adobe Photoshop, and many of our team at SLRL have been using it for the past year or so, more than Photoshop. We'll be brining tutorials on it in the very near future so check back soon.
Having something like this for iPad is extremely exciting, and the whole experience has been tailored to take advantage of the iPad's power (iPad Air 2 and later), allowing for speed throughout. Ashley Hewson, Managing Director of Affinity Photo developer Serif, explains.
"Each tool, panel and control has been completely reimagined to optimise for touch – either with fingertip or Apple Pencil. …All rendering, adjustments and filter effects have been fully hardware-accelerated. The result is a genuinely unique new way to interact with your images and your iPad, with performance you'll find hard to believe."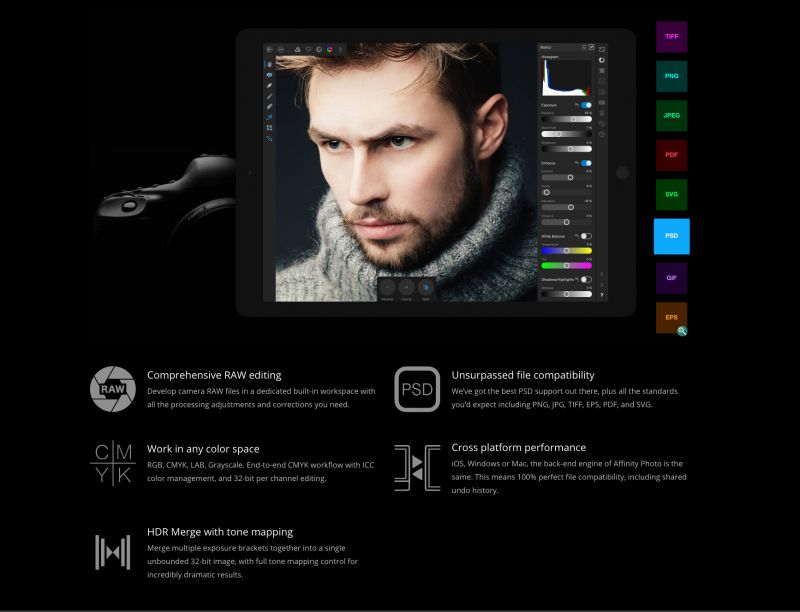 That you don't need to have an iPad Pro is also a welcomed surprise, especially as Wacom has recently announced precision stylus varieties for iPad with even more functionality that what Apple's Pencil comes with at a lesser cost, so those with an iPad 2 and later are good to go. Seeing all the updates coming to iOS 11 with the new file tree system also suggests the functionality and workflow sensibility is finally going to be there, making Affinity for iPad that much more compelling. Here's a taste of what it can do:
Optimised for iPad capabilities: Multi-touch UI, Metal accelerated, intuitive Apple Pencil support and full iCloud drive integration.
Complete retouching tools: Including dodge, burn, clone, blemish, patch and red eye tools. You'll also find an incredibly accurate inpainting brush along with full frequency separation capability.
Non-destructive adjustments: Correct and enhance images with Levels, Curves, Black and White, White Balance, HSL, Shadows and Highlights and over a dozen other adjustments that are previewed instantly and can be edited any time. Adjust, readjust, and drag and drop onto any layer, group, mask, or in any place in a stack to control how they're applied.
Super accurate selections: Critical whether cutting out objects, creating masks or selectively applying adjustments. Affinity Photo's selection refinement algorithm is one of the most advanced available, making selections—even down to individual strands of hair—easier than ever before.
Comprehensive Liquify Workspace: Push your images around with your fingertips or use brushes like turbulence, pinch, punch and twirl in a dedicated liquify persona. Alongside a real-time mesh warp tool, it's perfect to reshape, sculpt and deform photos. 
Real time effects: Affinity Photo comes with a huge range of high-end filters including lighting, blurs, distortions, tilt-shift, shadows, glows and many more. Full control is given over every aspect of a filter's properties with incredibly precise controls—all the while seeing a real-time live preview of the result. Best of all, filters can be applied as live layers, enabling you to edit, erase away, or mask effects after they have been applied.
Comprehensive RAW editing: Develop camera RAW files in a dedicated built-in workspace with all the processing adjustments and corrections you need.
Unsurpassed file compatibility: Unrivalled PSD support plus all the standards including PNG, JPG, TIFF, EPS, PDF, and SVG.
Work in any colour space: RGB, CMYK, LAB, Greyscale. End-to-end CMYK workflow with ICC colour management, and 32-bit per channel editing.
HDR Merge with tone mapping: Allows you to merge multiple exposure brackets together into a single unbounded 32-bit image, with full tone mapping control for incredibly dramatic results.
You can see a taste of it above or in the replay of the Apple keynote from WWDC today, and check back with us really soon for a Affinity for iPad 'First Look'.
You can download Affinity for iPad from the App Store here, and find more information and the desktop version on their site.  To end, here are a few more features of Affinity for iPad.
32-bit editing

32-bit unbounded images can be composited and edited along with full Radiance HDR and OpenEXR file support.

360° image editing

Pan and zoom account 360° images, using the full suite of tools in Affinity Photo to edit them live.

Live perspective projection

Work on perspective distorted areas of your image as you were looking at it straight on.

Focus Merge

Stack and merge multiple images together with different focal lengths for a large depth of field.

Full snapping capabilities

Advanced snapping options including snap to grid, guides, auto alignment to other objects, along with forced pixel alignment.

Transform tab

Offering full control over an object's position, size, rotation and shear.

Vector drawing

A comprehensive set of customisable shapes, a pen and node tool, and full Boolean geometry operations allow for the creation of complex vector paths and shapes.

Professional print output

Pantone support, end-to-end CMYK and ICC colour management alongside full PDF/X output including bleed, trim and crop marks.

Panorama stitching

Incredibly accurate automatic alignment of images, along with full perspective corrections, ensures a perfect stitching every time.

Instant undo history

Instantly scrub through hundreds of undo steps with the history slider. Pus save your history with your document.

Histograms and scopes

Get feedback on your edits with histograms and scopes. Plus see blown highlights, tones and shadows live.

Image stacks

Automatically align and blend together a series of images based on the same scene, allowing for differences to be removed, composited together of used for creative effect.

Professional brush engine

Create custom brushes and nozzles with complete control over advanced dynamics, including full pencil support.

Channels

View and edit image and layer channels, make masks from channels and create and add to selections based on channel data.

Advanced typography controls

Adjust kerning, tracking, shear, baseline and other character attributes. Easily set leading, indents, tab stops and justification too.

Crop and straighten

Quickly crop and straighten images with a dedicated tool, including with thirds, golden spiral and diagonals overlays.

120+ beautiful brushes

A huge library of professional designed brushes including effects, bristles, dry media, inks, markers, paint, and more.

Smart colour picker

Dedicated colour picker tool to accurately pick a colour, including single point or averaged sampling over an area of your image.

Rotate canvas

Spin your canvas around to work at any angle, particularly useful when painting with Apple Pencil.

Undo brush

Use the undo brush to revert specific areas of your work back to a previous state.

Beautiful Gradients

Create super-smooth gradients for overlays, shapes and masks – all with live tools to drag on screen using touch.

Pro font support

Add elegant text with OptnType and True Type fonts, including advanced OpenType features including Ligatures.

Frame Text

Add body text paragraphs using frames as containers with full control of alignment, justification, character and paragraph settings.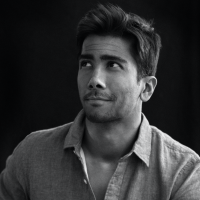 Kishore Sawh
A photographer and writer based in Miami, he can often be found at dog parks, and airports in London and Toronto. He is also a tremendous fan of flossing and the happiest guy around when the company's good.