Whenever we are faced with a wedding that has even the slightest chance of rain, we are reminded of a certain Boyz II Men song, because as they so beautifully sing, "Storms will come, but tell me, baby, can you stand the rain?"
The true test of artistry can withstand any storm, consequence, or condition, as long as you have the right tools & know-how to complete your vision.
Join Premium
Here are 8 rainy day wedding photography tips that can get you out of the gloom with the help of some off-camera flash & a bit of creativity:
Tip 1 | Suggest a New Wedding Photography Itinerary
The first step you should take is communication with your client. Being up front and letting them know that you are prepared to photograph in the rain and give suggested locations reassures them that trekking through puddles of water will be worth the shot. Advise them to have umbrellas handy and a hair & makeup artist on deck to do any touch-ups if necessary. Don't be negative and shoot down their ideas if they do want to shoot in the rain, instead find a happy medium and explain to them what would be required to get the specific shot they are envisioning.
Tip 2 | Emulate the Sun with Flash
In our recent special effects workshop, Recreating Golden Hour, we cover all of the essential gear required to recreate golden hour, and take you step by step from shoot to post on how to manipulate and enhance these effects – click here for more info on the workshop or here to become a Premium member!
This session was just after the sun had set, but it wouldn't have mattered as this location doesn't have the best visibility of sunlight even during golden hour. Taking photos in overcast weather may be daunting at first, but this is when your lighting knowledge will come into play.
Using one CTO gelled Yongnuo 600EX at full power set approximately 20 feet behind the couple, we illuminated them from behind as if the sun was just about to set which produced a natural flare of light just through the space between their faces. You can see that some light spilled onto the fence behind the couple which is exactly what we want in order to portray the realism of actual light spread.
You can see from the natural light shot that the flash was facing halfway between the couple and the camera's position, and this is to ensure that the light spreads evenly and casts a realistic shadow as you can see on the water tower. For more overcast photography tips check out this article!
Tip 3 | Gear Up with Rain SLEEVES and Zip Lock Bags
Now that you've seen the weather reports it's time to brace the wind, rain, and cold and protect your gear. Luckily Canon, Nikon, Fuji and some Sony lenses are weather sealed but it isn't worth the risk. Although it's a bit unconventional, using plastic bags usually does the trick but there are rain sleeves that you can purchase specifically for cameras & lenses.
Tip 4 | Back-flash for Interest
As far as rain photography ideas are concerned utilizing a back-flash is easily the simplest and most impressionable idea. We have yet to come across a couple that isn't floored by the illuminated droplets or glow from a light placed between. If all else fails, place a flash behind the couple and blast them with some light to create some unforgettable magic.
Tip 5 | Watch for Epic Sunsets During Cloudy Days
Landscape photographers can attest to the fact that post-rain clouds are unbelievably breathtaking, offering a dark and hauntingly beautiful aesthetic that serves as a background to portraits. If it means waiting out a storm to reveal a jaw-dropping sky like the one you see above, then have the patience to get the shot you could only dream of. Read the full article to see how we created this shot!
Tip 6 | Master Flash Photography for Indoor Situations
If the rain is coming down too hard it might be best to take your session indoors. This is why we recommend location scouting prior to your event so that you have backup options to create impressive imagery regardless of the scene.
Having a strong knowledge of lighting alleviates the stress of working with nasty tungsten indoor lighting, and that's where the foundational info from Lighting 101 and 201 come into action.
In our latest Wedding Workshop series, we show you exactly how to accomplish creative couples portraits with affordable lighting equipment and modifiers that will definitely help you out on a rainy day – stream it now in SLRL Premium or order it on pre-sale from our store!
Join Premium
Tip 7 | Find Reflections on Wet Surfaces
Using tools like a prism, mirror, or even a puddle will allow you to create an interesting reflection shot. Take a moment to analyze the scene before sending your clients out into the rain and finalize what you want to accomplish.
TIP 8 | umbrella wedding photos
What better way to protect your clients from the drizzle and create an instant softbox than to use an umbrella?! During your pre-wedding day talk through you may want to advise your clients to bring a 'photogenic' umbrella along for the day for epic shots like this one on Big Sur's Pfeiffer Beach. If you carry a white shoot-through umbrella with you for portraits, it can double as a tool for rainy day wedding photos.
Bonus Tip | Educate Your Clients
Educate your clients with a page on your website, complete with tips, imagery and maybe even a slideshow video. Reassure them that you can get great imagery, despite the weather. The last thing you want is a worried bride forcing her smile all day long.
Here is an example from Lin and Jirsa using Animoto: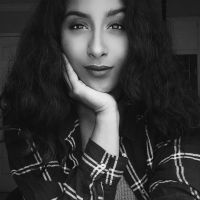 Shivani Reddy
Shivani wants to live in a world where laughter is the cure to pretty much everything. Since she can't claim "Serial Bingewatcher" as an occupation, she'll settle for wedding/portrait photographer at Lin and Jirsa & marketing coordinator here at SLR Lounge. For those rare moments when you won't find a camera in her hand, she will be dancing, eating a donut, or most likely watching Seinfeld. Follow her on Instagram:
@shivalry_inc