Photography can be a perilous business, not just in terms of models throwing tantrums and clients taking too long to pay their bills, but in the field, things can get pretty sketchy for you and your gear if you don't plan ahead. Here are my tips on how to keep yourself and your gear safe.
1. Buy a Good Camera Bag.
Sounds obvious, but until you've gone through a few, you might not realize what you are missing until it's too late. The Think Tank StreetWalker Backpack and the Case Logic SLRC-206 SLR Camera Backpack are good backpack options and both have served me well. Here are some essential features I look for in a camera bag.
Must be rain proof
Must have a solid rubber base that does not tip or roll. First thing I do when I arrive at a location is place my bag on the ground. It's usually wet ground.
Must have an 'easy access' camera pocket that includes space for an attached lens
Must have a tripod strap that is placed to the side so that when you fall on your arse, you don't get speared in the back of the head by your tripod
Must have a water bottle pocket
Must NOT have a central pocket that gradually works its way open while you hike and eventually opens all the way to toss out your laptop. This is one of those design bugs that doesn't come to light until long after you've bought your camera bag, but watch out for it. If yours has this design, be sure to push your zips all the way to one side. If you place them at the top or centre, they'll work their way open. You can also use a small padlock to tie them together. It's worth the tiny investment not to have your expensive gear turfed out at the worst possible moment (Running from bears, mountain lions, serial killers, etc)
For urban / street photographers, it also doesn't hurt if your camera bag looks like, well, not a camera bag.  Some photographers are so OCD that they remove all labels that might blatantly proclaim how expensive a bag's contents are.
2. Buy a Camera Condom (Rain Cover)
I've found these transparent plastic rain covers to be lots of fun. I've had great results with the inexpensive OP/TECH USA Rainsleeve. They allow you to stay out in the elements in relative comfort and really do protect your camera from water, sand and dust. Wildlife shooters will most likely prefer the very expensive camouflage versions, but for most uses, the cheap plastic ones that you can buy in any decent camera store will do the trick.
My top tip for using these things is to have a towel at the ready so that you can towel off the outside of the rain cover after use – BEFORE you remove it from the camera. If you are working in really wet, humid conditions and condensation starts to build up inside the rain cover, get to somewhere dry and take it off the camera.
These days, lot of cameras are weather sealed, but many lenses (like Zeiss Distagon 21mm f/1.8) are not. For a few measly dollars, you can protect your investment in expensive camera gear and look like a bit of a weirdo in the process. Bonus.
3. Beware of Temperature Differentials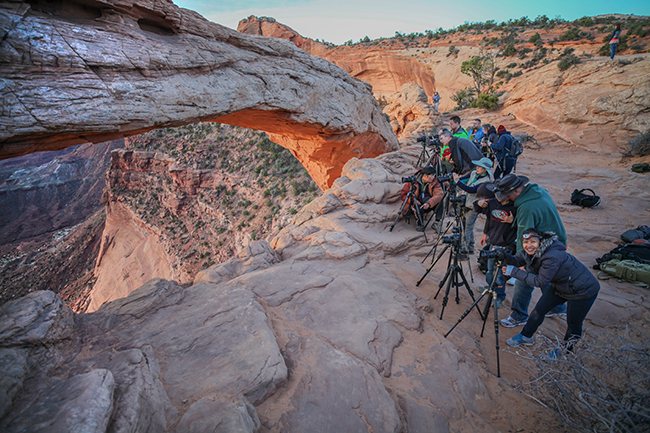 Internal condensation can kill your camera, so be aware of the circumstances that can cause large differences in temperature. You may already know that after shooting outside in cold, subzero temperatures, it's always best to leave your camera in the bag once you've gone back in to a warm environment. This allows the camera to warm up to the ambient temperature gradually and avoids internal condensation.
What a lot of people don't realize is that the reverse effect is just as damaging. I learned this while shooting in Cambodia. If you have your camera on the desk of your hotel room at a cool, air conditioned temperature, you'll run into problems when you take your camera outside in the warm, humid atmosphere of the tropics. Again, keep your camera in the bag for as long as you can to allow it the time to warm up to your shooting environment.
4. Keep Your Eye on Your Camera Bag
This is another tip that sounds obvious, yet is routinely ignored while we're 'in the zone.'
I confess that on many occasions, I've wandered too far from my camera bag during the excitement of a shoot. Usually for me, there is little risk of theft because I'm out in the wilderness, but if you're packing some tasty, smoked salmon sandwiches in your camera bag, don't be surprised if the local wildlife take an interest.
Be mindful of environmental conditions like clumsy tourists or unpredictable tides, as these can change very quickly. Keeping an eye on your bag is always a good move.
5. Service Your Tripod
I'm willing to bet that most photographers don't give much thought to keeping that tripod in top operating condition. This was a very expensive lesson for me to learn as it cost the life of my Canon 5D Mark II and Canon 16-35 f/2.8L II lens. While standing in the middle of a river in about 3 ft of water, one of the telescopic legs on my Manfrotto Tripod decided to collapse and my camera went for a dive. It'd been too long since I'd tightened up the lugs on each of the telescopic joints. What an idiot! Now, I tighten up those lugs on a weekly basis.
6. Get Insurance
This is by far the most important step you can take in protecting your gear from damage, loss or theft. You've most likely spent thousands of dollars on your camera, lenses and accessories. If photography is your business, this is a no-brainer.
[REWIND: Is Your Photography Business Protected Against 'Wedding Insurance?']
If you can get insurance that covers the cost of rental gear while you wait for repairs or replacement, your business won't miss a beat and you can bask in a warm glow of self satisfaction when disaster strikes.
I hope these hard earned tips (and my costly mistakes) help you to avoid disaster. What are some ways you protect your gear?
Gavin Hardcastle
Gavin is a professional landscape photographer from Vancouver Island, BC. He teaches photography workshops all over the world and writes extensively about his experiences on location. You can read his photo guides and tutorials at his photo adventure blog
www.fototripper.com
His fine art prints can be purchased from
www.gavinhardcastle.com
Find Gavin on
Google+