Welcome to Time Out with Tanya, where I've put my fast paced graphic design career on hold in favor of adventures in motherhood. I'm capturing every moment on camera and you can come along, if you'd like. Sign up for my weekly email here so you'll never miss a Time Out.
Senior Portraits season is happening now! Is this a photography genre you've been wanting to break into? Here are 5 awesome tips and free videos to help you get on your way.
1. Master Lighting & Posing

In this 1.5 hour long segment of a three-day Creative Live workshop, Bambi Cantrell shares foundation tips for mastering posing and lighting. Her "couture" style of portrait taking is ideal for modern high school senior girls. Bambi also shares her high-end equipment list, which includes the Canon EOS 1D Mark IV, Chimera Hotlights, Canon 15mm f/2.8 Fisheye, Canon 24mm f/1.2 L, Canon 50mm f/1.2 L, Canon 24-70mm f/2.8 L, Canon 85mm f/1.2 L, Canon 135mm f/2.0 L and Canon 70-200mm f/2.8 IS L. I don't think you need all of these to create stellar Senior photos (I'll do an entire session with my Canon 24-70mm f/2.8 and Canon 85mm f/1.8), but she emphasizes the importance of having fast glass, because she likes to shoot indoors with natural light at times.
2. How to Pose & Light the Guys

Photographer Mike Fulton warns photographers not to pose guys in a feminine way. His tips for posing and lighting guys to highlight their masculinity and strength are easy to implement. Don't be afraid to include the guys in your senior portrait program.
3. Chose a Killer Location

Sal Cincotta shares his little secret for finding and keeping track of cool locations he comes across on a daily basis. Don't get in a location rut by shooting at the same two places with all your clients.
Get more great scouting tips here: THE ART OF SCOUTING: HOW TO FIND NEW LOCATIONS FOR PHOTO SHOOTS
4. Get Creative with On-Location Lighting

This review of the Westcott 48″ Rapid Box XXL, by Matt Hernandez, shows you how you can use a single light with a versatile, portable modifier to create unique images out on location. Learning how to create light opens up a whole new world of creative possibilities, especially if the ambient light isn't ideal on a particular day or location.
5. Try a New Lens

Senior Photographer Holli True shares some tips for creating compelling, modern compositions using the Lensbaby Composer Pro, Sweet 35 Optic and Soft Focus Optic. Her go-to lenses are the Canon 50mm f/1.4 and Canon 85mm f/1.8, but mixing it up with the Lensbaby allows her to stand out from her competition. Alternatives to the Lensbaby for getting some cool in-camera effects might include a regular tilt-shift lens or shooting through prisms or glass. Think outside the box and try something new!
P.S. If you didn't catch my interview with Clickin Moms mentor and successful senior portrait photographer Meg Borders, check it out here: ROCKING HER NICHE: AN INTERVIEW WITH MEG BORDERS.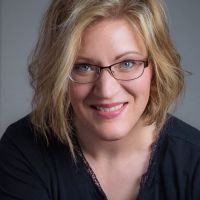 Tanya Goodall Smith
Tanya is the owner of WorkStory Branding Photography in Spokane, WA. Businesses hire her to create story-telling content that sells their high end products and services. She also teachings photographers her unique business model for making serious money as a corporate and personal branding photographer. Find her at
workstoryphotography.com
and
workstoryeducation.com