We make no secret about the fact that we regularly participate as vendors in bridal shows; we always book amazing clients when we do a bridal show and firmly believe in the benefit of marketing your wedding photography business at a bridal show. There is no other avenue by which you'll get in contact with hundreds upon hundreds of people interested in getting married on a single day and at a single location. And that's your customer base, friends: people who want to get married.
In a previous series of articles, "Wedding Show 101," we wrote about "The Costs of a Bridal Show," the "Basic Marketing Strategy of a Bridal Show," and "How to Network at a Bridal Show." Give them a read if you're considering participating in a bridal show.
As we were preparing for an upcoming fall bridal show, we were talking about important points, things we wanted to make certain were a priority focus for us. And here they are: 5 tips for photographers attending a bridal show.
1. Don't Go It Alone
Get help! Set up and take down alone can get pretty gnarly at bridal shows, especially if you're new to the game, but we always attend bridal shows together so that's not too big of an issue for us. Here's our not-so-secret secret though: we bring our super fabulous assistant with us. If two is better than one, then three is better than two. And it works! With a third person in the booth, we're able to make contact with more people. So, if you're thinking of rocking out a bridal show on your own, we'd recommend thinking about who you could take with you: your regular second shooter or a spouse or a family member that's involved with your business? Bringing someone else will definitely increase your ability to stay sane and also connect with more leads.
2. Represent You & Your Brand
It's easy to attend a bridal show, walk the expo floor, and fall in love with other vendors' set ups, especially other photographers. After all, we're an artistic, creative bunch. But before you toss your entire set up in the dumpster outside the expo building, think about you and your branding. You want your set up and products to represent you, whether it's clean and modern or shabby chic or whatever. From what we wear all the way down to our business cards, we want our set up to look like us and be a representation of who we are as wedding photographers.
And that said, make sure you bring your best work. Display the images you like best. Reality check: if the future brides and grooms rolling on by don't connect with your favorites then there probably isn't much of a connection. We like to think we are everyone's favorite, but that's just not the case.
3. Collect Your Own Lead Information
You'll get a lead list from the bridal show organizers eventually, but you're going to want to contact the people who stopped by your booth right away because they'll be the most interested in hiring you. Email them when you get home or, at the latest, the next day.
We use note pads to collect names, email addresses, the potential wedding date, potential venue location, and a "fun fact" ("What's rad about you?"). There are a couple key things to keep in mind when collecting people's information: make sure what they write is legible, and write a few notes on the back of their sheet if you have the time so you can personalize the email you send them later. And bring plenty of pens because people will accidentally walk off with them.
4. Be the First Vendor There and the Last Vendor to Leave
It always kind of blows our minds how late vendors arrive and how early they leave. The way we look at it is that we just dropped a bunch of cash on this endeavor so we're going to hang out as long as possible and talk to as many people as possible. And there are always people who sneak in early and linger late. We're often still chatting with potential clients, and the booths around us are all packed up.
Don't miss any opportunity to talk about your photography. That's why you're there. Prepare for a long day . . . and bring some breath mints.
5. Network, Network, Network (Did We Mention Network?)
You simply have to talk to everyone you can. It's so incredible what you can get out of the connections that you'll make at a bridal show. You have to take (and make) the time to network.  Yes, you are there to connect with brides and grooms, but you absolutely need to chat with the show organizers, magazine editors, venues, and  other vendors who are there. Those are important relationships that, for us, have resulted in booking weddings, magazine features, and invitations to open houses.
Conclusion
Once you've done your research and crunched the numbers, we also recommend that you talk to other photographers who have attended the bridal show that's on your radar prior to signing up. Get some feedback on their experiences and share some of your ideas. Do we think bridal shows are for every photographer? Nope. But you won't likely know if they're for you or not if you don't give one a try!
What are your best bridal show tips? Leave a comment below and share one or two! And, as always, feel free to continue the conversation over at Facebook, on our every-growing SLR Lounge Photography Community page.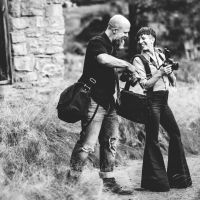 Amii & Andy Kauth
Amii & Andy are a wife and husband team of rad portrait and wedding photographers (Sunshine & Reign Photography) who absolutely love life and are generally just stoked! Yeah! When they aren't photographing or writing and teaching about photography, you'll find them off on a seriously legit adventure with their little ones, lifting weights in their garage, training jiu-jitsu, refining their archery skills, or surfing every chance they get. And on the rare chance they escape off on a "date night"? Yep! They'll find a wedding to crash (true fact). Website:
Sunshine & Reign Photography
Instagram:
@sunshineandreign