Of the many questions we sought answers to when deciding to dive head first into the deep waters of the wedding photography industry, one that boggled our minds was, "How in the heck do we get in at a vendors' open house?" But maybe a better question that we asked (and one that will be more pertinent to you) was, "Now that we got in at an "open house" . . . How in the heck do we pull this off?"
Here are 3 simple strategies that you can implement right now as a wedding photographer to pull off a successful wedding venue open house. (And we even grabbed some shots from the most recent open house we attended at one of our favorite Arizona wedding venues, The Windmill Winery).
1. Create a Simple, Clean, & Well-Branded Set Up
Ideally, it's best to avoid the table and black linen that you have undoubtedly seen at bridal shows and open houses. Your set up absolutely has to fit your branding and have that touch of you that says to a potential client, "We cared about our set up because we're good at what we do."
We use a stripped down version of the booth we rock at bridal shows; we use two walls (3′ x 7′), painted white with two "gallery-style" lights mounted on top and our business name and a favorite image printed on a canvas (secured with VELCRO). Our set up transports easily in a minivan and takes less than an hour to set up. We add a few of our vintage card tables and chairs, and we're done. Simple, clean, and reflective of, well, us.

2. Show Your Best Work/Show Your Products
Displaying your best work is key. You are selling your ability to create spectacular wedding images, and that's it in a nutshell.
So print some images on canvases as well as some photographs from actual weddings you've shot (preferably at the venue if possible); put together a slideshow (we put ours out on an iPad because it takes no time to set up and fits nicely on one of our tables); put out an album featuring a real wedding; and display other products you offer to clients (we tend to put out our leather satchels by Nolia co., linen texture prints, our wood album boxes by H.H. Boogie, etc.).
3. Take Your Time to Make a Personal Connection
If you've ever done a bridal show (especially a large one), you know how hectic it can get, and how tough it is to make a connection when people are rushing through booth after booth just to find the best deal or win that free engagement session. A wedding venue open house will be completely different.
On average there might be 100-200 people passing through (and not all of those people will be brides or grooms since family and friends will be tagging along). You'll have the time to chat extensively and make a connection.
We hand out an overview of our pricing and a business card but also have interested brides and grooms write down their email addresses so that we can follow up (and send them the link to our full, online pricing guide).
This will allow you the opportunity to follow up with a "Thanks for taking the time to chat with us" email, and more importantly, it'll free you up to have conversations. It'll be very likely that the people you'll be speaking with have already booked the venue (or are seriously considering booking it) so you can talk somewhat extensively about their vision for their wedding and how you, as the photographer, can help make that vision a reality.
Conclusion
Maybe we should have answered our first question . . . well, first: "How do you get in at a vendor's night?" Here's the skinny on that: ask. Whether you have shot a wedding at the venue or not, if you don't ask . . .
And without re-opening the proverbial can of worms about whether you should pay to be a preferred vendor or pay to participate in a wedding venue open house (we don't, but you can read that article here), we hope these 3 simple strategies will help you rock your next (or first!) wedding venue open house.
What are your tips? Have you ever rocked an open house? Have you struggled to get in at a wedding venue open house? We'd love for you to join the conversation below by leaving a comment. And check out our ever-growing SLR Lounge Photography Community Facebook group for more photography tips and photography inspiration!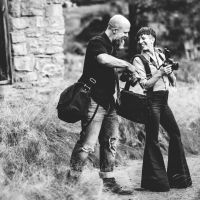 Amii & Andy Kauth
Amii & Andy are a wife and husband team of rad portrait and wedding photographers (Sunshine & Reign Photography) who absolutely love life and are generally just stoked! Yeah! When they aren't photographing or writing and teaching about photography, you'll find them off on a seriously legit adventure with their little ones, lifting weights in their garage, training jiu-jitsu, refining their archery skills, or surfing every chance they get. And on the rare chance they escape off on a "date night"? Yep! They'll find a wedding to crash (true fact). Website:
Sunshine & Reign Photography
Instagram:
@sunshineandreign