I've recently made the jump to Sony from Nikon earlier this year, with my old D610 shooting weddings somewhere in Georgia, and my D7200 off on safari somewhere in Africa. While I was certain I wanted the A6500, choosing the right lenses was a bit more difficult. Sony's current APS-C lens lineup can prompt a fierce bout of indecisiveness, but for the wrong reasons. So what is a newly initiated Sony user supposed to do? Here are lens some options you should consider.
Standard Prime
Sigma 30mm 1.4 (45mm equiv.) – $339
This lens doesn't boast the famed 'A' from Sigma's Art lineup but, if it did, it could easily be twice the current $339 asking price. What makes this lens truly unique is that it is currently the fastest native E-Mount lens with autofocusing capability.
According to DXO mark, this lens is also sharper than Sony's 35mm 1.8 OSS (Optical Steady Shot) at apertures f1.8 and f2.8, and it's even sharper at f1.4 than the Sony at f1.8. The Sony lens is stabilized, which is certainly helpful for video use, but that advantage of the Sony 35mm is partially mitigated by the A6500's In-Body-Image Stabilization.
This could certainly be used as you would a 50mm, so great for street photography, travel, and at the right distances, portraiture.
You can pick up a Sigma 30mm 1.4 Contemporary Lens here.
Medium Telephoto Prime
Sony 50mm 1.8 (75mm equiv.) – $298
This budget-friendly option is also a fast native E-Mount autofocus lens, and was a relief to many who didn't want to part with as much cash as would be required for the Sony/Zeiss 55mm 1.8 . It's actually the fastest at this focal length for APS-C E-mount.
Two advantages it holds over its rival, the Sigma 60mm 2.8 Art, is the f1.8 aperture and the (OSS) feature. For a popular portrait focal length, these are significant advantages and make the lens a better option for video use, and it does serve well for portraits.
But if you have your eye on Sony's full frame cameras in the future, the budget Sony FE 50mm  1.8 or pricey Sony/Zeiss 55mm 1.8 would serve you now and ease you into that system with a lens ready to go.
You can find a Sony 50mm 1.8 OSS lens here.
All-In-One Zoom
Sony 16-70mm f4 (24-105mm  equiv.) – $998
You can often find the Sony A6500 bundled with the 16-50mm f3.5-5.6 (24-75mm) lens which doesn't have a stellar reputation regarding its image quality, but in it's place there is an alternative. The more versatile but, more expensive bundle comes with the Zeiss 16-70mm f4.
The versatility of a lens like this makes it suitable to be a great travel and walk-around lens, and matching the good high ISO performance of the a6500/6300 and it's speed, you can capture even sports with it as evidenced above. Racked out at 70mm (105mm equiv.) this actually does a nice job with portraits, and at f/4 you're still able to isolate your subject well.
It would require you to spend more, but if you want a zoom that combines better quality and a wide range of focal lengths, this is currently your best native E-mount option outside of the 24-70 G Master.
Order your Sony 16-70mm f4 lens here.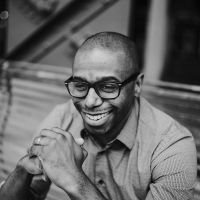 Wendell Weithers
Wendell is based in Atlanta where he shoots events, portraits, and food photography. He also supports his wife Andrea as she runs their cake design business, Sweet Details. Instagram:
Wendellwphoto