In the process of establishing their place as a leading print lab in the photography industry, Zno has developed a unique all-in-one-platform that has allowed photographers to streamline their entire print services workflow, from sharing images and album designs to ordering prints, albums, and wall art. Together, Zno's software tools combine to save time and money while also making it easier than ever to boost revenue through print sales. In this article, we'll look at features of the Zno Gallery and Zno Estore, review how their integration can potentially help photographers, and consider their place among competitors.
Let's get started.
What Is a Client Gallery?
At some point in the process of working with clients, photographers need a means to share their images. A client gallery, ideally, should be both easily accessible for clients as well as professional in appearance and functionality. It's one thing to store a collection of photos in something like a Dropbox folder and share a link, but taking such a route leaves plenty to be desired in terms of presentation, and it doesn't offer important functions like proofing or sales features.
While you can find a number of online client galleries that go beyond the bare minimum, it's worth paying attention to the features that each option offers. What's great about Zno's online client photo gallery is how easy it is to use and how seamlessly you can share, proof, download, and even sell your images, or albums, or wall art…you get the idea. That last part about selling your photos with ease and why that's important leads to our next question.
What Is an Online Store for Photographers?
All professional photographers should have an online store in which they're able to sell things like photo prints, professional photo albums, and wall art to their clients. Yes, photographers use different business models and some rely more heavily on printed products while others prefer to deliver only digital images, but if you're not considering print sales, you're potentially leaving a lot of money on the table.
With easy-to-use solutions like Zno's online store for photographers, which is actually already integrated with the client gallery, there's really no reason to not at least give it a try, especially given that a free plan is available. If you're worried about adding more work to your workflow, don't be. Once your store is set up, there's little else for you to do in terms of operating the store. At a glance, here are a few of the perks of using an online store for photographers:
Digital Downloads: For those who only offer digital images, you probably still set a limit on how many images you expect to deliver for a session. This holds especially true for maternity, newborn, and family photographers, as well as other portrait photographers. If your gallery is linked to your online store, your clients can quickly select additional images that they'd like to include in their purchase.
Print Products with Partnered Labs: With Zno, in particular, you can enjoy the benefit of printing your products directly through Zno or through manual fulfillment with other labs, all through your Estore.
Use Automatic or Self-Fulfillment Features: Automatic fulfillment works in exactly the way it sounds. When your clients order prints or other products, the order automatically transfers to the lab where it is made and shipped.
How Do Online Photo Galleries and Online Stores Operate?
These days, we're fortunate to have software with integrated features because integration can save us tons of time, and time in business is money. One cannot overstate the benefit of having an online photo gallery integrated with an online store. So long as the software you're using is intuitively designed and built to make your business run smoother, then it's worth exploring. For these reasons, we can't help but recommend checking out Zno's integrated Client Gallery and Estore.
To help you understand how this software works together, we've put together a basic workflow that you can follow.
Upload your edited photos to a Zno Gallery.
Invite your client to view the gallery via email. You can set up templates in advance so that you don't have to write a fresh invite for every client, although you can customize the message if necessary.
Your client will click on the email link you sent and view their photos in a professionally designed gallery.
Next, your client will have the option to select their favorite photos.
If your clients choose, they can purchase print products of their favorite photos. Zno's Estore includes a wide range of products, including prints, professional photo albums, wall art, cards, calendars, and more.
Collect your payment based on the margins that you've set up in advance.
How Is Zno's Online Photo Gallery Better Than Other Online Photo Galleries?
Zno gets an upper hand on the competition when it comes to online photo galleries in a few key ways, which we'll explore below.
25% Off Some Zno Lab Products
With a Zno Gallery Basic Plan, which runs just $5/month, you can save 25% off select Zno Print Products, including print sets, photo prints, wall art, and tabletop prints. Depending on the volume of prints you sell, this savings can quickly become significant. So long as you've signed up for the Basic Plan, no coupon code is needed and the 25% savings is automatically applied during checkout.
0% Commission Fee Even on the Free Plan
You'd be hard pressed to match this feature on any other platform. Unlike Pixieset, Pictime or Cloudspot, Zno does not charge 15% on their free Zno Gallery plan. In fact, Zno takes a 0% commission fee for any sale on any plan. Professional photographers, especially beginners, often need all the margins they can get. This 15% savings through 0% commission fees can make a big difference for your business.
Apply Any Store Credits or Promos to Orders
In addition to saving money through the 25% discount and 0% commission fee, photographers who use Zno can apply store credits or other promotions to their orders. A client will still pay a set rate, but the photographer's margins increase with the extra savings they receive through the following two scenarios:
First Scenario: If you also subscribe to the Pro Plan, then you can stack a store credit with the 25% off discount for select products that you already have via the Pro Plan.
Second Scenario: If you see a special offer listed, you can apply that same offer to your sale (if what you are selling matches the offer). As an example, if Zno is offering a Father's Day sale for 20% off anything over $199, you can apply that to your sales.
Zno's Client Gallery Is Part of an All-in-One-Platform
We previously reviewed Zno's unique All-In-One photography studio software platform, but it bears repeating in this context. Zno's multifaceted photographer software enables you to work through an entire workflow, from image editing and designing print products and packages to sharing images with clients online, proofing, printing, and even delivering printed photos. Rather than having to go through multiple services and tracking various subscriptions, you can get it all done in a single workspace, using only one dashboard.
Because Zno's apps are integrated, they allow you to seamlessly move from one step of the project to the next. For instance, you can upload your photos to the online photo gallery and then quickly drag them into an album layout through Zno Designer. All of these apps are available for a discounted price through Zno's Fulfillment Apps Bundle, which you can learn more about here.
Zno's Client Gallery Allows for Seamless Printing
It's important to remember that Zno is both a professional print lab and software developer. This is important because of the seamless integration between the software and the printing or print-ordering process and the savings that are possible through an all-in-one platform. Because Zno has the ability to both design AND sell/print albums (which you won't find through companies like Zenfolio or Shootproof), they can offer special savings on their print products to those who use their software.
How Does Zno Gallery Compare on Price to Other Online Photo Galleries?
Because we've talked about how Zno can save you both time and money, it's important that we look more closely at storage pricing for both Zno and Zno's competitors. To make it easy to compare, and to show that we're comparing comparable services, we'll place pricing and plan options side-by-side for Zno and each of the top companies it competes with. You can find more details about what each company offers in this review.
Zno
To start, you can find an overview of Zno's price plans at the bottom of this page. You'll also find Zno's price points featured in each of the comparisons below.
Pixieset vs Zno
Storage

Pixieset:

10GB for $10/mo or $96/yr
100GB for $20/mo or $192/yr
Unlimited for $50/mo or $480/yr

Zno:

10GB for $7/mo or $84/yr
100GB for $14/mo or $120/yr
Unlimited for $28/mo or $240/yr
Shootproof vs Zno
Storage

Shootproof:

75GB for $10/mo or $99.96/yr
250GB for $30/mo or $300/yr

Zno:

100GB for $14/mo or $120/yr
Unlimited for $28/mo or $240/yr
Zenfolio vs Zno
Storage

Zenfolio:

15GB for $9/mo or $84/yr
150GB for $23/mo or $228/yr
Unlimited for $40/mo or $396/yr

Zno:

10GB for $7/mo or $84/yr
100GB for $14/mo or $120/yr
Unlimited for $28/mo or $240/yr
Pictime vs Zno
Storage

Pictime:

20GB for $7/mo or $96/yr
100GB for $25/mo or $252/yr
Unlimited for $50/mo or $504/yr

Zno:

10GB for $7/mo or $84/yr
100GB for $14/mo or $120/yr
Unlimited for $28/mo or $240/yr
Cloudspot vs Zno
Storage

Cloudspot:

100GB for $15/mo or $192/yr
Unlimited for $45/mo or $408/yr

Zno:

100GB for $14/mo or $120/yr
Unlimited for $28/mo or $240/yr
Finishing This Zno Review
I hope you found this Zno review for online photo galleries and online stores for photographers helpful. It can feel overwhelming to seek out a new printing lab, for those just starting out or those interested in exploring new options to save time and money. A quick search will show you have plenty of options when it comes to choosing online photo galleries or an online store, but they don't all match up in terms of value, functionality, and ease of use. Furthermore, you can rarely find everything in one place. Any way you look at it, Zno offers up a great deal on an expansive collection of design and print-related software. Give them a try and see if they're the partner you need to elevate the print side of your photography business.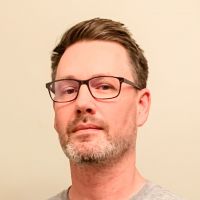 Sean Lewis
Sean fell into photography while teaching for a non-profit. What started as a minor task - documenting guest speakers and classroom activities - grew into a major obsession, and eventually led to a position shooting with Lin & Jirsa. Nowadays, at SLR Lounge, Sean's work as a marketing associate merges his interest in the fields of photography and education.