WPPI: Wedding and Portrait Photographers International
Wedding and Portrait Photographers International (WPPI) is a monster in the photography conference space, attracting thousands of photographers worldwide annually and top-level keynote speakers and mentors. Every year, they up their game and grow their attendance by offering attendees an enriched learning experience and access to the best trade show vendors.
President of WPPI, Jason Groupp released a newsletter with what we here at SLR Lounge feel is fantastic news and we think you'll agree!
"So, drumroll please… EVERY PHOTO+ member (WPPI & PhotoServe) will be entitled to a FREE Full Platform Pass at the 2016 WPPI Wedding and Portrait Conference + Expo in Las Vegas! That's right! Five days of education FOR FREE for members only!  "
The best part? This isn't only for new members nor is it only for seasoned members. Whether you became a Photo+ member at its conception or sign up today, you will have access to over 100 Platform classes absolutely free with your membership. Even the most basic membership plan gives you full Platform Pass access. In the past, the full conference pass was hundreds of dollars.
It's such a smart marketing move on their part to reward their members with this perk. To learn more about the Photo+ membership or sign up, click here. To read Jason Groupp's full press release newsletter on this exciting change, visit the blog.
[REWIND:First Time at WPPI? Here are 5 Tips to Make it a Successful Experience]
My Thoughts On WPPI
Walking down the halls of the massive MGM Grand in Las Vegas a few years ago, I felt so small in a sea of thousands of like-minded people. But, I knew that my life as a photographer was about to be changed forever. I spent a full week immersing myself in knowledge-packed Platform classes and even took a couple of intense Master classes. At the end of the week, I walked away with a notebook filled to the brim with lessons and ideas, an expanded knowledge of composition, marketing and lighting, and incredible relationships.
Today, I am still friends with so many photographers and mentors that I met in those hallways and classrooms. If you're on the fence as to whether or not WPPI is in your future plans, my vote is that you should absolutely consider it. Not only will you get to see, touch and feel products in person but you will get to learn from the industry's best. And, if you take the time to talk to the people sitting close by, you just might find a friend that will support you as you both continue to grow your businesses. WPPI 2016 will once again be held at the MGM Grand in Las Vegas, NV from March 3-10. Will we see you there?
—
In other conference news, PhotoPlus in NYC is fast approaching! A team from SLR Lounge will be there covering the show thanks to our B&H sponsors. Hope to see you there!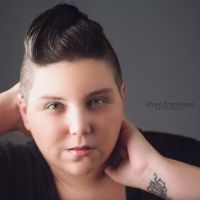 Alicia D'Amico
Alicia D'Amico is a Portrait, Fashion, Underwater and Wedding photographer based out of Tampa, Florida. She and her partner attract clients from far and wide that want a unique photographic experience. Her work has been featured on numerous magazine covers and featured editorial spreads. Alicia loves to travel the world, teach others, cuddle on the couch with her puppy and enjoys fun game nights with her closest friends. To see more of her work or find out about her mentoring, visit her
website
,
workshops
,
Facebook
and
Instagram
.