Last Month, Pixieset, a Vancouver-based software company best known for their client galleries, announced the acquisition of Flothemes, a premium WordPress theme developer.  As with any acquisition, the first question that comes to mind is "why?" To gain a bit more insight, we reached out to the owners of Pixieset for a brief interview.
But first a few thoughts from our editorial team. This acquisition is one of many signs that Pixieset is making aggressive moves to expand their presence in the photography industry. In 2019, they announced their own website builder to distinguish themselves from their competitors. And now, they're expanding their reach to the WordPress platform, which is still one of the most popular content management systems for photographers. Their next step is to add their own studio management software in their roadmap, which will then expand their reach further to compete with the likes of Honeybook, Shootproof (Tave), and other studio management systems.  It will be interesting to see what they do next and what kind of market share they can carve out in each of these different areas.
Now on to the interview with the founders of Pixieset, Phoebe Jiang and her husband, Simon Wong.
Pixieset Interview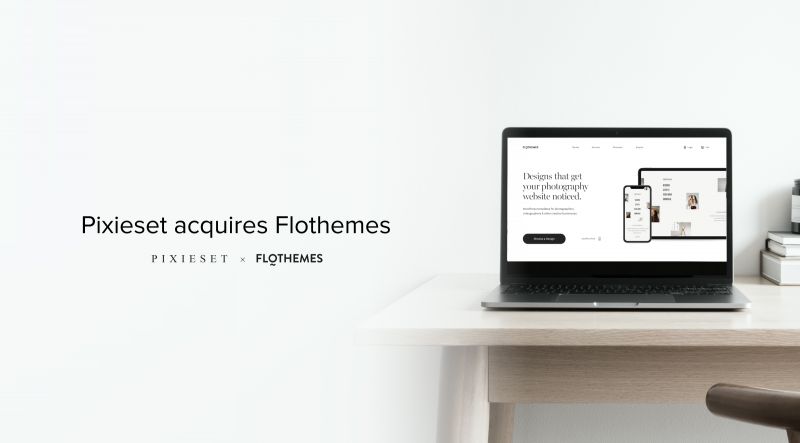 Q:What were the primary reasons for acquiring Flothemes?
We launched Pixieset Website – a design-focused website builder – back in 2019. It was specifically designed for photographers and creatives to give them a fun and easy way to build a stunning photography website. We've seen tremendous uptake among our audience since launch (powering 65k+ sites and counting), and we believe we are just getting started. Flothemes is well-known within the photography community, having created a plethora of beautiful WordPress website templates used by some of the most well-known photographers in the world. We fell in love with their designs as well as the amazing team behind the brand. We saw an opportunity to partner with a like-minded team in Flothemes to bring that next level of elegant design and capabilities to Pixieset Website.
Q: Do you plan on integrating the brands? If so, how?
Pixieset will continue to release new themes and add features to its website builder. The Flothemes team will be integrated into the Pixieset team, utilizing their knowledge and expertise in the website industry to help Pixieset release more themes and build new features faster.
Q: For Pixieset users, should they expect any changes?
With the addition of the Flothemes team, we will be focused on providing new capabilities and website themes to our customers at a faster rate while continuing to give them an easy-to-use tool to build a stunning photography website, portfolio or blog.
Q: For Flothemes users, should they expect any changes?
Flothemes will continue to operate as they are today. Customers will receive the same support and updates for themes, and Flothemes will continue to add features to the Flex Editor. Pixieset will also be leveraging Flothemes' existing expertise in the website space to further enhance Pixieset's website builder capabilities and expand feature sets. More info for current Flothemes users can be found here (https://flothemes.com/flothemes-roadmap/).
Q: Are you looking to expand further and acquire more brand within the photography space?
We founded Pixieset with the mission to equip and inspire every creative on their journey towards running their own businesses. It was evident from the start that Flothemes hold the same core values as us, which is ultimately what led to the successful partnership. We will continue to look for like-minded companies who share our vision to join us on our mission.
Q: Are there any new features or releases that we can tease for either brand?
Pixieset will be launching its much anticipated Studio Manager very soon. We are incredibly excited to share it with the community as it will transform the way photographers sign contracts, get paid and much more. For Pixieset Website, you can expect to see some of Flothemes' beautiful templates available later this year as well as more advanced functionality within the builder.
Thoughts or Suggestions?
If you have any thoughts on the acquisition or any suggestions for their team, we would love to hear from you in the comments section below.