Apex Awards are reserved for those whose images are hand-picked by Curators from the top 1% of images submitted to our SLR Lounge Awards platform. We wanted to do a deep dive into the advanced lighting techniques used on some of our favorite Apex award-winning images to offer you quick lighting recipes to take on your next wedding shoot.
You'll notice that a wide array of gear was used to create these photos, from pocket flashes to medium strobes, proving that it isn't what type of gear you have in your kit, so long as you know how to use it to transform a scene. For each image, you'll find the gear used, EXIF data, a lighting diagram, and a brief description of how the image was conceived.
Wedding Photography Flash Tip #1: Pin Lights
Gear Used
Camera Settings
f/2.8, ISO 500, 1/200th
Lighting Diagram
How He Shot It
"To create this shot, I first wanted to remove all the ambient light, so I placed my couple in front of a dark background and then underexposed by about 3 stops. The only visible light was the light that I was adding to the scene. I placed my lights at 10 and 2 o'clock and pointed them at 4 and 7 o'clock, respectively. Both lights were modified with a MagGrid to minimize light spill. On my count, I had the couple shake and spray the champagne the same direction the lights were pointing, in an X formation, directly in front of me. Be prepared to get a little wet, but it's all worth it in the end."
Wedding Photography Flash Tip #2: Colored Gels For Effect
Gear Used
Camera Settings
Sony 16-35mm f/2.8 @ 16mm, f/3.5 | ISO 2500 | 1/125th
Lighting Diagram

How She Shot It
For this image, it was important to show off the venue in a unique way, while still maintaining the story of Kelly + Lauren's wedding day. The venue has really cool lights that can change colors inside, so when they changed them to purple, I knew we should match the exterior with the interior! Using two Godox v860iis to light up the trees, I then placed an AD200 behind the couple and aimed it at the door to create a silhouette. Having them twirl to create a bit of movement in the photo took a couple tries to get just right, but in about 3 minutes we had a winner!
Wedding Photography Flash Tip #3: Drone Light Painting –
Gear Used
Camera Settings
f/1.8,  ISO 800, 20 sec
Lighting Diagram
 
How He Shot It
"The cinematographer I was working with installed 2 flashlights to his drone and they were pointed down to illuminate the ground. He flew the drone 5 meters off the ground and I placed one AD200 at 1/32nd power behind the couple to separate them from the dark background. The flash was also used to "freeze" couple during the long exposure. With my camera set on a tripod, I set my shutter speed to 20 seconds to allow for enough time for the drone to make a full circle around the couple."
Wedding Photography Flash Tip #4: Color Temperature Throw
Gear Used
Camera Settings
f/1.4 ISO 640, 1/20th
Lighting Diagram
 
How He Shot It
"We actually just got done shooting a wedding at the same chapel two days before this wedding. I posted a sneak peek from that first wedding and the bride from the second wedding loved the image."
"So I knew she would want something like that. I never like to recreate images, so I went in with the idea to do something similar but with a twist. The second wedding was close to sunset, so I had the idea to light up the inside of the chapel with a big AD600 strobe. So after the wedding, I was all set up to do just that, but luck would have it, the inside lights were perfectly balanced with the sky outside. Instead, I opted for less power with the AD200 with a 1/2 CTO to match the ambient light inside the chapel. After I got this image, I wanted to try and use the low light to my advantage, so used Pye's whip-pan technique in an up and down motion in combination with changing out the CTO gel for a blue gel to create this image."
"So moral of the story, when you are working off the idea from another image, even if that image is yours, always try and put a spin on the idea. Then when you get the shot you want, don't be afraid to experiment."
If you are seeking tips & techniques to help you master off-camera flash for wedding & portrait photography then check out Lighting 101 & 201 in the SLR Lounge store!
Lighting 101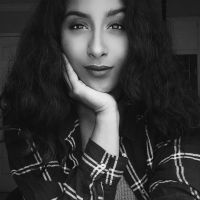 Shivani Reddy
Shivani wants to live in a world where laughter is the cure to pretty much everything. Since she can't claim "Serial Bingewatcher" as an occupation, she'll settle for wedding/portrait photographer at Lin and Jirsa & marketing coordinator here at SLR Lounge. For those rare moments when you won't find a camera in her hand, she will be dancing, eating a donut, or most likely watching Seinfeld. Follow her on Instagram:
@shivalry_inc