Is the future of the photo booth industry all digital? While it's fun to watch the familiar strip of snapshots pop out of the printer, there's no denying the convenience for clients to instantly share their photo booth images across all of their social media channels. If the digital trend holds, Photobooth Supply Co's new iPad-based booth, Salsa, is ready for it.
Salsa is unlike any other photo booth on the market. It is iPad-based, and our revolutionary Salsa App allows you to take beautiful photos, boomerangs, videos, and GIFs, all from the comfort of iOS. There's no need to learn any Windows to use Salsa.
See the Promo Video
Salsa's Features and Specs
IPAD COMPATIBILITY –  2017 – 10.5", 12.9" Pro, 2018 – 11", 12.9" Pro
TOTAL HEIGHT –  64" – 43" with one pole installed
WEIGHT (WITHOUT CASE) – 36LBS
POLE WIDTH- 5.5″
HEAD WIDTH- 13″
HEAD HEIGHT – 21″
TILT ANGLE – 15 Degrees Upwards and Downwards
CASE DIMENSIONS – 24.50" x 19.37" x 12.22"
CASE WEIGHT – 19lbs Injection Molded Case
MATERIALS – Base Plate: Cold Rolled SteelPoles: AluminumShell: Scratch Resistant Plastic Hinge / Fascia: High Impact Plastic
POWER SUPPLY – 120W115v/60hz and 240v/50hz
Purchase or find more info here.
Thoughts on Salsa and the Photobooth Industry
Salsa is the most portable, dummy-proof system we've seen on the market. This makes it easy for one person to set up with little to no technical experience, creating opportunities for business owners to increase their margins.
Also, its sleek, apple-esque form should give its owners an advantage over bulky, less attractive photobooth setups.
Lastly, they've eliminated the most common pain point photobooth owners face on the job: printing issues. Moving to a digital model is a bold move that isn't without risk. Some clients will still want prints for their guests to walk away with, so owners of this booth may have to convince their clients that the instant social media access to features like boomerangs, GIFs, and videos are better than a physical print. Owners may also have to have to own another setup that allows printing, such as Photobooth Supply Co's Queso, to satisfy that need in the market.
Note: While you can technically print using the Salsa booth, you have to install any third party printing software, integrating with Dropbox and bringing along a dye-sublimation printer hooked up to a Windows Tablet using a hot folder app.
Ultimately, the success or failure of this product will depend on the future of the photobooth industry. Is it trending towards all digital or will clients will insist on physical prints?
We'd love to hear your thoughts in the comments below.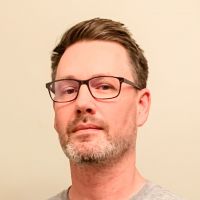 Sean Lewis
Sean fell into photography while teaching for a non-profit. What started as a minor task - documenting guest speakers and classroom activities - grew into a major obsession, and eventually led to a position shooting with Lin & Jirsa. Nowadays, at SLR Lounge, Sean's work as a marketing associate merges his interest in the fields of photography and education.