Preface
One of the aspects of modern digital photography I often find hard to reconcile with entirely is the extend of retouching. Not that retouching is a bad facet of the craft, just that it can be quite discouraging for many people. The fact is, that to achieve the looks of images you see around you today, everywhere from magazines to billboards to fine art, you have to have quite a good grasp of retouching.
I can hear some of you of a more purist persuasion ready to jump down my throat about the need to get it right in-camera, and how it's possible and so on and so forth, but that doesn't mean you're in the majority, nor that getting it 'right' in-camera means you've arrived at a finished product. The types of images I see inspire many budding photographers, even if enthusiasts, require a good amount of post processing, and most of them don't fully understand that.
The Meat & Veg
Countless times, have I seen people study up the fundamentals of photography, save and buy their first body and nifty 50 and execute a textbook 'good' image only to be left wondering why their image doesn't look like the ones they see online. And it boils down to good post processing. Allow me to put a period on all the sentences now by saying that in order to do great post processing work and end up with the imagery you are capable of producing, you must have a pen tablet. In the world of photography, that means a Wacom.
When people ask me what gear to get (and that's daily), among the usual suspects, I always include a Wacom. Now they're even better than ever, and you have more options than ever. Wacom has just released a new line of Intuos tablets aimed at creatives of all types.
Wacom tablets come in three tiers generally: the Cintiq line of tablets with a graphic display screen which start at around $800, the Intuos Pro line starting at $250, and the Intuos Pen (& Touch) line, formerly Bamboo, that start at around $80. The upshot is that the Pen & Touch lines just got revamped, and are about to ship. That is the line I tend to recommend most.
Intuos Pen & Touch 2015
The new Pen & Touch range comes in 4 models: Intuos Art, Intuos Comic, Intuos Photo and Intuos Draw (pen only). With each model comes a suite of creative software and online training, and that's really where the primary difference between the models lays, other than the Draw which doesn't have touch capability. The suite included with the 'Photo' Pen & Touch are Corel Photo Paint Shop Pro, and Corel AfterShot Pro (Windows), or Macphun Creative Kit and Corel AfterShot Pro (Mac OS). Jeff Mandell, Executive Vice President at Wacom divulges,
We spent a lot of time working with our customers and redesigned the popular Intuos line to better address the needs of key user segments. The new Intuos includes everything one needs to capture the imagination of creative enthusiasts and inspire them to take their creativity to a new level.
The tablets now hope to bring more appeal to the masses as they come in a choice of Blue, Black, or White, and either small or medium sizes, with an optional wireless kit (This feature is built into the Pro line).
Each of the tablets comes with 3 'nibs' that can be stored in a small enclosure underneath, as well as a loop to hold the pen. The active area of the table face is 6.0 x 3.7"; there are 4 express keys which can be configured to control the programs you use it with as you wish, and the pen, along with 1024 pressure levels, has two more programmable buttons. If you've got a last generation Pen & Touch like we reviewed here, you'll recognize that these are the same numbers, and that's the thing; there's been a facelift, but the working facets of the tablets seem to remain the same (though you will be paying slightly more for these as the Intuos Photo comes in at $99 where the previous gen comes in at $87).
Wacom will no doubt assure you that there are differences, and I must admit the pen does look different and looks perhaps a bit better than the previous generation and closer to the Pro line. Those conclusions will come soon as we'll plan on doing a full review of this new line shortly. Wacom will also point to the suite of software, but I think we can all agree, that the majority of users who get this neither really want the software provided or use it now as most are between Lightroom and Photoshop.
If you have the last generation Intuos Pen & Touch, it would seem now you wouldn't need this new version, though it does look more professional. If you are new to the game then I would probably recommend getting one of these. There seem to be less reasons for the average person to consider the Pro now, especially at 2.5x the cost.
They are available for order now. Check out my review of the Intuos Pen & Touch here, and the Pro line here before you decide, but definitely decide on getting one! You won't regret it. And if you're a Lightroom user who thinks it doesn't much matter if you have one or not, I'd rethink that; read this as to why it's still necessary.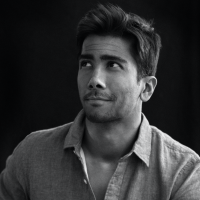 Kishore Sawh
A photographer and writer based in Miami, he can often be found at dog parks, and airports in London and Toronto. He is also a tremendous fan of flossing and the happiest guy around when the company's good.