Portable Off-Camera Flash
Portable off-camera flash photography has become incredibly popular among professionals, enthusiasts, and amateur photographers. Budget friendly manual flashes are in high demand, and now many photography gear companies have a product available for this market.
For years one of the most popular budget off-camera flashes was the Vivitar 285HV. These speedlights were once heralded as one of the best manual workhorse strobes that you could buy. They were tough, durable, and cheap! This manual flash was first released by Vivitar back in the early 70's, and now Vivitar has re-issued the 285HV, but are they as good as the originals?
The Vivitar 285HV Review
Music: "Aerials" from Lights & Motion "Reanimation" (Deep Elm)
License this song at The Music Bed
Vivitar Specifications
Guide No.120′ (37 m) ISO 100 @ 50mm
Zoom Flash Head: 28 mm – 105 mm (Full Frame)
Angle of Coverage: 70° – 27°
Recycle Time: Approximately 4.8 – 10.4 seconds
4 Auto f/Stops
Thyristor Battery Saving Circuit
Built-In Vari-Power Control
Accepts Variety of Power Sources
Vivitar Reliability and Vivitar Customer Service
We purchased 12 of these units just over a year ago for our studio. Since then, we have already sent 8 of them back for repair. Some of the users in our studio were so frustrated with the Vivitars that they went back to using old Nikon speed lights which proved to be far more reliable, although they are more expensive.
Given that I don't really mind on-site trouble shooting, and since I have so many of these flashes now, I still use the Vivitars on my shoots, I simply take 2-3 backups just in-case. On the point of reliability, when you do have issues, you are required to get in touch with Vivitar, which is another issue entirely.
Getting a hold of Vivitar and getting these units replaced was challenging and extremely time consuming. After getting a hold of Vivitar and sending in the broken units it took around 4-6 weeks to get our new replacement units.
Vivitar Power Settings and Vivitar Recycle Time
The flash unit only has 4 power settings. Full power, 1/2 power, 1/4 power and 1/16 power. This makes it much more cumbersome when you need lower flash intensity options because you will need to attach neutral density gels to adjust the output. For example, you can attach a neutral density gel if you need to cut down light from 1/16 to 1/32 or 1/64. While this is okay for most purposes, those that need to run 1/32 or 1/64 power for high speed flash photography will need to look elsewhere since you will always be limited to the 1/16th power flash.
Another issue is that the full power flash-to-flash recycle times are incredibly long when compared to modern flashes. In our experience it takes about 7-10 seconds between full powered flashes for it to fully recycle, depending on the type of battery used. Once recycled, the LED indicator on the back side will blink. The Vivitar 285HV also has a super high pitched recycle sound that goes along with the LED indicator. It is fairly audible and can be quite annoying if several units are used on a quiet set.
Problems With Vivitar's Size
It is worth noting that the flash head is significantly over-sized when compared to a modern flash. Most of your lighting modifiers that are designed to fit a standard Canon or Nikon flash won't fit over this unit. This can also present an issue when using speed-ring adapters or other objects designed to fit around a modern flash head. When we were using our Profoto RFi Softboxes we found it difficult to mount multiple Vivitar 285HVs because of the size of the flash head.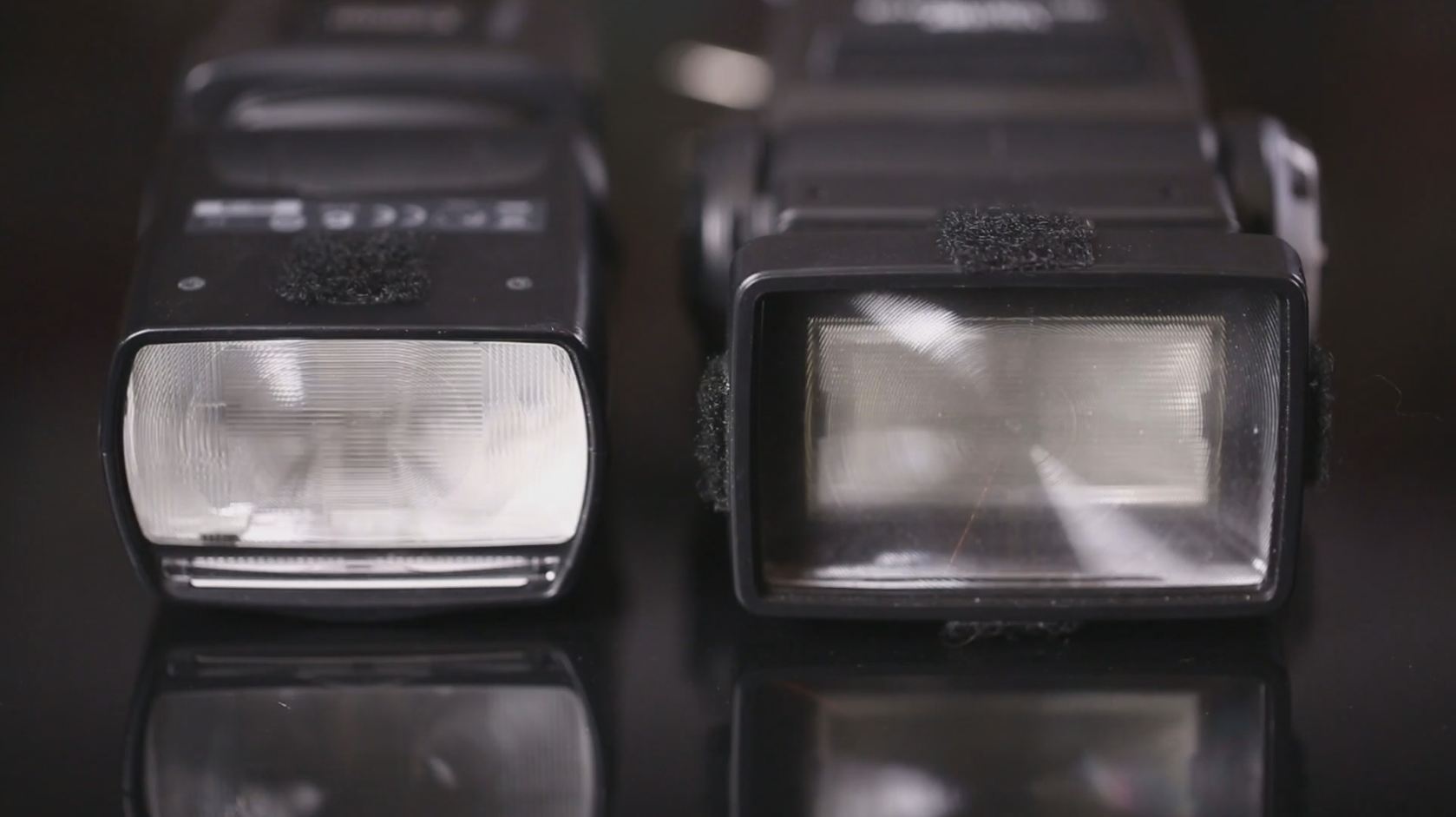 Controls and Sync Options
When it comes to controls, everything on the Vivitar 285HV is manual, and everything is designed from the 1970's. The power control and settings are in a manual dial which clicks into place when turned. The zoom is controlled by pulling the flash head in and out.
To sync up to a radio trigger, you will need to buy a sync cord because none are included with the flash. The Vivitar uses an old school PC-31 sync cord which is actually quite sharp, so be careful. Once it has been connected to the Vivitar, they are incredibly difficult to remove, so we leave the cords attached to the Vivitars.
Build Quality
Regarding the build quality, the entire unit is made of a hard plastic, including the hotshoe. This makes the hotshoe prone to breaking when compared to metal hot shoe flashes. I highly recommend that when moving the flash from location to location, you take it off the stand. If left on the stand, there is a good chance it will bend and break the plastic feet.
Vivitar 285HV Cons
Unreliable
Terrible Customer Service
Lowest Flash Power Setting is 1/16
Long Recycle Times
Bulky Head
Plastic Construction
Conclusion for Vivitar Review
It is really difficult to give the Vivitar 285HV anything better than 2 stars. It isn't super reliable, they don't have great customer service, there's not a lot of options when controlling flash intensity, and it has a painfully slow full power recycle. The only redeeming quality is their price, at around $80 they are a very inexpensive manual flash option, and when they are working, they work well.
We had incredibly high hopes for this flash, unfortunately, they didn't deliver. In addition, we have tested tons of other inexpensive manual flashes (including YongNuo and other Chinese-made manual flashes) and all of them have left us quite unsatisfied. So at this time, we still don't have a good budget flash recommendation. We use old Nikons, but they are getting increasingly difficult to find, and are also quite expensive. An old and used Nikon speedlight will cost between $100-$200 depending on the model.
So, if you have a recommendation on an inexpensive sub $100 manual flash that you think is reliable, let us know. We will buy it, test it, and tell you what we think.