You've no doubt heard the adage, "the best camera is the one that's with you," made famous by creative entrepreneur Chase Jarvis. One way to read that is that it's a photographer's creativity and mastery of the craft that allows for the creation of great imagery, as opposed to the camera gear they use. There's truth in that sentiment, but gear actually does play a significant role, and photographers working in different genres can find benefits in using gear that is better suited for particular applications.
Today, we're going to look at the top cameras for portrait photography and cover a variety of options, from DSLR to mirrorless cameras. We'll also recommend a few lenses to round out a solid portrait photography kit. While smartphones serve us well in their convenient proximity, professional photographers more often rely on dedicated cameras like those included in the list below to deliver professional results.
Let's get started.
Different Types of Cameras for Portrait Photography
Before we dive in, we should briefly establish the different types of cameras that we'll refer to and explore on our list of top cameras for portrait photography.
Cameras
DSLR Cameras: DSLR (Digital Single Lens Reflex) cameras are a type of digital camera that feature a mirror mechanism and optical viewfinder, allowing photographers to compose shots directly through the camera's lens. When the shutter button is pressed, the mirror momentarily flips up, exposing the image sensor to light, and capturing a high-quality image.
Mirrorless Cameras: Mirrorless cameras are typically digital interchangeable lens cameras that lack a traditional optical viewfinder or reflex mirror, opting instead for an electronic viewfinder (EVF) to present a real-time display of the image sensor's view. The absence of a mirror and optical viewfinder distinguishes them from DSLR cameras.
So, which type of camera should you get as a portrait photographer? As it stands, both types of cameras will deliver professional results. Each offers manual control over settings like aperture, shutter speed, and ISO, making them ideal for professional photographers and enthusiasts who seek precise control and exceptional image quality. That said, the main concern really has to do with the direction in which the industry is heading and the impact that will have on available lenses and other pieces of the portrait photography puzzle.
Trends Towards the Future for the Top Cameras in Portrait Photography
For the most part, over the last 7-8 years, the industry's focus has shifted to mirrorless cameras, and most of the latest innovations in camera and lens design have revolved around the mirrorless option. That said, you can still find top-shelf DSLR cameras on the market, and if you score a used camera from the list below, you'll get a top performer for a great price & value.
Camera Features That Impact Image Quality
Knowing that both camera types offer models that work beautifully within the realm of portrait photography, we'll now look at certain features that impact image quality that portrait photographers should consider when purchasing a camera.
Sensors
A camera's sensor size ranks high on the list for important features. It directly impacts image quality and–as a result–creative possibilities. The two most popular sensor sizes you'll find when exploring different cameras for portrait photography are full-frame (named as such because its dimensions are roughly equivalent to a standard 35mm film frame, offering a sensor size of approximately 36mm x 24mm) and APS-C (crop sensors, which you can learn more about here). Portrait photographers generally prefer full-frame sensors, which you can find in both DSLR and mirrorless cameras, for the following reasons:
Better in Low-Light Scenarios
Larger sensors, such as those found in full-frame or medium format cameras, excel in low-light conditions by capturing more light, resulting in reduced noise and greater dynamic range. This also has to do with the camera's ISO capabilities and using RAW files as opposed to compressed jpegs, but the sensor size plays a key role.
Shallow Depth of Field
Full-frame sensors also facilitate a shallower depth of field, allowing for artistic control over background blur (bokeh) and subject isolation. On the flip side, smaller sensors, like those in compact cameras or smartphones, prioritize portability but may struggle in low light and offer limited control over depth of field. Being able to capture a shallow depth of field is crucial for portrait photographers to get the look that most portrait clients desire.
Megapixels
Another factor that has to do with image quality, megapixels (one megapixel equals one million pixels) directly affect the level of detail and resolution in images. A higher megapixel count means the camera can capture more individual pixels, resulting in sharper and more detailed photographs, especially when images are printed in larger formats. This extra resolution also provides flexibility for cropping and post-processing, allowing photographers to fine-tune their compositions. Again, it's essential to note that megapixels are just one factor in image quality, and factors like sensor size, lens quality, and low-light performance also play crucial roles. Therefore, while megapixels are significant, they should be considered alongside other features when choosing a camera that suits your specific photographic needs. Most cameras these days pack enough megapixels to where it is not really an issue (anywhere between 20-30 megapixels will do).
Other Important Features to Consider When Purchasing a Camera for Portrait Photography
Here are a few more important features to consider when choosing between the top cameras for portrait photography, all of which you'll find in the cameras we've included in our list.
Autofocus Points
The number of autofocus points impacts the camera's ability to achieve accurate and precise focus in various shooting scenarios. As you might imagine, more autofocus points distributed across the frame enable the camera to track and lock onto subjects more quickly and effectively, whether they are moving or standing still. This versatility really counts in fast-paced situations like sports, wildlife, or even wedding photography. Many of today's top cameras feature autofocus systems with precise subject-detection and tracking capabilities.
Lens Compatibility
Professional photographers need options when it comes to choosing which lenses to use for a session. For this reason, it's important that the cameras in this list be compatible with a variety of lenses, especially those with attributes that work well for portrait photography. Here's a brief description of those ideal attributes.
Focal Length
What makes focal length especially important in portrait photography is that portraits tend to focus on the faces and bodies of our subjects, and the focal length we choose can greatly impact how the features of our subject's faces and bodies appear. For example, a close-up headshot portrait of a subject taken with a wide-angle lens (16-24mm) will look distorted and exaggerate the size of the subject's nose. At the same time, a longer focal length, ideally between 85mm and 100mm, will yield more flattering results.
Depth of Field
Portrait photographers and their clients generally love shallow depth of field. A shallow depth of field works well for separating subjects from the background and creating a creamy bokeh that adds a dreamy look to imagery. We mentioned that the sensor size can impact depth of field, but lenses with wider apertures (f/1.2 to f/2.8) can achieve a shallower depth of field. Fixed aperture lenses, whether they're prime or zoom lenses, typically offer wider aperture settings, which is what portrait photographers want.
Fast Focus
In some instances, photographers need their lenses to focus quickly. When moments pass quickly and can't be repeated, which happens often at weddings, a slow-focusing lens could cause you to miss those important moments. Prime lenses set with wide-open apertures tend to focus more slowly, especially depending on the make and model of the lens. If fast focus is a crucial factor in your portrait session, you'll want to balance your aperture and focusing speed to get an acceptable depth of field without missing moments.
Versatility
Portrait sessions can happen anywhere, and certain locations carry different demands that impact which lenses will work best. For example, when shooting in tight spaces, a wider angle lens will likely prove more usable than a telephoto lens. Zoom lenses can come in handy here to cover more ground, but you'll want one that offers a fixed aperture of at least f/2.8 to meet the other requirements listed above. Some lenses, like macro lenses in the 100mm range, feature incredibly short minimal focusing distances. This works well for capturing both highly detailed closeup shots, which you might need to feature details of a subject's dress, and wider portraits with limited lens and perspective distortion when space allows.
Look for specific lens recommendations under each of the cameras listed below.
Price & Value
Most everybody has a budget, and at the end of the day, our budget will ultimately decide where we can jump into the gear featured on this list. We'll organize the cameras by price brackets so that you can get an idea of what the cameras in your price range offer.
To help maximize your budget, we're going to look at used cameras from MPB. The latest models will cost more, of course, but the following options will do the job very well and save you money right out of the gate.
Top Cameras for Portrait Photography Under $1,600
Don't be fooled by the lower prices. While on the "budget" side of this list, these top cameras for portrait photography under $1,500 still pack a powerful, creativity-enabling punch. In fact, some of these options represent the most versatile workhorses in the group, each loaded with essential features to ensure you can deliver professional quality images time and again.
The Canon 5D Mark IV makes an excellent choice for portrait photography for a number of reasons. First and foremost, its full-frame sensor delivers outstanding image quality and it delivers great low-light performance. The 5D Mark IV's high resolution, at 30.4 megapixels, also allows for extensive cropping and post-processing while maintaining image quality. In addition, its 61 autofocus points and Dual Pixel CMOS AF helps with subject tracking, which can prove particularly useful for capturing tack-sharp photos even when the subject is in motion.
With dual card slots, this camera also provides an in-camera backup system (one SD card slot and one CF card spot) when you enable both cards to save your files. While dual card slots are especially important for wedding photographers, any professional portrait photographer should consider this a must-have feature for ensuring that no photos are lost. Overall, its combination of image quality, autofocus capabilities, and lens compatibility make the Canon 5D Mark IV one of the top cameras for portrait photography.
Ask basically any pro photographer you come across, and they'll tell you this. Nikon's D850 excels as one of the top cameras for portrait photography. The D850's reputation is well-known and equally well-earned. Its high-resolution full-frame sensor, boasting a massive 45.7 megapixels, delivers stunning image quality with remarkable dynamic range. Regarding the latter, the camera's wide ISO range and low-light performance provide flexibility in all kinds of lighting conditions. In addition, its precise 153-point autofocus system is both accurate and reliable. Like the Canon 5D Mark IV, the D850 also features dual card slots, but for this camera, one slot is for XQD/CFexpress B cards, and the other is for SDXC/SDHC/SD cards. This is a workhorse, and it'll deliver pro quality without a doubt.
You were probably expecting a Sony here, but we want to shed light on other notable brands as well. That said, let's now turn our attention to the Fujifilm X-T5. Its APS-C sensor, which has built a rep for Fujifilm's color science, produces incredible image quality. The X-T5 features an advanced autofocus system, which includes face and eye detection, to ensure precise subject tracking. Furthermore, the X-T5's compact and lightweight design is perfect for portraiture on the go. You can also expect to find a wide selection of high-quality Fujinon lenses for this camera. One of the more unique features associated with this camera involves Fujifilm's film simulation modes. These film simulation modes offer creative versatility in-camera that portrait photographers (and their clients) will love.
Another Worth Exploring
Top Cameras for Portrait Photography Under $2,500
The next set of cameras we'll look at will take us up to the $2,500 mark. Their unique features and sleek design will set them distinctly apart from the rest of the list.
Olympus is known for blending style and functionality, and they've delivered with their flagship camera, the Olympus OM-1. The OM-1 is a compact and lightweight, highly durable camera. Its highly portable design and top-level weather-sealing makes it ideal for on-location portrait shoots. This camera features incredible 5-axis in-body image stabilization, as well as two high-resolution modes, capable of producing impressive 50MP and 80MP images using a specialized Tripod High Res mode. Regarding lenses, the camera is compatible with Zuiko lenses, which are known for being fast and sharp. It's a perfect camera for portrait photographers who appreciate that vintage style and the feel of analog photography.
Camera Type: SLR-style mirrorless
Sensor Size: Four thirds
Megapixels: 20.4
Autofocus Points: 1,053
Lens Mount: Micro Four thirds
Lens Recommendation: Olympus M.zuiko 45mm f/1.8 ($189 – New) | Olympus M.zuiko 75mm f/1.8 ($542 – New)
Portability: Highly portable and rugged
Price: $1,779 (Like New)
The Canon EOS R6 comes packed with a 20.1 megapixel full-frame sensor the delivers exceptional quality imagery, even in challenging, low-light conditions. The camera's Dual Pixel CMOS AF II system is renowned for its speed and precision, offering reliable eye and face detection for both photo and video shooting. Its in-body image stabilization is particularly effective, providing up to 8 stops of stabilization. The R6's 4K video capabilities, including oversampled 4K from the full sensor width and high frame rate options, make it an excellent choice for hybrid shooters.
Camera Type: Mirrorless
Sensor Size: Full-frame
Megapixels: 20.1
Autofocus Points: Stills: Max. 6,072 selectable AF point positions / Up to 1,053 AF areas (auto selection) | Movie recording: Max. 4,968 selectable AF point positions / Up to 819 AF areas (auto selection) – from Canon
Lens Mount: Canon RF Mount
Lens Recommendation: RF 50mm f/1.2 ($1,949 – Like New) | RF 85mm f/1.2 ($2,249 – Excellent) | RF 70-200mm f/2.8 ($2,499 – Like New)
Portability: Highly portable
Price: $1,739 (Like New)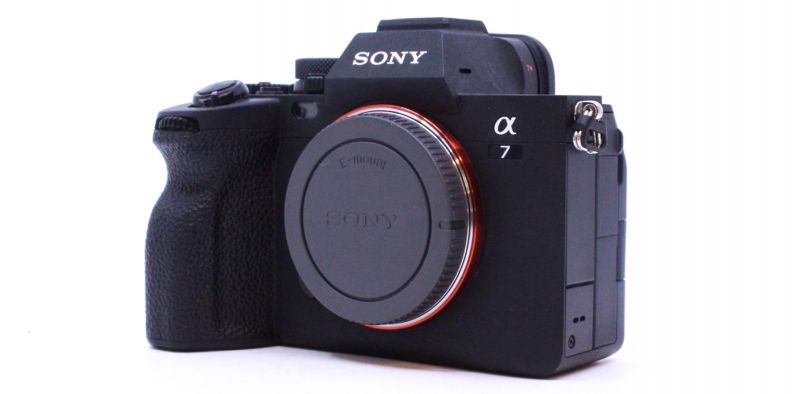 The Sony a7 IV really needs no introduction, and it was bound to find its way onto this list of the top cameras for portrait photography. Featuring a 33-megapixel full-frame sensor, it delivers stunning image quality with remarkable detail, dynamic range, and low-light performance. The a7 IV's houses an advanced autofocus system, with real-time eye tracking and subject recognition. As a portrait photographer, you'll appreciate how well this autofocus system works in low-light portraits, active scenes, and crowded spaces.
Like the Olympus above, the a7 IV features impressive in-body image stabilization, which allows for handheld shooting at slower shutter speeds when necessary. Additionally, the a7 IV offers a versatile range of compatible Sony lenses. Its compact and lightweight design also make this camera ideal for portraiture. After revolutionizing the mirrorless camera game (and the camera game in general), Sony could inhabit the entirety of a top camera list by itself, but this particular camera makes a fine entry on this list.
Top Cameras for Portrait Photography Over $2,500
We'll round out our list with a few cameras that jump over the $2,500 line. After you see what they can do (and if you try one for yourself), you'll understand the jump in price.
And now to the current favorite of our very own Pye Jirsa, the Canon EOS R5 is the bearer of many remarkable qualities. With its high-resolution 45-megapixel full-frame sensor, it delivers exceptional image quality and impressive dynamic range. The camera's Dual Pixel CMOS AF II system provides precise autofocus, particularly when it comes to eye and face detection. Additionally, the EOS R5 packs powerful in-body image stabilization (like some of the others mentioned previously on this list). In a lot of ways, it seems this camera was designed as a vehicle for Canon's extensive range of high-quality RF lenses. You'd be hard-pressed to find better lenses for the cameras on this list. Furthermore, for those who also do video (or are looking to get into it), the camera's 8K video capabilities offer an extra dimension for video portrait projects. You can find our full review of the EOS R5 here.
Camera Type: Mirrorless
Sensor Size: Full-frame
Megapixels: 45
Autofocus Points: 5940 AF areas that cover virtually 100% of the frame (from Canon)
Lens Mount: RF
Lens Recommendation: See RF lens recommendations above (for EOS R6)
Portability: Highly portable (see our YouTube channel for countless examples of this camera being used in the field)
Price: $3,199 (Like New)
The Sony Alpha A7S III is a full-frame camera with a 12.1-megapixel sensor. While it's modest in resolution, it delivers impeccable image quality with remarkable low-light performance, making it easier to capture sharp images in challenging lighting conditions. The camera's advanced autofocus system, which features real-time eye tracking and subject recognition. You'll also find solid in-body image stabilization in this camera. Like others on the list, the camera is compatible with a wide range of high-quality Sony lenses and other 3rd-party lens makers. Its robust build, responsive performance, and 4K video capabilities further expand its versatility, making the A7S III a solid choice for portrait photographers aiming for exceptional results in both photography and videography.
Camera Type: Mirrorless
Sensor Size: Full-frame
Megapixels: 12.1
Autofocus Points: 425 with 100% viewfinder coverage
Lens Mount: E Mount
Lens Recommendation: See Sony lens recommendations above (for A7 IV)
Portability: Highly portable and rugged
Price: $2,949 (Like New)
The most expensive camera on our list (but not the most expensive portrait camera on the market), the Nikon Z9 offers a very high-resolution 45.7-megapixel full-frame sensor, which delivers professional image quality with a wide dynamic range. The Z9 also introduces a groundbreaking mechanical shutter capable of silent shooting at an impressive 120 fps, an industry-first. Some other highlights include a 3-way tilting touchscreen, an advanced autofocus system with real-time eye detection and subject tracking, as well as in-body image stabilization. Like other mirrorless Nikon cameras on this list, the Z9 is compatible with a wide range of high-quality Nikon Z lenses. The camera is well-built and ready for the road. If you're curious about its video capabilities, it can shoot 8K video, making it an excellent choice for portrait photographers aiming for top-tier results in both photography and videography. You can find our full review here.
Camera Type: Mirrorless
Sensor Size: Full-frame
Megapixels: 45.7
Autofocus Points: 493 with 100% viewfinder coverage
Lens Mount: Nikon Z Mount
Lens Recommendation: 50mm f/1.2 ($1,699 – Excellent) | 85mm f/1.2 ($2,499 – Excellent) | 70-200mm f/2.8 ($2,199 – Like New)
Portability: Highly portable and notably rugged
Price: $4,499 (Like New)
Other Cameras Worth Exploring
Conclusion | Top Cameras for Portrait Photography
We hope you found this list of the top cameras for portrait photography helpful. Of course, it's not an exhaustive list (we didn't really touch on medium and large format cameras, which are much higher priced), but it should give you a solid starting point as you consider growing your arsenal while your photography business and interests continue to grow as well. It's worth noting, other gear-related factors that will heavily impact your portraiture include the lenses you use (which is why we noted the lens compatibility with each of the cameras above), lighting (whether natural or flash), posing, and post-production style. But all of that is for another batch of articles. In the meantime, if you're looking for tips on trading in your gear to level up, be sure to check out our guide here on when and how to buy, sell, and trade in camera gear.