Striking a balance between wants and needs when it comes to purchasing new camera gear can prove tricky. This might even be the understatement of the year. The steady release of new models for camera bodies, lenses, and flash units keeps photographers hustling to try and keep up. Staying up-to-date in this field, however, should have less to do with acquiring gear for the latest features, and more to do with how sufficiently the gear that we have serves us during whatever stage we're in. In other words, while there's a time for buying the latest models, getting an upgrade doesn't always mean purchasing new gear, and "new" isn't always the best option. Part of upgrading also refers to when you should sell or trade in camera gear for "newer-than-what-you-had-before" models.
In this article, we'll discuss when you should consider upgrading your camera gear, what you should look for in "new" gear, and how you can sell or trade in your old gear if that's your best option.
Let's get started.
When Should You Upgrade Camera Gear?
Everytime a new camera body, lens, or even flash unit hits the market, we check the specs and reviews to see what new bells and whistles the gear will feature and whether it's worth even considering for an upgrade. Sometimes, the leap forward in tech makes it easy to see how useful the new features might be. Most of the time, however, we can push our current gear a bit further before it really begins to limit us.
So, when should you actually trade in camera gear? There are a few factors that will come into play to help you know when to say when.
1. The Gear Limits Your Ability to Create
The main reason we should upgrade our gear has to do with when we reach the limitations of the gear we have. Just as an example, if your current lens options don't give you the depth of field you want, no matter how large the sensor is on your camera, or the distance between you and the subject, or even the focal length you're using, then it might be time to trade in camera gear for something like a wide-aperture prime lens or a more versatile zoom lens to see how that influences your portraiture.
2. The Gear Slows You Down
Another important reason we might trade in camera gear is if it hinders or slows your creative process, especially when working against tight timelines, which happens often in wedding photography. One of the most obvious examples of this happening has to do with lighting, specifically off-camera flash. If your flash units lack high-speed sync, for example, you might have to consider using neutral density filters or avoiding certain scenarios that won't allow you to produce the look you're after, limiting your ability to bring your vision to life. Also, in regards to lighting gear, newer lighting modifiers and other attachments are magnetic, making it easier to quickly switch out softboxes, grids, color gels, or even the flashes themselves. The time that these modifiers save and the creative possibilities that they open up make them great candidates for upgrades if you're currently working without them.
3. The Gear Isn't Dependable
Lastly, if the gear you have doesn't work as consistently or dependably as you need, such as the flash doesn't fire when you need it to during important moments, or the autofocus on your camera or lens is too slow, or any number of other reasons that might make shooting more difficult, then it might be time to level up your gear.
How to Upgrade Camera Gear
Of all the ways you can acquire new gear, there are two common paths, and both can be taken under the same virtual roof. The route you choose will likely depend on your financial situation as well as your specific needs in relation to the gear that is available.
1. Sell or Trade in Camera Gear
The first method for upgrading your gear has to do with trading in or selling your old gear. If you've never done this before, then it's a good thing your first attempt will happen after you read this article. You can find many places online and a few in person to sell or trade in your gear, including eBay, Craigslist, popular online megastores, or even local shops, but they're not all created equally, and they won't all give you the same results.
Some online marketplaces, like eBay, for example, will charge a significant percentage as commission for any sales, and the gear could sit for a long time, even if you pay extra to promote it. Other places might lowball the price and hope your immediate "need" for cash outweighs your better sense. The best places specialize in buying or selling gear and have well-earned reputations for making any trades or sales worthwhile. You can finalize the sale or trade-in quickly and get the money or credit you'll need to purchase new gear. One such place in particular, which we'll use to outline the selling and trade-in processes below, is MPB.
In case you've never heard of MPB, they're the largest global platform for buying, selling, and trading used photo and video gear. Unlike eBay or similar sites, MPB is not a marketplace. They buy gear directly from photographers & videographers and their team of product specialists evaluates all items before reselling them. As a seller, you'll enjoy their fair pricing and straightforward approach to purchasing your gear. When you're ready to buy new gear, you can rest assured that the gear you're buying has been thoroughly tested. You'll never have to question the quality of the products you purchase through MPB.
What to Know Before You Trade in Gear
There is some basic information you'll want to know before trading in or selling your gear. If you go through MPB, it's worth noting that they use a dynamic, data-driven pricing engine that tracks supply and demand to provide the right price upfront. More specifically, they determine the value of gear based on factors like age, popularity, brand, and condition. According to MPB's site, "our customers on average earn $900 each time they sell to us." Of course, this could vary wildly depending on what you're selling.
Selling Used Photography Gear
Here's a quick overview of the process when you sell or trade in camera gear through MPB, so that you know what to expect.
Know the model of the gear you're selling (e.g. Canon 5d Mark IV). MPB's dropdown menu will autofill your options once you start entering the model name.
Estimate its condition. MPB provides a condition guide (e.g. "excellent" gear shows minor signs of use, with only light cosmetic wear, etc.).
Add the item to your quote list. When you're finished, hit the button at the bottom of the page to get an instant quote.
Add any items that you wish to purchase.
Enter your contact details to receive the quote, which is guaranteed for 14 days.
Schedule free shipping to send your used gear to MPB.
Box up your gear and ship it.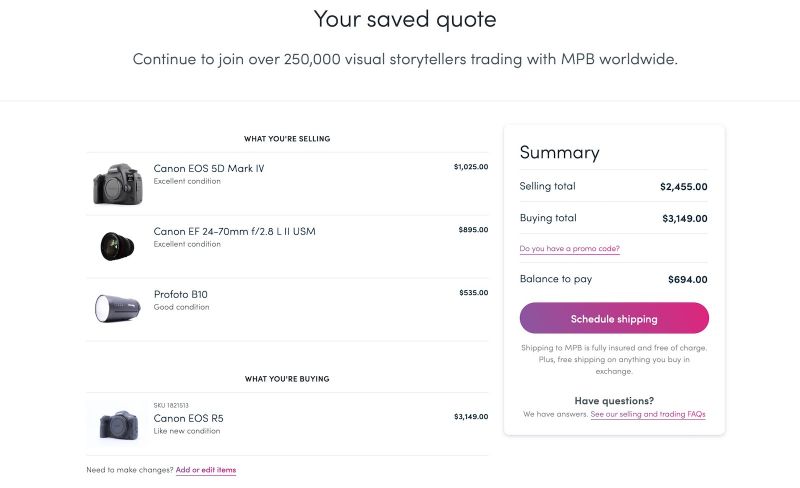 Part of why we like this method, in addition to how quick and easy it is to get a quote (which took less than 30 seconds), is that you can also start adding to your shopping list right away, which is especially great when you opt to trade in your gear.
Once MPB receives your gear, it will be inspected for the following. We'll use the 10-point inspection for still-frame camera as an example.:
Cameras
Quote & Condition
Components
SD Card
Settings
Sensor
Cosmetic Condition
Functionality 1

Shutter
Drive
Flash
Buttons
Auto focus
Stabilization

Functionality 2
Shutter Count
Battery Recharge Rate
If your gear is rated to be in better condition than estimated, your trade-in value will increase.
MPB uses similar multi-point inspections for different kinds of gear (8-point inspections for lenses and 10-point inspections for cameras and video cameras, and so on).
2. Consider Options for Upgrades: Used vs New
Whether or not you sell or trade in your old gear, you'll want to carefully consider the new gear you want before you purchase it. If your budget falls on the lower end of the spectrum, it helps to know that used gear typically costs only a third the price of new gear, and we're talking about products that could still be several generations newer than the old gear you already have.
When purchasing used gear, it's also important to know who you're buying the gear from so that you don't end up worse off than when you started. That is why we recommend going with a company like MPB for quality assurance as every piece of used gear that they sell goes through an intense multi-point inspection.
What's even better is MPB's wide range of used photo and video gear, and each piece is uniquely presented. In other words, what you see in the photos is the actual product that you'll get. You'll find a full range of new and used gear to cover everyone from beginners to professionals for both stills or video. It's worth noting that new products are typically available on the platform within an average of three months of their initial release, and all products, new and used, come with a free six-month warranty.
A Quick Note About the "Best" Gear Out There
A quick reminder: the "best" camera gear is a relative term when it comes to getting what's best for you. Factors like your budget, skill level, and interests (wedding, landscape, street, etc.) will impact which gear will serve you best. For the purpose of this article, we'll stick to a few reputable options for each of the sections featured below. This list is by no means exhaustive. Check out MPB's "Kit Guides," including this one on wedding photographers, for more ideas on gear you might be interested in at all budget levels.
The Best "New" and Used Cameras
The Best Used Lenses
The Best Used Flash Gear
Canon Speedlite 430EX III-RT ($154-$184): Every photographer should probably have an on-camera flash, and this is a go-to for Canon users. The radio-frequency triggering takes the challenge out of using off-camera flash and opens up your creative possibilities. Find a speedlight that fits your camera model and don't forget to look for modifiers like MagMod MagSpheres as well, which are compatible with most speedlights.
Profoto B10 ($849): With 250 Ws of power, the B10 packs plenty of power (equivalent to 4-5 speedlights) in a small, portable package.
[Related Reading: 5 Do's and Don'ts for Buying Lighting Gear]
Conclusion
We hope you found this guide for knowing when and how to trade in camera gear helpful. It's important to know that you don't always need to pick up the latest and greatest gear to capture incredible imagery. Pushing yourself to learn and practice new techniques will help you realize when you've reached the limitations of your current setup, and that's when it's time to upgrade. When that time comes, you can find great options through places like MPB that you can trust to give you a fair deal for trade-ins and also sell you quality new and used gear at competitive prices. Buying and selling used gear through MPB, in particular, is easy, quick and secure. All that's left for you to do is to continue to work on your technique so that when the gear arrives, you're ready to make the most of it.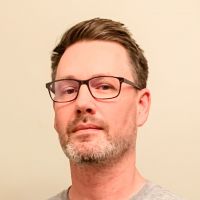 Sean Lewis
Sean fell into photography while teaching for a non-profit. What started as a minor task - documenting guest speakers and classroom activities - grew into a major obsession, and eventually led to a position shooting with Lin & Jirsa. Nowadays, at SLR Lounge, Sean's work as a marketing associate merges his interest in the fields of photography and education.