Admittedly, we Americans may have become a bit blasé about fireworks. Seeing them lit after every football and baseball game, at some weddings, and nightly at Disneyland for those that live in SoCal or Orlando; we're a bit accustomed to the sight. But we are days away from the 4th of July here in America and this is the one holiday where everybody gets excited about fireworks, no matter how often you see them.
If you want to capture the nation's fireworks show this year, here are some tips on photographing fireworks to help you get the best 4th of July images. These tips come to us from AdoramaTV and David Bergman, with a few of my own tips from years of watching and photographing fireworks. The images you see in this post are taken by SLR Lounge's Matthew Saville who has mastered the art of photographing fireworks also from years of being a Disneyland passholder.
Where SHould I Set Up?
Fourth of July is one holiday where everyone is outside jockeying for a good position to watch and photograph fireworks. If you want to get some great fireworks images, you will need to bring a tripod (more on that later). This means, you'll need enough space for you and your tripod mounted camera. Some places, like Disneyland, have crowds of people that camp out for hours in just the perfect spot to see the show. This means you should research where they will be launching the fireworks, scout your location ahead of time, and show up early to snag your spot.
You'll also want to check weather conditions and the direction of the wind to gauge where the smoke might blow after the show begins.
What Gear Should I Bring?
To photograph fireworks, you'll need a tripod. You'll be using longer shutter speeds and so you need to have something steady to get clean and sharp shots. One of the tripods we love and use if from SLR Lounge Partner Mefoto. They make durable and lightweight tripods that are easy to use and colorful so they are easy to spot. (You can get an SLRL discount code for Mefoto here).
You will also need a camera set on manual mode and you'll need to manual focus. It will be very dark and your camera will struggle to focus if you leave it in autofocus, resulting in missed shots.
As for lenses, that is a personal preference, but typically wide angle lenses are preferred.
You might consider using a remote shutter release so you eliminate any type of camera shake from you touching it or trying to guess with a self-timer. Even better, if your camera has wifi, you can use your smartphone app to activate the shutter.
In the video, Bergman is using the Canon 5DS R with the Canon EF 24mm-105mm f4 and the Canon RS-80N3 Remote Switch on a Manfrotto MT055XPRO3 w/ MHXPRO-BHQ6 XPRO Ball Head.
Bergman suggests attaching your camera bag with a bungee cord to your tripod for more stability.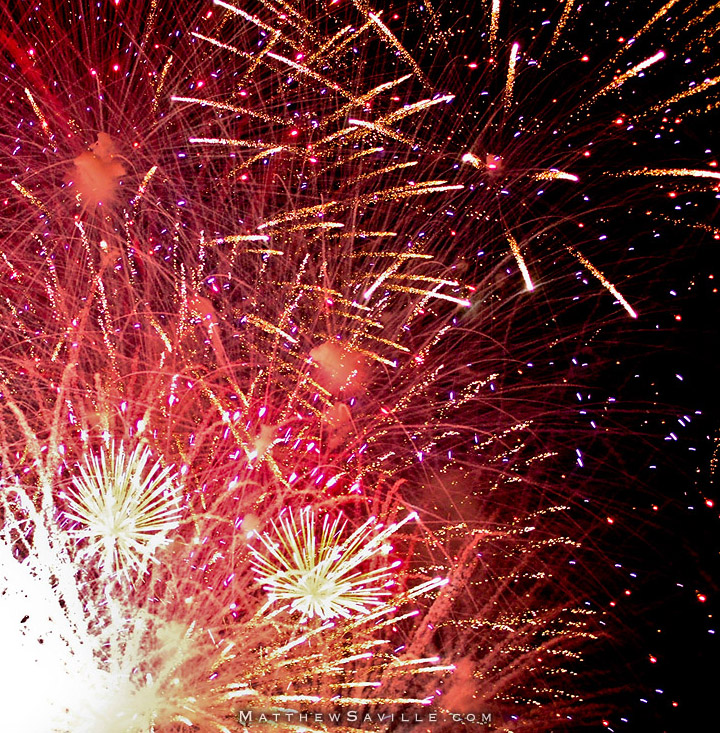 How Should I Frame The Image?
Use context. As Bergman mentioned in the video, you don't always want to be shooting fireworks in the open sky. Consider the foreground and the background, the horizon line Look to incorporate cityscapes, silhouettes, buildings, etc. You'll likely be looking up at the sky, dazzled, rather than in your viewfinder, so anticipate that accordingly when you press the shutter.
What Should My Settings Be?
Use the lowest ISO your camera will allow. For aperture, fireworks give off a good amount of light so choose a "mid-level" setting to start with at f/8 or f/11 and then adjust accordingly. For your shutter speed, many photographers use the 'Bulb" mode to keep the shutter open until the perfect time. If you use a set shutter speed, make sure you are experimenting and frequently checking your exposures for the best results. Bergman uses long exposures to capture multiple exposures in one image set at around 8 seconds.
Also, do not use flash.
Watch Photographing Fireworks: Two Minute Tips With David Bergman below. See more of Bergman's work on his website and more videos from Adorama on their YouTube.
Hanssie
Hanssie is a Southern California-based writer and sometimes portrait and wedding photographer. In her free time, she homeschools, works out, rescues dogs and works in marketing for SLR Lounge. She also blogs about her adventures and about fitness when she's not sick of writing so much. Check out her work and her blog at
www.hanssie.com
. Follow her on
Instagram