We're all familiar with Andy Warhol's take on Campbell's Chicken Soup, but I can safely say we've never seen chicken soup like this. New York City artist Sam Tufnell's new video installation, dubbed "Chicken Soup Is Not Good for the Soul,"  tests the boundaries of sculpture while tackling themes surrounding consumerism, climate change and capitalism. Perhaps the most striking element of this project is that each sculpture is made entirely of real chicken soup, which Tufnell has photographed and digitally edited into an endless video stream. The footage, which looks similar to old claymation animation, documents the soup sculptures as they dissolve and then reconfigure into new forms. For instance, letters slide down into mush, only to come up again, ready for the next collapse, transforming into a different phrase or object such as the artist's own head or an appearing still life of a bottle and rubber duckies.
Tufnell initially planned on doing his own take on Andy Warhol's "Campbell's Soup Cans" but ultimately decided he needed to narrow his scope, experimenting with other kinds of food before settling on chicken soup. See the videos and photos below to get a closer look at Tufnell's project, and don't miss our interview for additional insight into Tufnell's creative process.
Video: Chicken Soup Is Not Good for the Soul
Here's our interview with artist Sam Tufnell.
1. What was the biggest challenge in creating this series?
Of all the series I've worked on, this was the most challenging as it combined multiple mediums.  The first step was making the actual sculpture from soup, which involved a more traditional process of casting and mold making.
Next, I began photographing the work which eventually led to me creating a video time lapse of individual stills. To speed up the process, I would heat up the space into the 90's so by the time the shoot was complete it felt a lot like I had actually been in the soup kitchen. Mentally the most exhausting part was switching gears from sculpture to photography to digital editing but physically it was all those sweaty hours behind the camera smelling like chicken grease.
2. What cameras, lenses, and lighting gear (or lighting setups) were used to create the videos?
I used a medium format Pentax 64z with a 55 mm lens and an intervalometer. The artwork was all photographed within a lighted white cube display that is used for marketing small objects like jewelry, etc.
3. Do you have a favorite from the series? If so, which one, and why?
At the moment, I'm quite fond of the Mona Lisa. It's my least favorite of DaVinci's work and would have never gained notoriety if it had not been so famously stolen from the Louvre. Metaphorically, I managed to pull off another heist of the piece, however rather than trying to sell it on the black market, I opted for its destruction.
4. For artists looking to create impactful videos like this, could you share your process of coming up with your concepts and ideas?
I think it's always important to be true to the mediums you are working with. Ideas are naturally adaptive, but materials need to be willed into different forms. Artists are not originators; we are a link between old and new technologies and ideas.  For every concept there is a suitable material and process for its expression.
5. What are you currently working on? What's next?
Currently I am working on a series of self-portrait sculptures that I plan on turning into a new series of video and photography.  Using some of the same principles I used for 'Chicken Soup is Not Good For Your Soul', the sculptures will all destroy themselves and be presented as a time lapse.
Tufnell has previously shown his work in solo exhibitions at FiveMyles and IV Gallery in Los Angeles. Currently, his public installation Gnome Mountain is on display in High Falls, NY and he has participated in numerous group exhibitions and art fairs including Volta in 2020, Cornell Art Museum in Florida, Cube Art Fair's New York edition and Spring/Break Art Fair.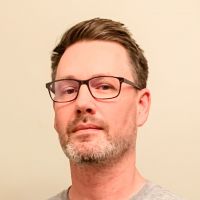 Sean Lewis
Sean fell into photography while teaching for a non-profit. What started as a minor task - documenting guest speakers and classroom activities - grew into a major obsession, and eventually led to a position shooting with Lin & Jirsa. Nowadays, at SLR Lounge, Sean's work as a marketing associate merges his interest in the fields of photography and education.