The realms of photo and video have been merging now more than ever. For every photographer or videographer you meet, there are three or four "content creators" out there…
It was with that in mind that we began testing and reviewing the Syrp Genie II kit, a 3-axis motion-control system. Its capabilities are definitely going to appeal to videographers, as well as timelapse photographers.
If you ask anyone who is into video/cinema about how to create great footage, the first thing they'll tell you is that MOTION is key to making your content captivating. Slowly sliding left or right, smoothly panning up or down… these are the tricks of the trade! And while you can try to create this motion yourself using either a slider & fluid head, or just a hand-held gimbal, in many situations there is just no substitute for fully motorized control.
That's where the Genie Pan/Tilt and Linear come in. They're created specifically to perfectly control the motion in your video/timelapse footage, so that it is perfectly smooth, and even repeatable.
On that note, let's get into our review, and tell you what we liked, what we didn't like, and whether or not this system is right for you!
Syrp Genie II Review – Specifications
WHOLE KIT:
Includes: Syrp Genie II Pan/Tilt, Genie II Linear, Magic Carpet Medium Track, Magic Carpet Carriage & End Caps
Price: $2817 (US)
Weight: ~9.2 lbs
INDIVIDUAL ITEMS:
Genie Pan Tilt: $1599, 4.2 lb / 1.4 kg
Genie Linear: $899, 2 lb / 0.9 kg
Magic Carpet slider & carriage: $319, ~3 lb / 1.3 kg
Medium Track: 100cm / 42"
ACCESSORIES: (not included)
Note that Syrp offers both the Magic Carpet and Magic Carpet Pro / Carbon Fiber sliders; the Syrp Genie II 3-Axis Kit includes a medium lenght Magic Carpet slider. Alternately, the Magic Carpet slider comes in 60cm and 160cm lengths, if you'd like a shorter or longer slider. Also, the  Magic Carpet Pro and Magic Carpet Pro CF sliders come in 60cm and 90cm lengths, and are infinitely extendable if you want to add more tracks for extremely long video/timelapse slides.
Lastly, you can also add more accessories that suit specialized needs, such as a product turntable, a Tilt Platform so that you can easily do 3-axis motion with your slider at any angle.
Syrp Genie II Pan Tilt Linear Demo Reel: Video & Timelapse Footage
Cameras Used:
Fuji X-T4, Sony A7RIV, Nikon Z50, Canon EOS RP
Tripods Used:
Slik Lite CF-422, Slik Pro CF-634, Slik Sprint Pro III, Slik AMT 700DX
How To Set Up A 3-Axis Video & Timelapse Motion
Normally for our gear reviews, the first question for us to answer is, "who should buy this?" However, in this case, it's pretty clear: videographers and timelapse photographers who want to do advanced motion control work, you already know who you are, and you're in the right place!
So, with that said, we're going to start this review with a quick breakdown of exactly what it's like to set up a rig like the Syrp Genie II Pan/Tilt Linear, for those who are aspiring content creators, or just curious…
Step 1) Inventory Your Motion Control Gear
This first step is very important when creating 3-axis motion control imagery. We'll get into it a bit more later, but suffice it to say, you absolutely must check and make sure you have every part of the kit before you head out. If possible, assemble as much of your kit as is practical before heading out, and leave only the final assembly for on-location.
This means tracking down all the plates, screws, and cables you might need, and attaching them at home, (using Arca plates on the slider? Got the right thread size to swap between your Pan/Tilt & Linear to just the Linear with an additional ballhead?) …or putting stuff like camera cables and any tools all together in a pouch that stays with your motion control kit at all times.
Step 2) Frame Your Shot & Visualize The Motion
Once you get to your location, but before you actually set anything up, grab just your camera and lens to visualize the shot. Play around with various options for motion; see how sliding side-to-side might look with foreground elements, or see if you might want to slide up-and-down, instead. Try not to limit yourself to any standard ideas of motion operation, get creative!
Then, once you've decided on what you want your final result to look like, consider where each piece of equipment needs to be positioned in order to achieve it. (Can you rest one end of the slider on a stable surface? Do you need to put a tripod under another end of the slider, to achieve the desired result and/or to keep the slider level? Or, do you need to completely elevate the entire slider well above the ground?)
Step 3) Set Up The Legs/Tripods & Motion Control System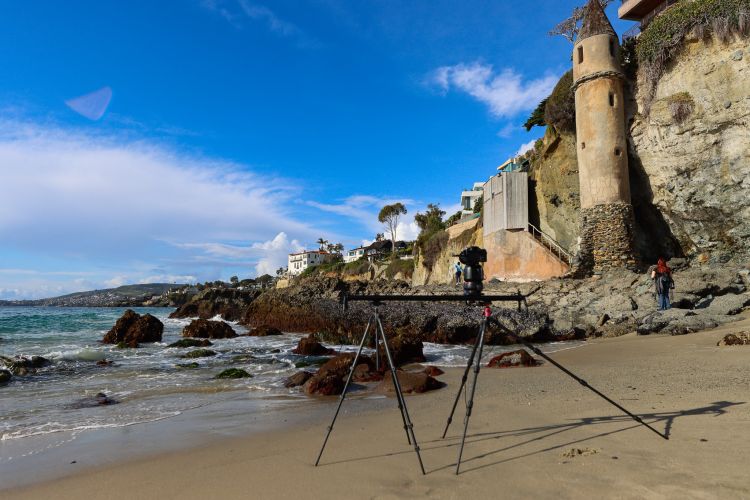 Next, get your one (or two) tripod(s) set up, with the legs placed stably; spread them out at a safer angle if necessary. (Especially if there is any wind!)
Then, mount the slider itself, and check to make sure that every single part that has a clamp or a knob is adequately tightened, before you start trusting the setup with anything much more breakable. (And expensive!)
Once everything is locked down and stable, you can go ahead and mount the Pan Tilt & Linear motion devices to the slider carriage. I try to transport the Pan Tilt connected to the Linear via the integrated locking system. (Don't forget the rope knob!)
Test the setup again for balance, at both ends of the slider. You can do this either before you attach the rope, but it's also very easy to just turn on the Genie Linear and use the built-in controller to move it left/right before it is connected with your phone. The two devices combined weigh about 5 lbs, (1.3kg) so it's pretty important to check for good balance and safety!
Lastly, you can go ahead and mount your camera on the Pan/Tilt, via the provided plate. (It's not Arca-Swiss, by the way; it's the other fore-aft plate style…)
Step 4) Set Keyframes
Once everything is structurally sound, you can set keyframes! It sounds intimidating, but with the Genie II app, it's nearly idiot-proof: set a start position, an end position, double-check the additional options and custom settings, (such as, how many seconds or minutes do you want the whole thing to take, and/or do you want it to continually move back-and-forth?)
Then, you're pretty much ready to go! Of course, if you're ready for something really advanced, the multi-axis keyframing is pretty easy to set up, too, or, you can also adjust the "ease in/out" settings, (ramping) in case you want any of the Genie's 3 motions to start or stop very gradually.
Step 5) Hit Record!
Okay, hitting record is pretty self-explanatory, but one last general tip before we dive into the details of our Syrp Genie II review: If you're shooting a timelapse or a very long, slow video, don't just step away immediately after you hit record. Stick around for a while, and keep an eye on your setup. Did you get the balance right? Is everything moving smoothly?
Especially with timelapses, you want to hang around for a few frames and make sure that the camera keeps clicking, and that the move-shoot-move options aren't interfering with the images themselves. (If the shutter speed is too long, the Genie could move your camera while the camera is still exposing an image!)
And, there you have it! If you haven't already watched the demo reel video, check it out!
Syrp Genie II Review – Pros
Now that we've laid out the groundwork for creating motion-controlled content, let's talk about why you might want to choose the Syrp Genie II system for your work. In short, there are a lot of advantages, and the disadvantages we noticed are mostly related to "the nature of the beast" when it comes to motion control, and not specific to the Genie system itself. So, let's get started!
Easy Operation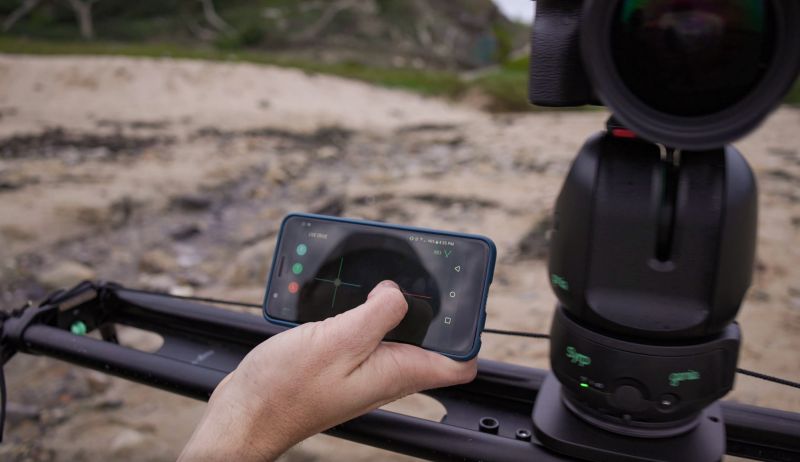 The Syrp Genie's biggest advantage is undoubtedly its simplicity in operation. From the relatively basic equipment setup of the slider, Genie Linear and Genie Pan/Tilt, to the intuitive, quick setup of keyframes and other parameters through the mobile app, it takes almost all of the intimidating complexity out of creating 3-axis motion videos and timelapses. (I have to say "almost all" because there is one unavoidable complexity that we'll get to in a minute. It's a challenge that isn't really the fault of the Genie, though.)
The very first time I set up the entire rig, I didn't need to read any instructions at all. It was completely self-explanatory, from how all the different parts go together, to the dialing in of keyframes on the app.
Of course, I do not recommend taking new equipment out for important work without familiarizing yourself with it first. However, I put myself through this challenge for the sake of discovering just how easy it is to get to know new gear in general. And the Syrp Genie II system passes that test. Indeed, once you become truly familiar with the whole kit, you only appreciate it more and more.
Reliable Performance
Not only is the system very easy to set up and get going, but also, it just works smoothly. I torture-tested the Genie II in as many ways as I could think of, and the only hiccups in operation that I experienced were understandable considering how hard I tried to intentionally mess things up.
In other words, if you don't intentionally go out of your way to ruin things, like setting the slider steeply off-balance without a counterweight, or try to force the slider to crash into its ends repeatedly, or move while its brake is locked, …then you'll enjoy some very reliable and smooth operation! Any errors in reliability that you might experience are likely due to a lack of familiarity or incorrect setup.
Quality & Durability
I've been reviewing Syrp products since their original Genie hit the market many years ago, which we reviewed here. I've always found that they are built to a very high standard. In a market where new unknown companies pop up often and have poor or questionable quality products that could likely break in just a few months, it is great to count on quality brands such as Syrp to deliver durably-built gear for those who do serious work.
Not only that, but they're designed smartly, offering an abundant array of nice features from things like effortlessly interchangeable batteries, to a built-in keyframe setup for the Genie Pan Tilt that you can dive right into immediately without the mobile app.
Lastly, one pet peeve that I have with so many sliders on the market, but the Syrp Magic Carpet does NOT suffer from: as someone who is abusive of camera gear, I dislike sliders where the outer edge of the rail is part of the carriage wheel system. Because it means that a single scratch or ding in the outer surface of the rail will put a little blip in all of your footage. So, I really appreciate how the Syrp Magic Carpet's carriage has a "captive", inner wheel system. Just give the inside of the rails a quick wipe-down with a cloth before you start, and you'll get a long life of smooth operation from any/all of your Magic Carpet rails.
Value
Whether something is seen as either expensive or cheap is definitely relative, and so that is why we must always include "Value" as either a pro or a con in every review we do.
Value is about much more than price alone, or even a straightforward spec sheet VS price comparison. There are many other factors involved, from very subjective things like convenience & user-friendliness to more objective things like long-term durability.
Here's what it comes down to: Together, the Syrp Genie II system runs $2817. This is about on par with other high-quality 3-axis motion kits. In some cases, it's much more affordable, actually! (We'll get to this in our "Compared to the Competition" section below.)
Thus, considering that the price is in line with other systems, and considering that the Genie is one of the most durable, user-friendly kits of them all, it is definitely a great value. In all honesty, having a reliable, simple setup can make the difference in whether or not you get the shot, and that is extremely valuable indeed.
By the way, if you're on a tighter budget but still want the overall quality and reliability of Syrp products, you could instead get the 3-axis motion control kit that uses two Genie Mini II devices instead of the single Pan-Tilt device. This option requires a little bit more setup, but it's only $1815.
Syrp Genie II Review – Cons
Despite being a great overall product, There were a few complaints that we had. Some of them could potentially be addressed in an update or a future product, while others are just inherent to the nature of 3-axis motion control.
With that in mind, let's get the biggest complexity/frustration out of the way first, since it's mostly not the Genie II's fault, but just "the nature of the beast", as we said earlier…
Elevated/Angular Slider & Tripod Setup = Restrictions & Complexity
First and foremost, this is not so much a drawback of the Syrp system overall, and more a drawback that anyone will face if they decide to get into motion control, and unfortunately the "Genie" couldn't "magically" avoid this complexity: the mechanics and balance of advanced motion setup is a major task. Once you decide to elevate your track off the built-in feet, you're going to need a bit more setup time.
Even if you have a very lightweight camera and lens, the Genie Pan/Tilt + Linear alone weigh enough that even with the smallest size of Magic Carpet slider rails, you'll probably want to have either one very heavy-duty tripod beneath it, or two tripods, one at either end of the rail.
If you need to use two tripods, your setup time could be doubled or tripled, depending on the desired final slider position. It's pretty easy to set up a perfectly level slider shot, on most surfaces, thanks to the bubble level on the Magic Carpet. It just takes time to get all six tripod legs set up perfectly.
If you want your linear motion to be at an angle, however, things get a little bit more complicated. Because if the Pan Tilt is mounted at an angle, that effectively makes panning essentially impossible, and tilting only possible in the one direction/dimension that the slider is pointing. (Which you probably won't get perfect, and will have to crop to level your horizon in post-production, by the way.)
You can overcome this inherent drawback by adding the Syrp Tilt Platform for $169, which is a locking hinge that mounts between the Linear and the Pan/Tilt so that you can regain full 3-axis motion control.
Either way, the best advice I can give to new Genie II users is this: get familiar with every aspect of the equipment setup before you head out into the field. Double-check to make sure you have all of the required brackets, plates, thread adapters, spare ballheads, and anything else you might need to get the setup working. (Minimize plates and heads, if possible!)
All it takes is for you to leave one 1/4-20 to 3/8 adapter at home accidentally, and you could be totally unable to shoot, or forced to reduce your capabilities to just one or two axes of shooting.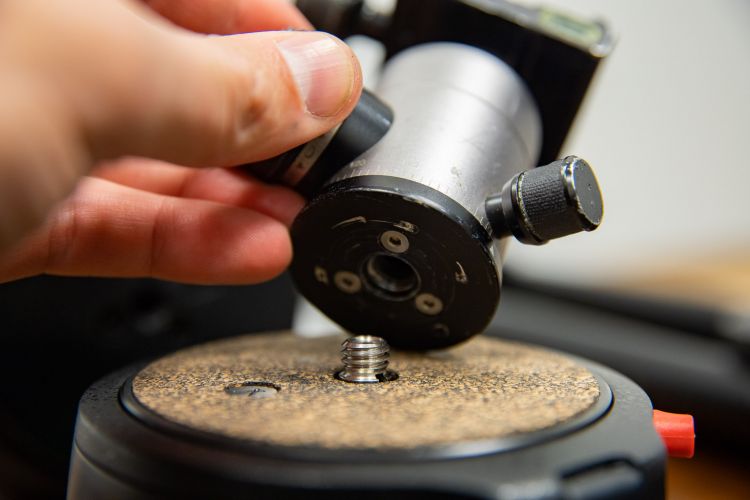 Personally, I found that the best option is to store every plate, screw, and cable in a pouch that always stays with the main Genie devices themselves. Pre-assemble as many little bits of the equipment as you can before heading out on your job/adventure, too, because once you're on-location, every minute counts.
Once again, this is almost entirely NOT Syrp's fault. They did a pretty amazing job of making setup extremely simple; not requiring any allen keys and only one coin/washer to fully tighten the main camera plate/foot. All of the threaded aspects of the Genie units themselves are conveniently spring-loaded and interchangeable, by the way.
Wireless Setup Quirks & Firmware Updates
Wireless setup of any system, compared to a hard-wired one, always has an element of connectivity snafus from time to time. Generally, the Syrp Genie II setup is amazingly reliable, as we said, however in some rare instances you can make the devices "unhappy" with you and the mobile app.
I'm not sure which exact testing conditions caused a problem, but on just one occasion I experienced a loss of communication in which the devices kept sliding/panning, but the camera stopped shooting. (Despite still being awake and capable of firing the shutter; I checked) On another singular occasion, I encountered an issue where the Genie Linear device had to be un-paired, restarted, and re-paired because it was giving me a warning about the weight balance after I slammed a heavy rig (full-frame camera and f/2.8 zoom) into the end of the track. (Even after leveling the track and backing the slider carriage away from the end of the track, the Linear continued to give the balance/load error message.)
Honestly, I do prefer a bit of "better safe than sorry" and I welcome most types of warnings from my equipment if I'm doing something that I really shouldn't be doing. So, I'm happy to have to restart a device every now and then in order to get it working properly again. I would definitely not be happy at all if a problem ever repeated itself more than once or twice, though.
Could the Genie II system still find ways to be more user-friendly? Yes, there is one last complaint that seems to be a common thread among Syrp Genie users: Most or all of the firmware updates cannot be avoided, meaning, you cannot fully use the devices if the mobile app has an update that it wants to give them. You absolutely must update the devices' firmware before you can start shooting.
This isn't an issue if you simply get in the habit of checking to see if the firmware needs to be updated before you head out on each job or filmmaking adventure, but it does seem unnecessary. (Maybe a software engineer can explain to me why it's not possible to just let people shoot, and do updates later.)
Syrp Genie II Review – Compared To The Competition
Okay, the world of video/timelapse motion is enormous, so we'd better categorize the different types of equipment. The first big way to categorize everything is, whether you're controlling the motion yourself, by hand, or are using motorized control.
Because, quite honestly, if all the footage you create is quick, on-the-fly video documentary work, then maybe just forget motorized control! You can get decently smooth, 3-axis motion with just a short slider, one heavy-duty tripod, and a smooth fluid video head.
Within this one category of non-motorized motion control, there is both high-quality equipment, and cheap stuff that isn't very good. So, even if you don't need motorized motion control, don't be fooled into thinking that all sliders are equal. Despite their relative simplicity, the difference between bad quality and good quality will be very evident in the smoothness (or lack thereof) in the final result. In short, even if your type of work doesn't require motorized control, we'd still highly recommend a short or medium length Syrp Magic Carpet track, to go with your nice fluid video head!
Next, let's state the obvious: hand-held motion panning/sliding etc. is not an option if you want to shoot identical, repeatable video moves, or timelapses. You'll need motorized control.
There are far fewer options in this realm of motorized, multi-axis control, and even fewer options that seamlessly integrate all 3 axes of motion in such a user-friendly system. Thus, simply put, the Syrp Genie II 3-axis kit is one of the best motion-control systems available.
In the realm of complete 3-axis kits, competing options can cost about the same or significantly more, such as those from Kessler, Dynamic Perception, etc. There are a few lesser-known brands on the market that might cost less than a complete Syrp Genie II Linear & Pan/Tilt kit, however, I honestly don't think they're the same overall quality. As I mentioned earlier, if you're really on a budget, Syrp does also have the "Indie" motion control kit, which is a whopping $1000 more affordable, at just $1815.
Also, one of the most stand-out differences between the Syrp Genie II system and others is the simplicity of the Genie system. Almost all the other systems out there have lots of different power/communication cables between each of your axis controllers, and separate mechanical parts that need to be mounted on the end(s) of the slider, the rail carriage, etc.
Long story short- No device out there is as simple overall, in terms of setup both physically and through the interface, as the Genie 2.
Disadvantages Of The Syrp Genie II System?
Just about the only thing that you currently can't do with the Genie system is motorized focus control, AKA, focus pulling. A select few other systems do offer this, however, most of the high-quality ones cost as much as $1000 more than the Genie Pan/Tilt & Linear setup.
Other than that, there are a lot more advantages than disadvantages. It's great that you can disconnect the Linear slider controller from the Pan/Tilt and use them separately. It's nice to have interchangeable, easily swappable batteries. In a pinch, you can even use the motorized aspect of the Linear without a phone to set up keyframes yet still create smooth linear motion, or you can use the LCD screen on the Pan/Tilt to set up keyframes without a paired phone. All in all, it's one of the most advanced and yet simple & user-friendly systems out there.
Syrp Genie II Review – Conclusion
So, we've established that motorized motion control isn't necessarily something that every videographer needs, however, its advantages are unique and in some cases absolutely essential for what you might want to capture.
We've also concluded that if you're among those video or timelapse creators who do want or need motorized motion control, the Syrp Genie II 3-axis kit is one of the most simple, user-friendly systems available, and very much worth the investment.
Availability | Where To Buy
Syrp Genie II Pan/Tilt Linear & Magic Carpet Kit: $2813
Syrp Genie II 3-Axis Indie Kit: $1815
Syrp Genie II 3-Axis Pro Slider Kit: $3593
Syrp Genie II Pan/Tilt Head: $1599
Syrp Genie II Linear Tracking & Magic Carpet Kit: $1337
Syrp Genie Mini II Pan & Tilt Kit: $587
Pros
Easy Operation
Reliable Performance
Quality & Durability
Value
Cons
Wireless Connectivity & Firmware Updates
Complexity for Elevated & Angular Setups
No Focus Control
Features & Functionality
9
Final Verdict
It's the simplest way to get advanced motion control, it's durable, reliable, and versatile. The price is competitive with other high-quality motion control systems. Multi-axis motion control might not be for every videographer, but if you need it, the Syrp Genie II system is a top choice.