Apparently 3 challenges weren't quite enough for these three photographers to determine which photography blog/pro takes the crown…they're back with another. Pye flew down to Puerto Rico to meet up with the boys from Fstoppers, Lee Morris and Patrick Hall, to seek revenge from his past defeat where Lee took home the winning photo. To make things a little more interesting they hired a local waitress, with no experience in modeling to try and create a unique and interesting photograph. Watch the full challenge video below to see who wins this time around:
The Photography Shootout Rules
Like their past challenges, they came up with a set of rules to keep these three in line: one camera, two lenses, one strobe light, one model, one dress, one beach, and 20 minutes. Pretty simple but there is one small catch… each photographer is allowed to put out endless amounts of smack talk. What's a challenge without some entertainment? For this shoot, they chose to use the Nikon D850 camera body with a 70-200mm lens and a 24-70mm lens and a Profoto B10 Plus.
You'll see in the video that some rules may have been bent with the addition of some smoke bombs by Patrick. There actually wasn't much shooting going on in the entire 42-minute video, just a ton of smack talk.
Here are the final images created from the Fstoppers Photography Challenge showing the straight out of camera JPEGs and the final edits using the Visual Flow Lightroom Preset System:
Which do you like best? Let us know in the comment section.
More Photography Challenge Episodes
In case you missed out on all the previous (hilarious) challenges we created a playlist so you can watch them all here: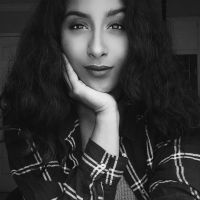 Shivani Reddy
Shivani wants to live in a world where laughter is the cure to pretty much everything. Since she can't claim "Serial Bingewatcher" as an occupation, she'll settle for wedding/portrait photographer at Lin and Jirsa & marketing coordinator here at SLR Lounge. For those rare moments when you won't find a camera in her hand, she will be dancing, eating a donut, or most likely watching Seinfeld. Follow her on Instagram:
@shivalry_inc